Curry pastes vary in 'heat' and amount of salt; use your favourite. Pumpkin purée adds a creamy texture to this hearty vegetarian dish. Serve with naan or brown rice.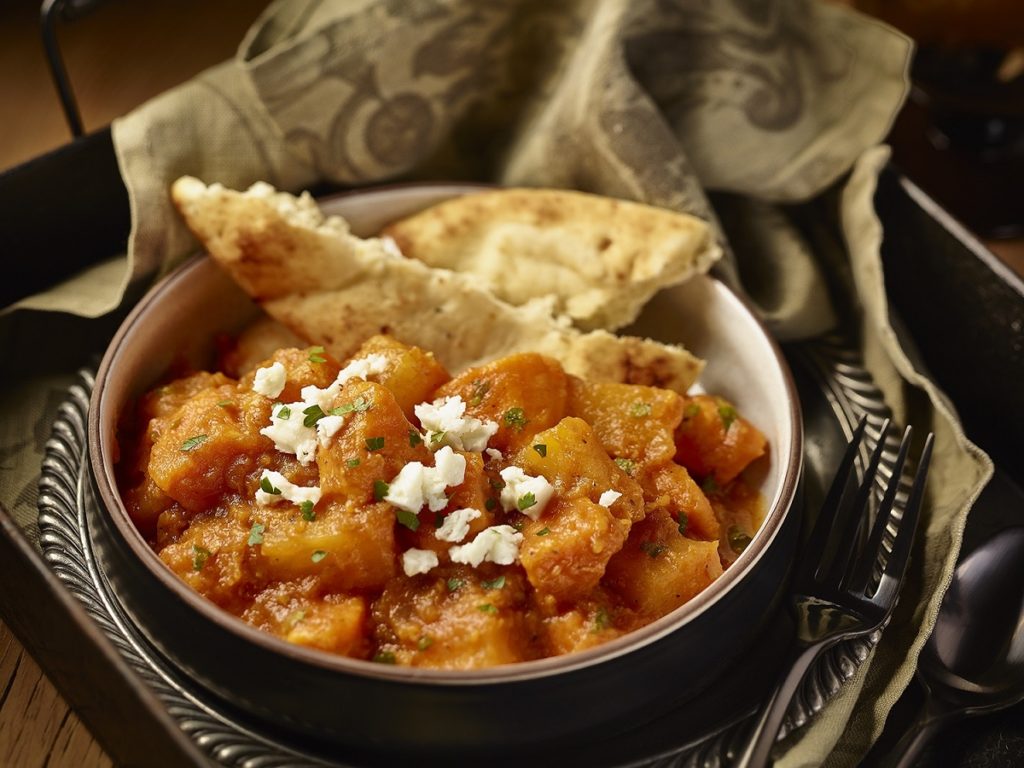 This savoury recipe and photo from Foodland Ontario, foodlandontario.ca, will inspire you to try new pumpkin fare.
Preparation Time: 20 minutes
Cooking Time: 3 to 4 hours on high or 6 to 8 hours on low heat
Serves 6 to 8

4 cloves garlic, minced
1/4 cup (50 mL) each Ontario honey and red curry paste
2 tbsp (25 mL) fresh lemon juice
2 tsp (10 mL) minced fresh gingerroot
2 Ontario sweet potatoes, peeled and cubed
4 cups (1 L) peeled cubed Ontario rutabaga
1 tbsp (15 mL) vegetable oil
2 large Ontario onions, chopped
1/4 tsp (1 mL) each salt and pepper
1 can (400 mL) lite coconut milk
1 can (14 oz/398 mL) pure pumpkin purée (not pie filling)
2 tbsp (25 mL) cornstarch
1/4 cup (50 mL) minced fresh Ontario parsley
1 cup (250 mL) crumbled Ontario feta cheese
In small bowl, stir together garlic, honey, curry paste, lemon juice and ginger. Transfer half of the mixture to large bowl; add sweet potatoes and rutabaga, tossing to coat well.
In large Dutch oven or skillet, heat oil over medium-high heat. Add remaining honey mixture, onions, salt and pepper; cook, stirring, until onions are softened, about 2 minutes. Add sweet potato and rutabaga mixture; cook until slightly golden, about 5 minutes. Transfer to slow-cooker.
Add coconut milk, pumpkin purée and 1/2 cup (125 mL) water to Dutch oven; bring to boil, whisking until smooth. Pour over vegetables in slow-cooker.
Stir, cover and cook on high for 3 to 4 hours, or until sweet potatoes are tender yet still retain their shape. In small bowl, stir cornstarch with 2 tbsp (25 mL) cold water until smooth; stir into slow-cooker. Cover and cook on high for 10 to 15 minutes or until sauce is thickened. Stir in parsley. Sprinkle feta cheese on each serving.
Nutritional Information:
1 serving (when recipe serves 8):
PROTEIN: 6 grams
FAT: 10 grams
CARBOHYDRATE: 42 grams
CALORIES: 272
FIBRE: 5 grams
SODIUM: 566 mg