The fresh taste of Ontario leeks and the smooth texture of Ontario russet potatoes are enhanced when combined with bacon.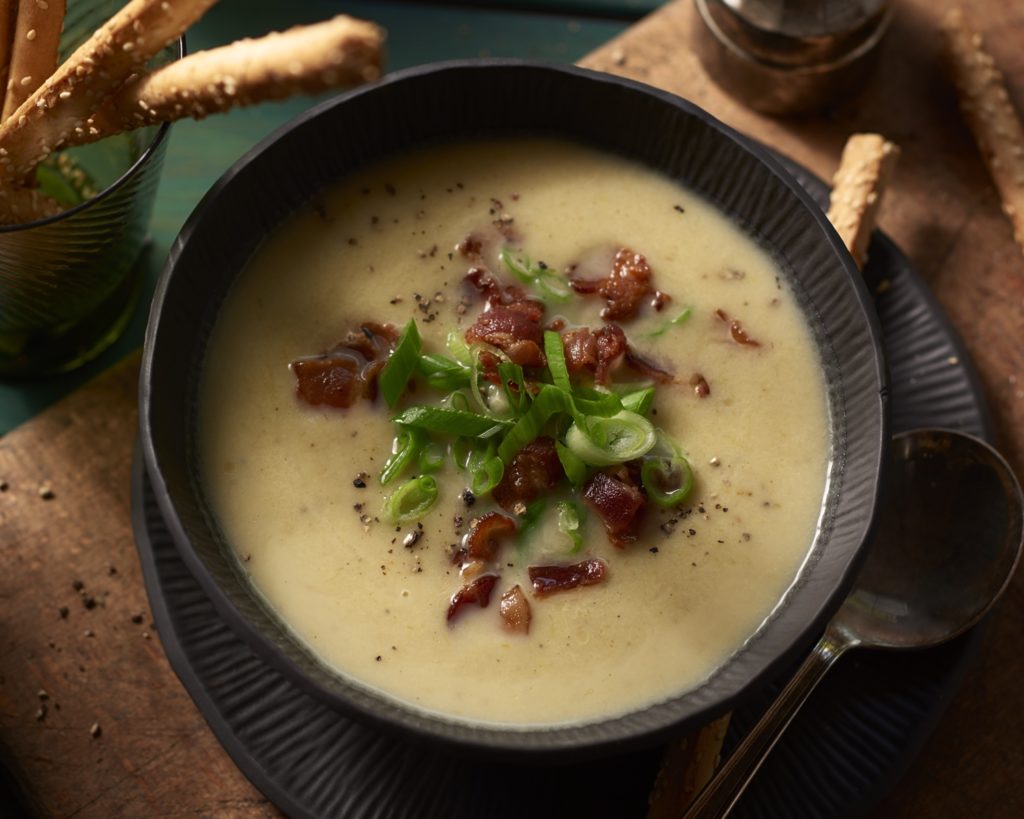 Preparation Time: 25 minutes
Cooking Time: 35 minutes
Serves 6
4 slices smoky Ontario bacon, chopped
2 tbsp (25 mL) unsalted butter
1 tbsp (15 mL) vegetable oil
2 large Ontario leeks, white and light green parts only, sliced
2 cloves Ontario garlic, chopped
4 cups (1L) low sodium chicken broth
2 Ontario russet potatoes, peeled and cut into cubes
1/2 tsp (2 mL) freshly ground black pepper
1/4 tsp (1 mL) salt
1/2 cup (125 mL) 35% Ontario whipping cream or Ontario milk
2 Ontario scallions or green onions, thinly sliced
In large pot, over medium heat, cook bacon until crisp, about 8 minutes. Transfer with slotted spoon to paper towel-lined plate; reserve for garnish. Discard all but 1 tbsp (15 mL) of fat from pan, add butter and oil; combine over medium heat. Add leeks and garlic, cover and cook until soft, about 5 minutes. Add broth, 2 cups (500 mL) water, potatoes, pepper and salt; cover and bring to boil over high heat. Reduce heat and simmer until potatoes are tender, 10 to 12 minutes.
Remove from heat, let cool slightly. Pour into blender or use hand blender to purée until smooth. Return soup to pot, add cream. Heat over medium heat until steaming.
Serve sprinkled with bacon and scallions.
Nutritional Information:
1 serving
PROTEIN: 6 grams
FAT: 16 grams
CARBOHYDRATE: 20 grams
CALORIES: 250
FIBRE: 2 grams
SODIUM: 320 mg