This recipe and image, courtesy of Foodland Ontario, will inspire you to get cooking and to savour the special times ahead.
Lamb shanks are ideal for long, slow cooking to make them melt-in-your-mouth delicious. Serve over mashed potatoes for the perfect comfort-food meal.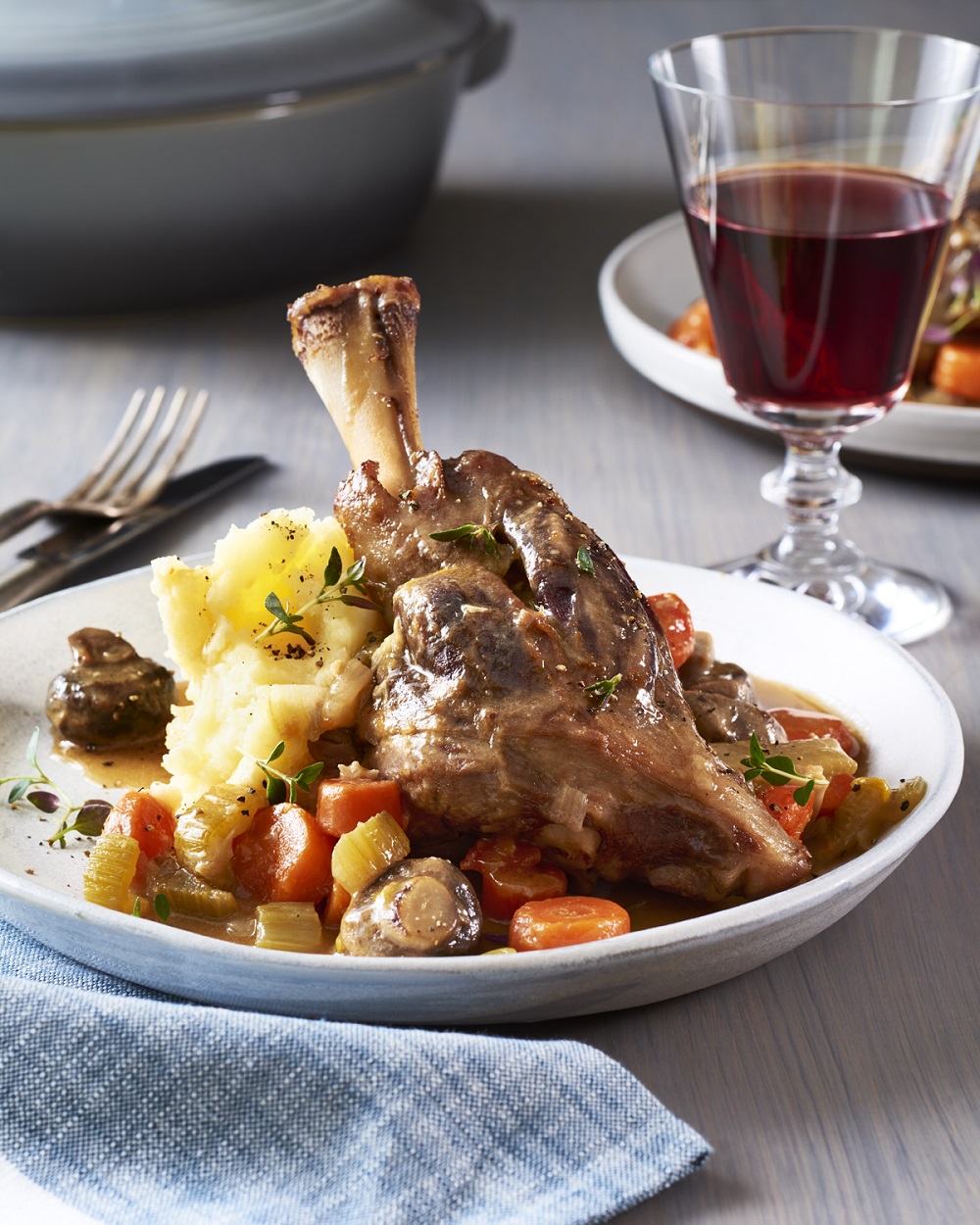 Preparation Time: 20 minutes
Cooking Time: 27 minutes
Baking Time: 2-1/2 hours
Serves 6
2 tbsp (25 mL) vegetable oil
6 Ontario lamb shanks (about 4 lb/2 kg)
6 cloves garlic
4 Ontario carrots, cut into 1/2-inch (1 cm) rounds
2 stalks celery, chopped
1 Ontario Onion, coarsely chopped
1 pkg (227 g) Ontario white button mushrooms
1/4 cup (50 mL) all-purpose flour
1/2 tsp (2 mL) salt
4 cups (1 L) sodium-reduced beef broth
4 sprigs fresh Ontario thyme
In large Dutch oven, heat oil over medium-high heat. Working in batches, add shanks to the Dutch oven and cook until brown on all sides, about 8 minutes. Transfer to plate between batches.
Add garlic, carrots, celery, onion and mushrooms to Dutch oven and cook, stirring occasionally until softened, about 5 minutes. Stir in flour and salt; cook 1 minute. Add broth; cover and bring to boil.
Return shanks to Dutch oven; place thyme over the shanks. Cover and bake in 350°F (180°C) oven until lamb is very tender, about 2 to 2-1/2 hours, stirring occasionally. Transfer shanks to large platter and tent with foil. Place Dutch oven on stovetop and boil on high heat until thickened, 10 to 15 minutes. Spoon sauce over shanks.
Tip: Cool, cover and refrigerate lamb shanks up to 2 days ahead. Reheat in 350°F (180°C) oven for 30 to 40 minutes or until heated through.
Nutritional Information:
1 serving
PROTEIN: 49 grams
FAT: 16 grams
CARBOHYDRATE: 14 grams
CALORIES: 404
FIBRE: 2 grams
SODIUM: 400 mg