Great with soups or stews, these moist golden biscuits can be made ahead and frozen.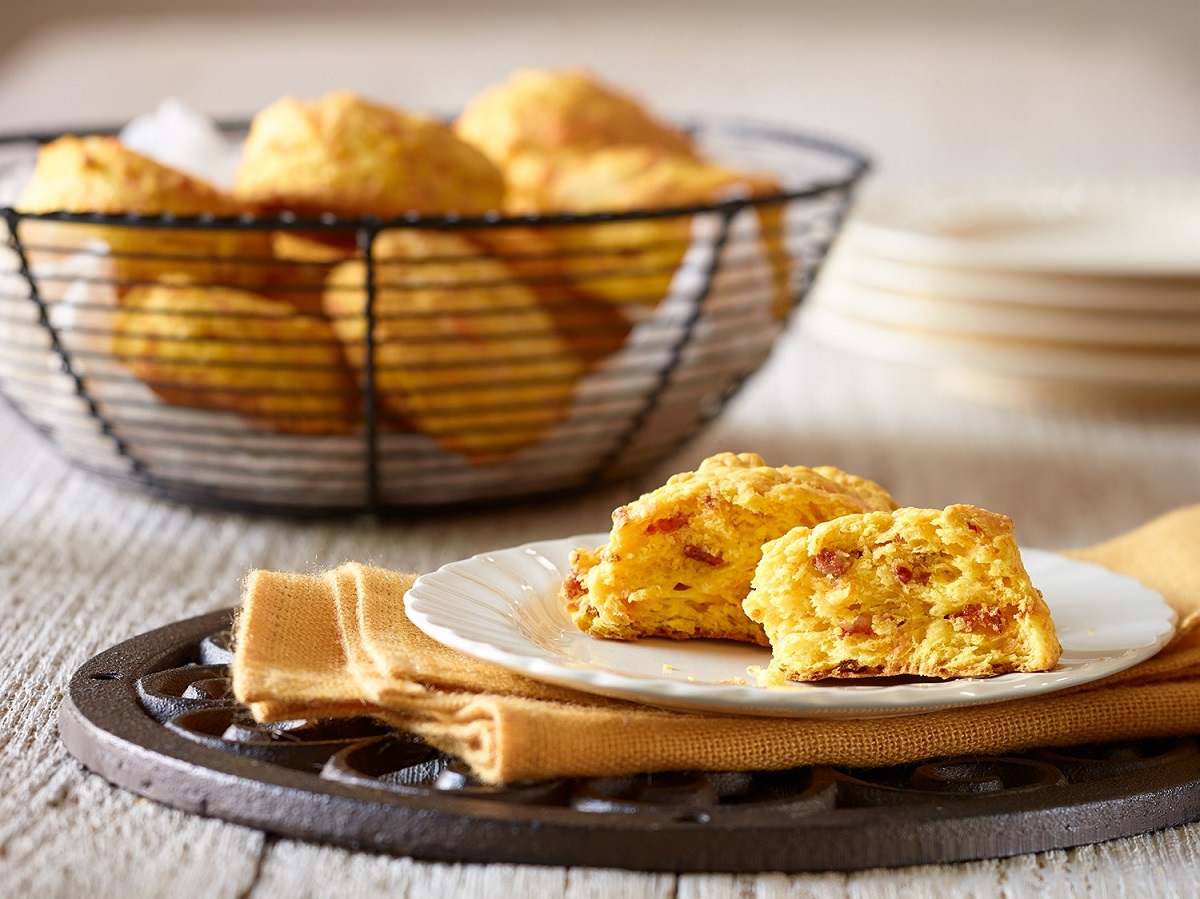 This savoury recipe and photo from Foodland Ontario, foodlandontario.ca, will inspire you to try new pumpkin fare.
Preparation Time: 35 minutes
Baking Time: 15 minutes
Makes about 16 biscuits

1 small Ontario butternut squash (or 1 cup pumpkin purée)
2-3/4 cups (675 mL) all-purpose flour
2 tbsp (25 mL) baking powder
1/2 tsp (2 mL) salt
1/2 cup (125 mL) cold butter, cubed
1 cup (250 mL) shredded Ontario aged Cheddar cheese, about 4 oz (125 g)
3/4 cup (175 mL) finely chopped smoked chorizo sausage
1/4 cup (50 mL) Ontario light sour cream
3 Ontario eggs
2 tbsp (25 mL) Ontario milk
Pierce squash all over with sharp knife. Microwave on High for 6 to 7 minutes per pound (500 g) or until sharp knife pierces easily to centre. When cool enough to handle, cut in half, scoop out and discard seeds; mash pulp. Measure out 1 cup (250 mL) pulp. Cool completely.
In large bowl, combine flour, baking powder and salt. With pastry cutter or 2 knives, cut in butter until mixture is crumbly. Stir in cheese and chorizo.
In medium bowl, whisk together cooled squash, sour cream and eggs. Using fork, stir into flour mixture until dough is smooth.
Turn dough out onto lightly floured surface; knead 8 times. Roll dough to 3/4-inch (2 cm) thickness; cut into 2-1/2-inch (6 cm) rounds. Arrange 1 inch (2.5 cm) apart on parchment paper-lined or lightly floured baking sheet. Brush tops with milk.
Bake in 400°F (200°C) oven for 12 to 15 minutes, or until puffed and golden. Serve warm.
Tip: Cooked pumpkin or sweet potato can be used in place of squash.
Nutritional Information:
1 biscuit
PROTEIN: 7 grams
FAT: 12 grams
CARBOHYDRATE: 19 grams
CALORIES: 213
FIBRE: 1 gram
SODIUM: 350 mg