A trip to the strawberry patch is one of the joys of June. After all, it's as fun to pick these ripe, juicy berries as it is to eat them or use them in recipes. While jam and strawberry shortcake are perennial favourites, there are plenty of delicious ways—both sweet and savoury—to incorporate strawberries into your seasonal dishes and feasts.
Recipes and photos courtesy of Foodland Ontario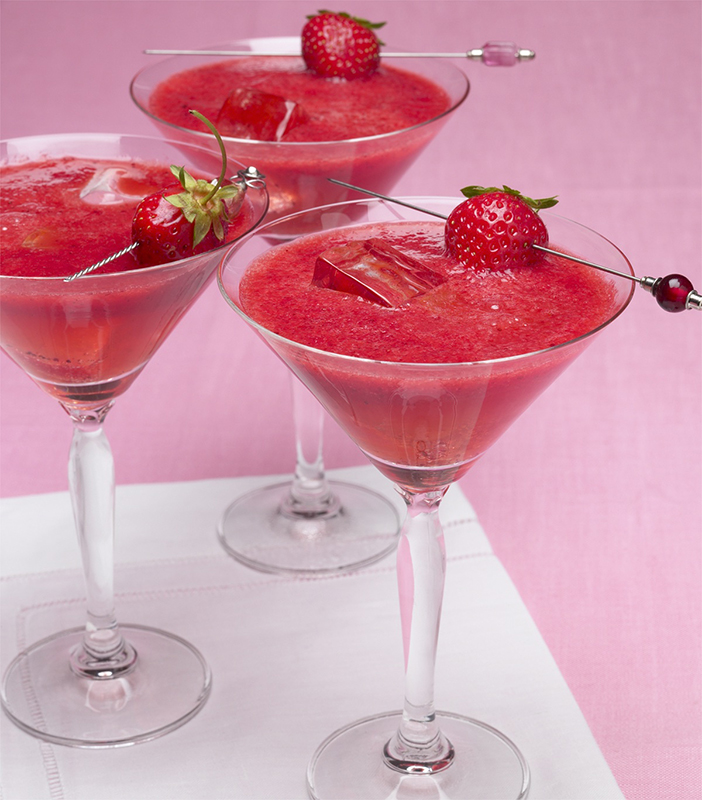 Celebrate Canada Day in high style with this not-too-sweet fruity summer drink. Omit the gin for the kids!
Preparation Time: 15 minutes
Serves 8
Strawberry Vinaigrette:
2-1/2 cups (625 mL) Ontario strawberries
1/4 cup (50 mL) freshly squeezed lemon juice
2 tbsp (25 mL) granulated sugar
1-1/2 cups (375 mL) gin
2 cups (500 mL) ginger ale
8 whole Ontario strawberries
In food processor, purée strawberries, lemon juice and sugar until smooth or desired consistency. Strain to remove seeds if desired. Pour into pitcher; stir in gin. Refrigerate until chilled.
To serve, place 2 ice cubes in each of 8 martini or stemmed glass. Pour in gin mixture; top with ginger ale. Garnish with skewered strawberry.
Tips: For kids, double the strawberry purée, omit the gin and top with ginger ale. To make larger quantities use equal parts gin to strawberry purée.
Nutritional Information:
1 serving
CARBOHYDRATE: 14 grams
CALORIES: 154