A trip to the strawberry patch is one of the joys of June. After all, it's as fun to pick these ripe, juicy berries as it is to eat them or use them in recipes. While jam and strawberry shortcake are perennial favourites, there are plenty of delicious ways—both sweet and savoury—to incorporate strawberries into your seasonal dishes and feasts.
Recipes and photos courtesy of Foodland Ontario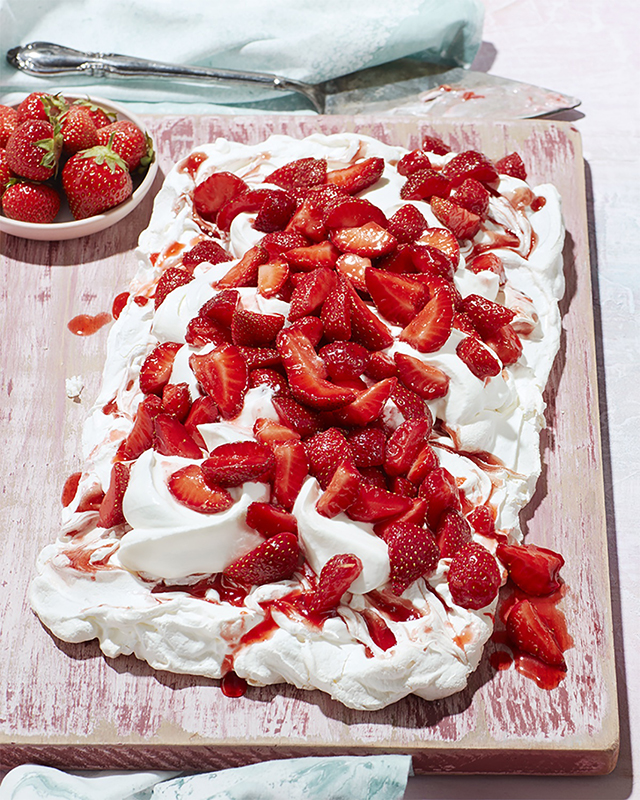 A perfect summer party dessert, highlighting fresh strawberries. Make the meringue a day ahead, top with cream and strawberries just before serving.
Preparation Time: 25 minutes
Baking Time: 1 hour and 15 minutes
Standing Time: 2 hours
Serves 8 to 10
5 Ontario egg whites, at room temperature
1-1/4 cup (300 mL) granulated sugar
2 tsp (10 mL) cornstarch
2 tsp (10 mL) fresh lemon juice
2/3 cup (150 mL) seedless strawberry jam
4 cups (1 L) quartered Ontario strawberries
1 tsp (5 mL) grated lemon rind
1 cup (250 mL) 35% Ontario whipping cream
1/2 cup (125 mL) 0% plain Greek yogurt
2 tbsp (25 mL) icing sugar
1 tsp (5 mL) vanilla
Line baking sheet with parchment paper; draw 12- x 7-inch (30 x 18 cm) rectangle. Turn paper over.
In large bowl, using electric mixer on medium speed, beat egg whites until soft peaks form. Reserve 1 tbsp (15 mL) of the sugar in medium bowl. With mixer running, gradually beat in remaining sugar, 2 tbsp (25 mL) at a time. Add cornstarch and 1 tsp (5 mL) of the lemon juice. Beat on high speed, until stiff, glossy peaks form. Spread meringue into rectangle on baking sheet;
dollop jam on top, swirl with tip of knife. Bake in 250°F (120°C) oven until crisp on outside and a little sticky inside, about 1 hour and 15 minutes. Turn oven off, open door a crack; let meringue cool completely for about 2 hours. Transfer to serving platter.
To the reserved sugar, add strawberries, remaining lemon juice and rind; stir together. In large bowl, using electric mixer on high speed, whip cream, yogurt, icing sugar and vanilla until soft peaks form and mixture is thick. Spread over meringue; spoon strawberries with juice over top.
NOTE: For best results, separate eggs when cold and bring whites to room temperature before beating. For stiff peaks, beat egg whites until the peaks stand straight up when the beaters are lifted up.
Nutritional Information:
1 serving (When recipe serves 10):
PROTEIN: 4 grams
FAT: 9 grams
CARBOHYDRATE: 48 grams
CALORIES: 280
FIBRE: 1 gram
SODIUM: 40 mg