Feast for Sharing
The air is crisp and so are the apples. There are pumpkins on doorsteps and in pies topped with whipped cream. There is much to be grateful for in October, as we gather for Thanksgiving and anticipate Halloween.
The recipe and photo, courtesy of Foodland Ontario, are ideal for sharing and for celebrating the best of the season.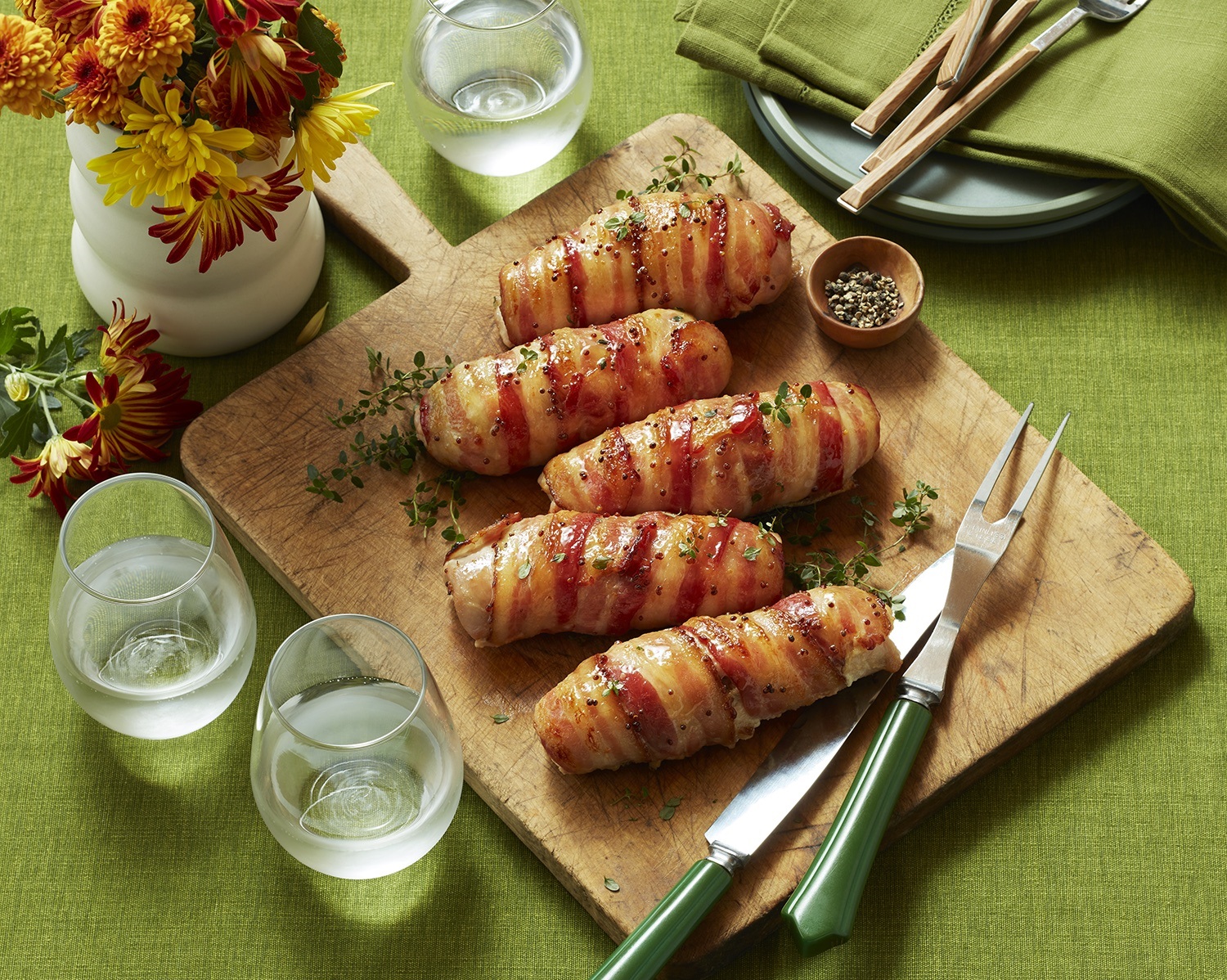 These appetizing turkey rolls are sure to be a hit. The yummy filling uses turkey sausage, apple and Gouda cheese.
Preparation Time: 30 minutes
Cooking Time: 13 minutes
Baking Time: 25 minutes
Makes 8
1 tbsp (15 mL) vegetable oil
1 cup (250 mL) diced Ontario onion
1 large clove Ontario garlic, minced
1 tsp (5 mL) dried thyme
4 Ontario turkey sausages (about 375 g)
3/4 cup (175 mL) diced, peeled Ontario apple such as, McIntosh, empire or gala
1/4 cup (50 mL) water
Salt and pepper, to taste
3/4 cup (175 mL) coarsely shredded Ontario Gouda or Smoked Gouda cheese
1 kg Ontario turkey breast scaloppine/cutlets, about 8 pieces
8 strips Ontario bacon (about 250 g)
1/4 cup (50 mL) Ontario maple syrup
2 tsp (10 mL) Dijon or grainy mustard
In large non-stick skillet, heat oil over medium-low heat. Add onion; cook, stirring for 6 minutes or until soft. Stir in garlic and thyme; cook for 2 minutes, stirring. Squeeze sausages from casings into skillet; discard casings. Cook, breaking up with wooden spoon, until no longer pink. Stir in apple and water; cover and cook for 3 minutes or until apple softens. Season with salt and pepper. Transfer to medium bowl; let cool for about 5 minutes. Stir in cheese. Set aside.
Pound scaloppine to 1/4-inch (5 mm) thickness. Join two smaller pieces, if necessary, to form 5- x 6-inch (13 x 15 cm) rectangles. Place about 1/4 cup (50 mL) of the filling across the middle of the narrower width of one scaloppine. Roll turkey breast over to enclose filling. Wrap one bacon strip around to secure. Place on parchment-lined rimmed baking sheet. Repeat with remaining turkey, filling and bacon. In small bowl, whisk together maple syrup and mustard. Brush generously over top of rolls.
Bake in 350°F (180°C) oven for to 20 to 25 minutes, or until instant-read thermometer inserted in centre reaches 165°F (74°C).
Nutritional Information:
1 turkey roll
PROTEIN: 45 grams
FAT: 13 grams
CARBOHYRATE: 11 grams
CALORIES: 350
FIBRE: 1 gram
SODIUM: 740 mg