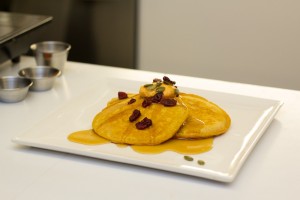 Do you celebrate Shrove Tuesday or Pancake Tuesday? If you do, here's a new twist on this annual treat. Sweet potatoes are packed with nutrients and they make a tasty addition to traditional pancakes.
Sweet Potato Pancakes
Ingredients
11⁄2 cups all-purpose flour
2 tbsp white sugar
1 tbsp baking powder
1 tsp cinnamon
1⁄2tsp nutmeg
½ tsp salt
11/2 cups 2% milk or buttermilk
1 cup cooked mashed American sweet potatoes (from about 1 large sweet potato)
2 large eggs
2 tsp butter, melted
additional butter for making pancakes.
METHOD
In a bowl, combine flour, sugar, baking powder, cinnamon, nutmeg and salt.
With a blender or immersion blender puree milk, mashed sweet potatoes, eggs and the 2 tsp (10 mL) melted butter.
Slowly whisk milk/sweet potato mixture into flour mixture until smooth.
Heat a non-stick pan or griddle over medium- low heat. Add enough butter to coat the bottom of pan.
Pour about 1/3 cup (75 mL) batter onto pan; cook until bubbles form, about 3 to 4 minutes. Flip over and cook an additional 2 minutes. Repeat with remaining batter.
Serve pancakes with Sweet Potato Butter and maple syrup.Recipe created by Chef Sara Harrel on behalf of the American Sweet Potato Marketing Institute.