Barbecue season is at full sizzle. Now's the time to turn off the oven and enjoy backyard cookouts. You don't have to stick to classics such as hot dogs, steak or ribs. Everything from seafood and appetizers to pizza and desserts can be barbecued to mouth-watering perfection. This recipe and photo, courtesy of Foodland Ontario, will get you fired up to be creative with summer fare, whether you're grilling for one, two or a crowd.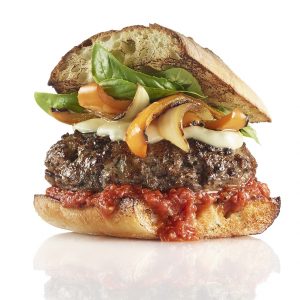 Delivering a scrumptious taste of Italy, these juicy burgers are bursting with fresh flavours.
Grilling Time: 20 minutes
Preparation Time: 15 minutes
Serves 6
1/4 cup (50 mL) fresh Ontario basil leaves
2 tbsp (25 mL) grated parmesan cheese
2 tbsp (25 mL) olive oil
1 clove Ontario garlic, chopped
1.5 lb (750 g) lean Ontario ground veal
1 Ontario egg, lightly beaten
1/4 cup (50 mL) dried breadcrumbs
1/2 tsp (2 mL) salt
Pinch pepper
1 large Ontario onion, sliced
1 large Ontario sweet greenhouse or fi eld yellow pepper,
sliced into strips
1 200 g container Ontario bocconcini cheese, drained and
sliced
1 ciabatta baguette, cut into 6 pieces and sliced in half
lengthwise
3/4 cup (175 mL) tomato sauce
30 fresh Ontario basil leaves
In food processor, combine basil, cheese, 1 tbsp (15 mL) of the oil and garlic; process until almost smooth. In large bowl, combine veal, egg, breadcrumbs, basil pesto, salt and pepper. Shape into six burgers.
In medium bowl, toss onion, yellow pepper and remaining 1 tbsp (15 mL) of oil. Place in grilling basket; grill, covered over medium-high heat, turning occasionally, until tender, about five minutes.
Place burgers on greased grill over medium-high heat. Grill, covered, for five to seven minutes per side, or until no longer pink inside and thermometer inserted sideways into centre of each burger reads 160°F (71°C). Top with cheese; grill to melt.
Toast baguette with cut side down on grill.
Spread each baguette bottom with tomato sauce.
Top with burger, grilled peppers and onion, basil and baguette top.
Nutritional information:
1 burger
PROTEIN: 29 grams
FAT: 19 grams
CARBOHYDRATE: 37 grams
CALORIES: 440
FIBRE: 2 grams
SODIUM: 820 mg