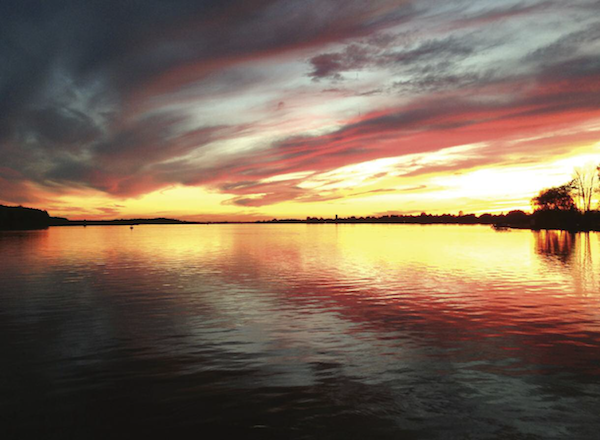 Historic Morrisburg and So Much More
by Madeline Kallio
The magnificent St. Lawrence River has drawn many settlements to its shores, but none more worthy of a visit than Morrisburg, a village of pretty and stately homes and unparalleled attractions. Combined with the history of the area, the settlement invites tourists to visit and marvel.
German Lutherans established farms along the St.Lawrence River in 1784.Captain Duncan,a United Empire Loyalist who received a land grant for his service, named the site of his military court Mariatown after his daughter, Maria. A settlement grew just east of Mariatown in 1813, and was named West Williamsburg. The village grew with the completion of the building of the Williamsburg canals in 1847 and was renamed Morris- burg in 1851 in honour of Sir James Morris, the first postmaster-general of Canada who donated $100 "to aid in securing a bell or clock for the town hall." A famous son, Sir James Pliny Whitney was first elected to the Ontario legislature in 1888 and, for nine years, served as Leader of the Opposition. He led the Conservatives to victory in 1905 and remained Ontario's sixth premier until his death in 1914.He is also credited with creating Ontario's electricity system.
American forces were defeated in 1813 by 800 Canadian militia, British regulars, and local First Nations at the Battle of Crysler's Farm east of the village,the actual site of which was flooded in 1958 by the St. Lawrence Seaway. In fact, the original main street of Morrisburg disappeared and the east end of the village has been transformed into a waterfront park,which includes the Morrisburg Golf Club(613543-3282),15 Laurier Drive, and Waterfront Park. Fortunately, many of the stately old homes of Morrisburg, great examples of Victorian architecture, are still standing.
Painted murals bring history to life in Morrisburg. Old Morrisburg and the Troop Train are painted on the Giant Tiger store. The South Side of Old Main Street surrounds the Upper Canada Playhouse. The Morrisburg Dairy and Ice Cream Bar is immortal- ized on the east side of the East Promenade.A mural on the Morrisburg Public School features the huge House-Moving Machine, which relocated houses during the Seaway construction.
Morrisburg is home to several major attractions. Most notably,situated in historic Crysler Park, Upper Canada Village (800 437-2233; www.uppercana- davillage.com), east of the village at 13740 County Road 2, is a re-creation of an entire 1860's riverfront
Upper Canada Village.
village with costumed interpreters in historic build- ings, a one-room school house, numerous trade shops whichsellhomemadegoods,achurch,aninn,aprint- ing office, three working mills, fully operational farms and a gift shop.The Harvest Barn Restaurant and Village Café serve contemporary food, while Willard's Hotel offers delicious 1860s-style fare. AcrosstheroadfromUpperCanadaVillageisUpper Canada Golf Course (613 543-2003, www.uppercanadagolf.com), 13745 County Road 2, an 18-hole course with a clubhouse, a pro shop, and a bright-windowed restaurant and outdoor patio. Prehistoric World (613 543-2503), 5446 Upper Canada Road, has 50 full-size dinosaur reproductions placed along trails in a natural setting.The Upper Canada Migratory Bird Sanctuary (613 537-2024; www.stlawren- ceparks.com), 5591 Morrison Road, is a haven for close to 200 waterfowl, raptors, passerines, and other species of birds.The sanctuary's eight kilometres (five miles) of self-guided nature trails wind through 22,239 acres (9,000 hectares) of managed wooded uplands, goose pasture, crop land, waterways and marshland.At 12320 County Road 2 is the Upper Canada Playhouse (613 543-3713; www.uppercanadaplayhouse.com). Housed in a former toothbrush factory, it produces eight months of Pumpkinferno. professional live theatre and concerts for an audience of over 40,000 from June through December. It also hosts the St. Lawrence Acoustic Stage, which offers musical performances with exceptional sound quality.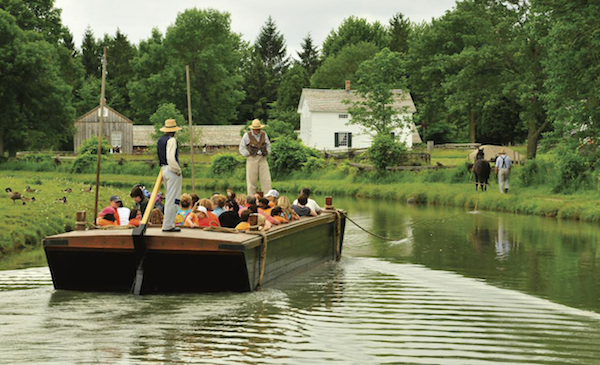 After scrounging in landfill sites and riverbanks to create his first garden, the response was so overwhelming that the flowerbeds of Jeff Arsenault's The Garden Foundation (613 543-3960), 50 Augusta Street, are all sponsored by companies across Canada.The theme gardens are wheelchair accessible. There is no admission charge and people can come and enjoy peace in the garden.
The stores in Morrisburg offer a delightfully eclectic shopping experience. The Bargain! Shop (613 543-4207),19 Main Street,has an incredible line of discount merchandise of all sorts. Cardinal Flowers and Gift Gallery (613 543-2566), 23 Main Street, offers fresh flowers and interesting gift ideas. Biba and Casselman's Shoe Store (613 543-2556), 27 Main Street, started out as Cassel- man's Shoe Store and has now added ladies' and men's brand- name clothing. Bulk food, sugar- free items, Dutch products, kitchenware, cake-decorating supplies, and beer- and wine-making on the premises are features of The Cook's Corner (613 543- 3857), 125 Main Street. Timmy's Place (613 543-4280), 33 Main Street, is a quality used clothing and household goods store which raises funds for the Timothy Christian School. On Sundays year- round,the McHaffie Flea Market (613 543-2623;www.mchaffiefleamarket.ca), 5070 County Road 31, displays the wares of 150 vendors who sell antique furniture and glassware, crafts, and new and used items. The Vine Mine (613 361-0753), 58 Sheldrick, is a special occasion florist. Giant Tiger (613 543-0053; www.gianttiger.com), 12334 County Road 2, is a "truly Canadian family discount store."
A variety of dining establishments are situated throughout town. The New Centennial Restaurant and Dining Lounge (613 543-3722), 63 Main Street, has been established for many years and serves Greek, Italian, and Canadian foods. Gregor's Place (613 543-2286), 87 Main Street, "proudly Canadian with a Scottish flair," serves fine fast foods with home-baking, home- made soups and specialty sandwiches, such as the "Brave Heart"sandwich. Nick's Family Restaurant (613 543-1012), 73 Main Street, serves family fare. Chinese and Canadian foods are served at the Golden City Restaurant (613 543-3145), 39 Main Street. Subway (613 543-2299), 121 Main Street, features subs and salads. Tim Hortons (613 543-0717), 12407 County Road 2, offers traditional soup, salad and doughnut fare. Burgers, fries and more are sold at McDonald's (613 543-0885), 12438 County Road 2.A variety of traditional Italian dishes are available at Pizza, Pasta, Panini (613 543-4276), 13373 County Road 2.The Basket Case Café (613 543-0002; www.basketcasecafeandgallery.ca), 29 Main Street, serves an unbelievable club sand- wich. "Gourmet pizza at its best" is the order of the day at The Pizza Castle (613 543-0025;www.thepizzacastle.com),55 Main Street. Made-to-order pizza is the specialty of Pizza Hut (613 643-1234), 143 Main Street. Enjoy the tranquillity of the river and watch the ships go by as you savour an ice cream cone from seasonal Docksyde Restaurant (613 543-3532), 10 Ottawa Street.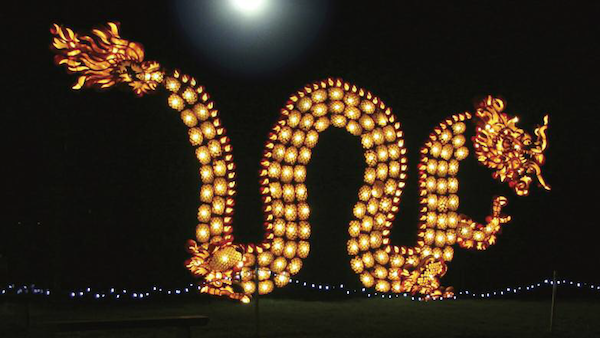 With such an idyllic setting and so many places to see, a number of delightful overnight establishments welcome visitors.The McIntosh Country Inn and Conference Centre (888 229-2850; mcintoshcountryinn.com),12495 Highway 2 East, has Wi-Fi,a whirlpool,sauna,exercise area, arcade, heated outdoor swimming pool and more. Casual, relaxed dining with a creative flair and a fabulous Sunday brunch is the order of the day in the Orchard Restaurant, and Mac's Tavern also provides food service. Inn by the Park (613 543-0600;www.bbcanada.com),22 Sir James Morris Drive, a stately Spanish-style home next to the village green, offers self-catered breakfast and overlooks the St. Lawrence River. The Riverside Motel (613 543-2162; www.stayriverside.ca), 13339 County Road 2, is located on three acres (one hectare) of landscaped property and has Wi-Fi. Russell Manor Bed & Break- fast(613543-3871;www.russellmanorbb.com), is elegantly decorated in Victorian style and runs as a boutique hotel serving fabulous breakfast.Home to the butterfly/hummingbird garden of the Monarch Waystation, 27 Roses Bed and Breakfast (613 643-2727; www.twentysevenroses.com), 5687 Cherry Street, serves a complimentary continental breakfast. Several campsites provide seasonal accommodation in the area: Arlor Haven Campground (613 543-4244); Upper Canada Campground (613 543-2201); and the St. Lawrence Parks Commission (613 543-3704).
Several exciting events take place in Morrisburg. Antiquefest in mid-July features antiques and collectibles, and hosts the Golden Gears Car Club, wine and beer tasting, entertainment and an auction. Held the long weekend in August,Tubiefest is a race down the St. Lawrence River in man-made crafts. The Annual Pork Fest in mid-August celebrates everything pork. During the month of October, Pumpkinferno features 6,000 handcrafted pumpkins set against a night time backdrop just inside the gates of Upper Canada Village. The Alight at Night Festival at Upper Canada Village showcases more than half-a-million lights from December to January.n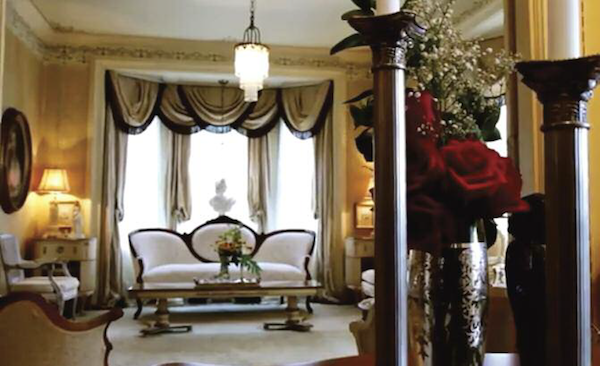 The activities and attractions in Morrisburg are abundant, and this article has only scraped the surface of the enjoyment visitors will experience in this town.Although many businesses are open year-round, many are seasonal or have restricted hours.Therefore, it is wise to call ahead.The South Dundas Chamber of Commerce (613 543-3982; www.southdundaschamber.ca), 91 Main Street; the Downtown Morrisburg B.I.A. (613 643- 3013; www.shopmorrisburg.ca), 99 Main Street; and the Municipality of South Dundas (800 265-0619; www.southdundas.com), 34 Ottawa Street, can provide further information. A Historical Walking Tour of Old Morrisburg can be found online at the Municipality of South Dundas website, and printed versions are available at Municipality offices, the Chamber, and the D.B.I.A.