Intergenerational trip holds memories of more than places visited
By Stephen Johnson
Photos by Sandra Garrido Arciniega
I never knew coffee could taste so good. This particular java was not found in a trendy café in New York City or Berlin, but at a simple roastery in Grand- Pré — population 1,000. This would be just one of many surprises we would experience on a trip to Nova Scotia, on Canada's East Coast. Our trip was part of a new family tradition.
Starting at the Halifax airport, Nova Scotia seemed like a different place.Everyone was friendly and more relaxed. Our son, David, was thrilled when he met Grandma and Grandpa at their arrival gate.After we loaded up our seven-seat minivan with enough luggage to supply the Canadian Army, we were ready to go to our hotel and have a good night's rest.
The next morning, we woke up with hearty appetites.A number of locals had recommended the Halifax Seaport Farmers' Market. Upon arrival at the market, it was obviously popular with tourists and Haligonians alike. Vendors sold an amazing array of food products ranging from fresh seafood to every ethnic dish imaginable. My wife and I ate a tasty lobster roll while David and my parents enjoyed omelettes from organic eggs.All the while, there was a fiddler and guitar player who kept the hungry crowd entertained with lively songs.
We could have spent all day at the market, but wanted to explore more of the city. One of the great things about visiting Halifax is that many of the main attractions, including museums and tall ships, are located along the city's waterfront boardwalk. The water- front is also the focal point of many community events. The day we visited, the city was celebrating a busker festival and Natal Day (a birthday party for their province). There was a wide assortment of buskers on the boardwalk,including fire-eaters and contortionists. The celebrations also featured a midway and a giant sandpit. Our six-year-old son naturally gravitated towards the sand.I was more surprised to see my 60-something parents jump right in with sand shovels and dump trucks at the ready.Together, they made an award-winning sand castle.
After playing in the sand, we continued along the boardwalk and passed by the Maritime Museum of the Atlantic. The museum is the perfect place to learn about the naval history of Halifax and Nova Scotia in general. We found the displays about the Halifax Explosion and the Titanic to be particularly poignant.There were over 2,000 people killed and 9,000 injured when two ships collided in the 1917 Halifax Explosion. The remains of those who perished on the Titanic were sent to Halifax. Many were buried in the city. The exhibits at the Maritime Museum pay tribute and honour the memory of those who passed away in both tragedies. We ended the day with a hearty meal of fish and chips and Natal Day fireworks.
We had enjoyed our time in Halifax, but wanted to see more of the province.We set course to visit Annapolis Valley, located about one hour northwest of Halifax. Annapolis Valley is well-known for magnificent views of the Bay of Fundy, excellent wineries and apple orchards.We were pleasantly surprised by a coffee house that brewed some of the best coffee we've ever had. Just Us! Coffee Roasters Co-op is located in the small town of Grand-Pré.They only use fair-trade produced coffee. Their Grand Pré location includes a museum which outlines the concepts of fair trade. Our son loved the back produce garden where you could learn about organic farming methods. (I think he just loved to play in the dirt!) Just Us! has a number of locations around Nova Scotia and it became our go-to coffee spot.
After re-fueling on caffeine and treats at Just Us!, we pulled into the university town of Wolfville. It has a charming main street that is pleasant to stroll.After exploring the town, we were ready to settle in and enjoy the beautiful vistas of the Bay of Fundy from our hotel room.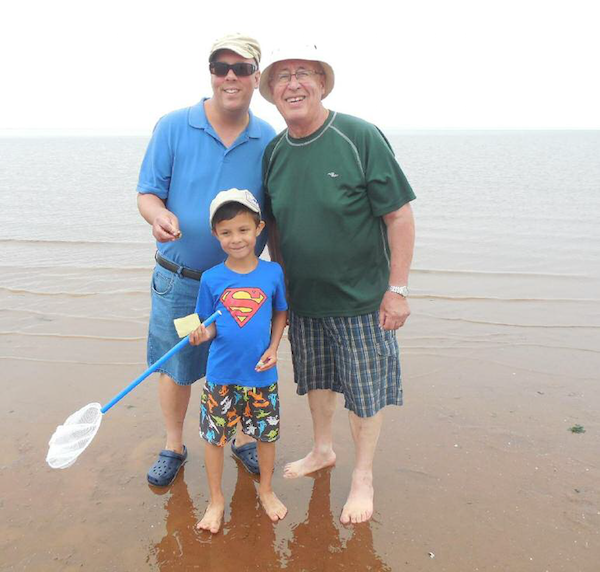 The following morning, we had a minor disagreement. My dad wanted to visit the Grand-Pré National Historic Site. Our son, David, wanted to visit the red sandy beach at Blomidon Provincial Park. After some intense negotiation (my son persuading Grandpa), we packed our flip-flops and drove to the park.
Blomindon does not seem to be a major tourist attraction in Nova Scotia, but perhaps it should be. The beach holds red sand reminiscent of any beach in Prince Edward Island. David formed an expedition-hunting team with Grandpa. They found a crab, an assortment of sea shells and various rocks that David imagined were dinosaur fossils.We spent a lot of time making sand castles and letting the incoming tide slowly eat them away. Overall, it was one of the best family days we have ever enjoyed. It is wise to check ahead for the low and high tide times as prime beachfront can end up underwater quickly.
With sand still between our toes, we headed towards the town of Digby.When we arrived in town, the Digby scallop festival was in full stride.The main street was alive with vendors and bands played maritime-influenced songs.We joined the party for a while, but made it an early night as we were going whale-watching the next day.
We woke up early and set out for whale-watching. It was a beautiful and windy 45-minute drive from Digby to our departure point, Tiverton. We met our captain and set out on the open ocean.At first, David thought every ripple of water was a whale. It took a while for the first sighting, but we were rewarded by a bunch of dolphins playfully swimming next to the boat.We went further out and were treated to a rare sighting.The North Atlantic right whale is currently on the endangered species list with a population of about 300.Every summer,about half return to the Bay of Fundy. We had the privilege of seeing six right whales for about an hour. It was a sight I will never forget. Seeing the whales in their natural habitat diving under the ocean and spouting water was incredible. It brought home first-hand the importance of protecting these majestic mammals.
After spending an incredible time on the water, we returned to port. All the while, our tour guide, Christine Callaghan, kept us interested and entertained with stories of whales and various sea creatures.We headed back to Digby, checking the rear- view mirror to see if we could spot one last whale.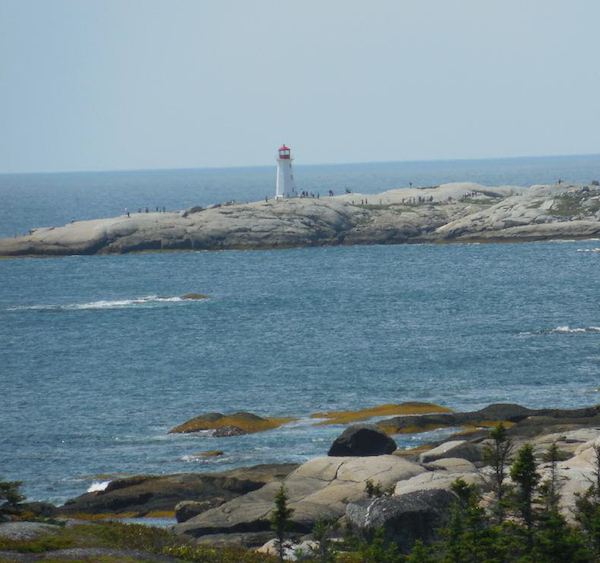 The following day, we were set to see perhaps two of the best-known sites in Nova Scotia. We pulled into Lunenburg. It is the perfect size for relaxed strolling, so we explored the brightly coloured buildings and unique shops. After a few hours, we made our way to Peggy's Cove. Along with other tourists, we saw the iconic lighthouse as the ocean waves crashed against the surrounding rocks.We leisurely finished our day pulling into Halifax.
For our final day in Nova Scotia, it seemed fitting to visit the Canadian Museum of Immigration at Pier 21.The museum chronicles the history of Pier 21, which served as an ocean liner terminal and immigration entry point for over one million people from 1928 to 1971. My great-grandmother and grandmother passed through Pier 21 on their way to a new life in Canada. It was touching seeing my mother explain to David the history of our family and the importance of Pier 21.
This was the perfect way to wrap up a truly special family trip to Nova Scotia. ■