DISCOVER GLORIOUS AMBIENCE and WINE … in Westport
How about a glass of wine? Something scrumptious to eat? A restful spot at an outdoor table … in a lush vineyard … with a picturesque view of the lake? Yes, yes, yes, yes, yes!
By now, you could probably use a timeout and a break away from the ruckus of the fall schedule. The alarm buzzing at 5 or 6 or 7 a.m? Weeknight activities and obligations? Oh my. There's a natural remedy for this and it awaits you down the road in Westport. Hop in the car and take a leisurely, scenic drive to Scheuermann Vineyard and Winery. You'll be captivated. You'll also feel the tension evaporating as you set foot on the grounds of this place that's an easy distance from where you live .
Chelsea Coyle and her husband George discovered the vineyard and working farm while heading to the cottage earlier this year. "It felt like we were in another part of the world," Chelsea says of the experience. "It is a gorgeous property and an amazing spot to spend a few hours relaxing and wine tasting."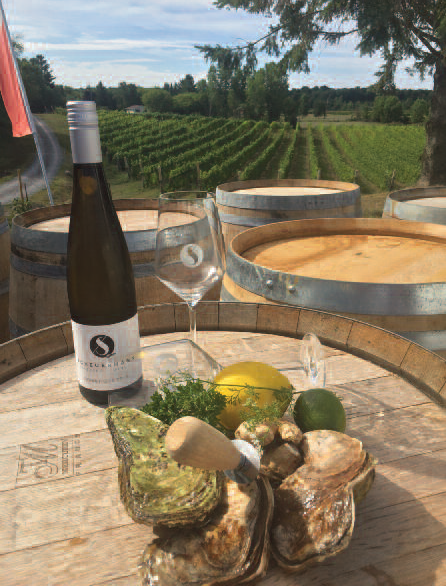 They had a bite to eat, a tour of the vineyard, and a taste of the handcrafted wines. Their tour guide was Allison Scheuermann, who owns the operation with her husband Francois, who's a Swiss-trained chef. The vineyard was started in 2010/2011, Allison explains. "In 2011, we did a test plot of 1000 plants." The results were excellent, so the winery opened to the public at the end of last summer. "The vines are very happy," the vintner remarks. "I'm really impressed with what we get from the ground here."
You'll be impressed by the setting: lots of trees, rolling slopes with rows of vines, and an arresting view of Sand Lake in the distance. "It is a fabulous spot for a date day and in such a great location," Chelsea notes. This outing definitely makes a perfect day date.
You'll definitely be in your happy place. Amenities include the vineyard tours where you can see and smell the grapes, tables overlooking the vineyard where you can sit back and take it all in, and a winery where you can do wine tastings or order a glass to enjoy with a charcuterie platter or artichoke dip.
There's an oyster bar on Saturdays and people also come for everything from engagement photos to harvest parties. You can also create gift baskets to take home with you. Pick and choose what you want, including apple butter, chocolate and Chef Francois' famous seasoning.
The site is open from 11 a.m. to 6 p.m. daily until Thanksgiving. Even after that, they'll be happy to serve you but you might have to track them down in the fields first. And that's a pleasure in itself. For details, see www.scheuermannwinery.com and www.cheffrancois.com. ◆