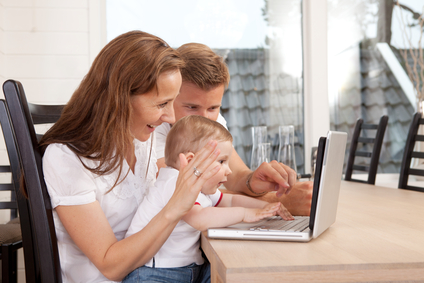 By Wilson Cohen
Many moons ago, generations of families–grandparents, aunts, uncles, mothers and fathers–all lived within shouting distance of each other, making it easy for everyone to get together for the holidays. As times changed kids moved away from their hometowns after marriage, creating long-distance families and cutting down on the holiday get-togethers. But, that's not the end of the story.
A new kind of family has emerged owing to tough economic times and an emerging global economy: the nuclear family is now a form of long-distance family. Now, with Mom or Dad on one side of the country (or the world) for work while the rest of the family is back home, staying connected over the holidays takes on a new importance. The good news is that modern technology provides a number of ways for long distance families to communicate on a daily basis. You can even get the extended family in on it to bring the generations together again to enjoy this cherished quality time.
Face the Family
Talking on the phone just isn't the same as a face-to-face conversation, so open a Skype account to turn those phone calls into the visual encounters you miss when family members are far away. These interactions are the next best thing to actually being there. Dad doesn't have computer access in the outer ex-Soviet bloc where he's working? No problem, there's an app for that. With his smartphone and the Skype app, he can still read "The Night Before Christmas" to the kids and look them in the eye before they have visions of sugar-plums dancing in their heads.
Thoughtful Online Gifting
Maybe you've already taken your Christmas shopping to the Internet, but when you're out of town for the holidays the convenience of cyber shopping increases. You can visit a few gift and specialty sites, such as FTD, and send chocolate dipped strawberries or a gift basket piled high with other delectable edibles, flowers or spa treats. You can even specify the delivery date. It's a nice surprise that will remind your faraway family that you're thinking of them during the holidays no matter where you are.
Turn Facebook into Family Time
Nearly everyone has a Facebook page, so use them to your advantage to get the family together for a game night as a special holiday treat. Facebook games are just one way that the entire family, grandparents included, can stay connected. With over 150 games on Facebook, many with multiplayer options, everyone can post their preference. Take a vote and then convene online to play arcade, puzzle and strategy games, or even a few rounds of Know-It-All Trivia.
The Family Blog
Blogs are perfect for keeping long-distance family members updated on the day-to-day goings on back home, and are even more useful during the holidays. Blogs can be better tailored to your family than social networking sites. Take your blog public so anyone can see it, or keep it private for family members' access only. Post pictures of your decorated home and include before, during and after photos. Snap and upload candids of your kids building a snowman, You may post to your family blog on a regular basis throughout the year, but make some time during the busy holiday season for extra postings, even if you have to keep it short and sweet.
Wilson Cohen
Wilson is a father who writes about raising his three children and caring for his several pets.