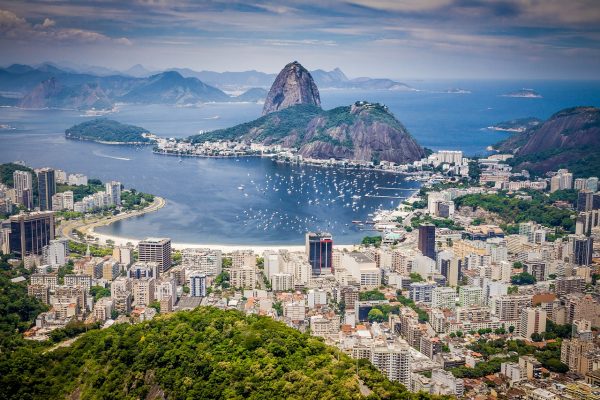 Rio de Janeiro is known as one of the most striking cities in the world. Situated in the Southeast of Brazil on the Atlantic Coast, it is marked by an active harbor, famous beaches, towering hills, and a sprawling city. Back in 2012, the city itself was actually awarded UNESCO World Heritage status, an honor more typically bestowed upon natural wonders or individual attractions rather than entire towns.
Because it's such a unique and beautiful destination, Rio is actually one of the better major cities in the world to visit on a budget. Allowing for the fact that it's expensive to get there from many parts of the world, you can enjoy your time there mostly without spending too much money. Here we're outlining just a few activities that can fit into your budget itinerary.
1. Visit Christ The Redeemer
As incredible as the general layout of Rio is, there's one sight in particular that dominates the landscape: Christ the Redeemer. This is the world's biggest art deco sculpture, and one of the planet's most recognizable monuments as well. Standing atop Corcovado Mountain and overlooking the city, the massive statue is accessible via several different means. You can hike there if you're up for a fairly grueling day of activity, but buses and trains can take you most of the way as well. Whatever method you choose, this statue shouldn't be missed. It's incredible to see up close, and the views of Rio from its base are wonderful as well.
2. Hang Out At Copacabana Beach
This is probably the only Rio landmark that rivals Christ the Redeemer in worldwide recognition (unless you count the actual geography of the city). A sprawling beach stretched out right along side the city, Copacabana is one of the most famous coastal attractions on Earth. It's known for big crowds and a party atmosphere, and if anything it was made even more iconic when the 2016 Olympics showcased it so beautifully. In particular, the enthusiasm surrounding beach volleyball events in a stadium placed on the beach demonstrated the atmosphere and festivity of this area. Hanging out on the beach and people-watching could be some of the most fun you have during a trip to Rio – though if you're up for a bit of adventure, you may want to try your hand at surfing while you're there as well!
3. Go Dancing
The dancing in Rio is yet another attraction known and celebrated around the world. At least in part, this is because of the Carnival celebration that takes place each year. This is a festival that has been imitated in numerous other cities, and has appeared in films and even online video games as well. But these tributes and imitations are celebrating something very real. The "Dancing in Rio" online slot game makes its mark via what it calls a burst of funky samba music that encourages you to "keep the party alive," and this is something you can find in the real Rio whether or not you're there for Carnival. This is a city that loves to party, and the local samba music and dancing is always a fun option for an affordable night out.
4. Ride A Cable Car
Specifically, you'll want to prioritize riding the cable car to the peak of Sugar Loaf Mountain – the most famous of the several peaks that surround Rio. You'll have to pay for multiple rides, first to Morro da Urca and then on to Sugar Loaf – but the whole experience can come in under $100, and you'll be treating yourself to perhaps the only view more impressive than the one from the base of Christ the Redeemer. Like riding to the top of the Eiffel Tower, or situating yourself in front of the sprawl of Santorini, this is one of the world's best opportunities to truly inject yourself into a postcard image.
5. Explore The Gardens
Pretty much every city that's a major tourist destination has botanical gardens set aside and preserved. But in Rio, the botanical gardens are more like an entire natural region within the city. Lonely Planet describes it as an exotic 137-hectare garden featuring more than 8,000 species of plants. Those numbers dwarf most other urban botanical gardens by comparison, and give you an idea of just how much there is to see walking through this area. It's certainly one of the best affordable ways to soak up the culture and beauty of Rio.