Many charms of this destination in Mexico include its vibrant arts and cultural scene, popular festivals and amazing cuisine.
By Paul Gessell
Photos : Josué Reyes
Two decades ago, the doctor ordered a high, dry climate for Virginia Bartley's health. From her home near Kingston, Bartley did research and chose Oaxaca, with its splendid colonial architecture and desert-like environment 1,550 metres above sea level in southwest Mexico. Bartley's health problems have since improved but the retired law professor from Queen's University keeps returning to Oaxaca.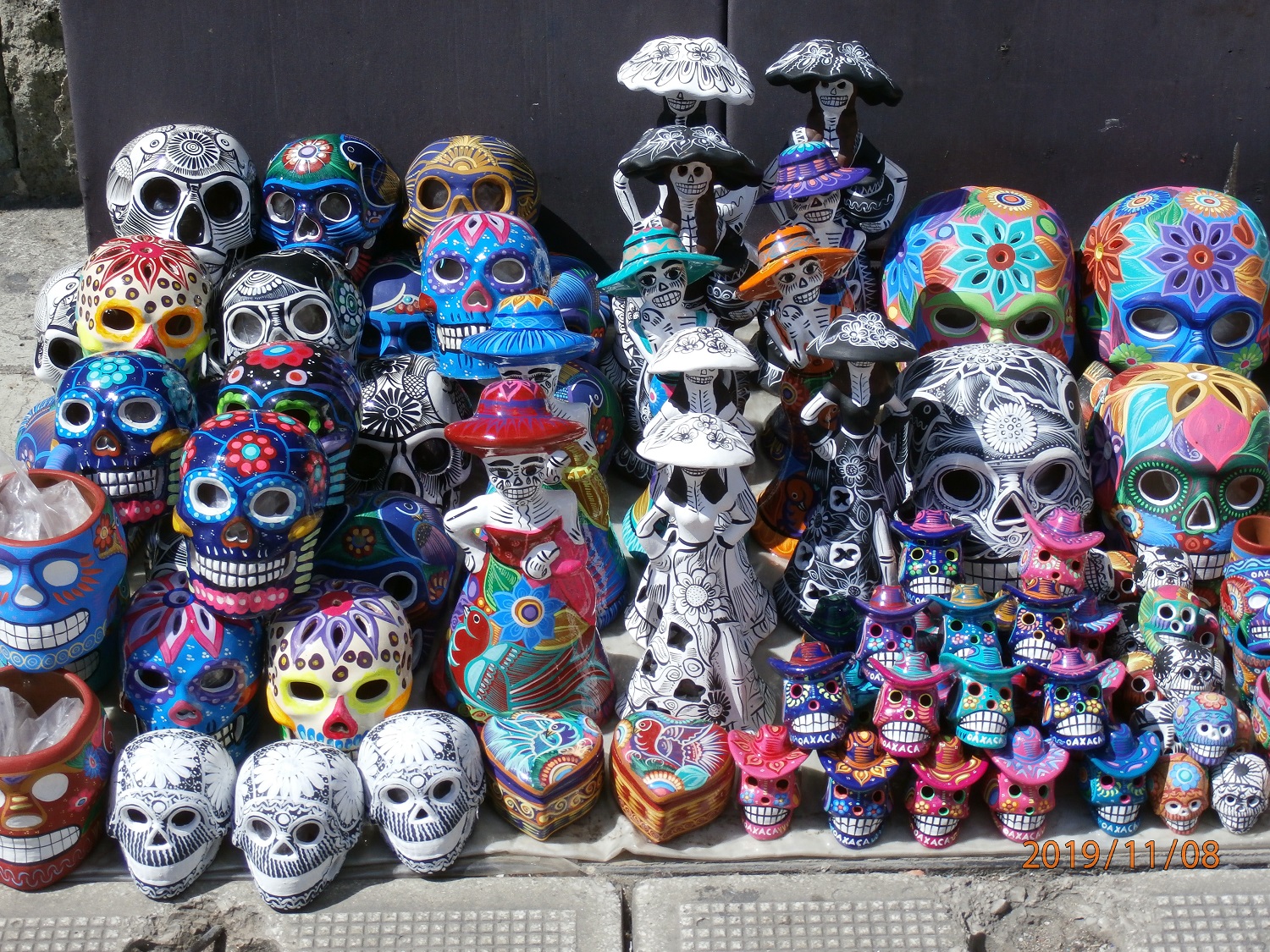 "For me it was health that took me there and love that took me back," Bartley said in an interview.  "I love the place. The light is beautiful. The play of the indigenous community interacting is beautiful. The art is interesting. The food is amazing."
Bartley maintains a busy schedule during her winters in Oaxaca. There are Spanish-language courses, cultural events, friends to visit and her volunteer work as the president of the registered charity Canadian Friends of Oaxaca, which raises funds for the education of poor children in the area.
But she always finds time to relax in this very safe, walkable city of more than 255,000. "Sometimes I just sit on a bench and gaze, with no agenda," says Bartley. "The people are warm and generous. People say 'good morning' to you. Tourists are welcomed. I just think they happen to be lovely people."
Indeed, people watching is one of the best ways to pass time in this city that, in winter, is invaded by hundreds of Canadian and American visitors, most of them renting apartments for a few months within short walks of the shady central square, or zocalo. That's the best spot to watch Oaxacans. Sit in one of the many outdoor cafes to enjoy strolling musicians, balloon sellers, artisan peddlers, shoe-shine men and many unforgettable characters, like one smiling elderly woman who daily zips around the zocalo – backwards and at top speed – in her wheelchair.
Or visit one of the many parks in the central area. Weekends are best to catch outdoor pilates classes, secondary school marching bands and small children creeping along pathways in tiny electric cars for rent. Expect to encounter outdoor folk dancing performances and not just in July during the two-week Guelaguetza folk dance festival in the Auditorio Guelaguetza atop a high hill overlooking the city.
The best time to visit Oaxaca is in early November during Day of the Dead festivities when most every business and many a home is decorated with fanciful skeletons and bouquets of marigolds. Loads of people, both tourists and locals, apply ghoulish makeup and wear traditional Oaxacan embroidered clothing or more demonic apparel. During the festivities, strolling down fashionable Alcala, Oaxaca's crowded pedestrian downtown strip, is akin to participating in a giant zombie walk.
For many, the highlight of a visit to Oaxaca is a trip just a few kilometres away to Monte Alban, the ancient capital of the Indigenous Zapotecs. The city was first occupied about 500 BC and grew into a sprawling metropolis of palaces, temples, markets, tombs and a large ball court for sporting events, some of them quite deadly. The city was abandoned some time between 700 and 950 AD. Outings, some with guides, can be arranged through the many tour companies lining Alcala in Oaxaca. Other tours are available to smaller archaeological sites, rural markets and villages producing pottery, carpets and natural medicines.
Oaxacan cuisine is far more adventurous than the tame Tex-Mex fare served in most Mexican restaurants back home. There are, for example, several different mole sauces, not just the dark brown unsweetened chocolate variety usually found outside Mexico. Other moles are flavoured with pumpkin seeds, nuts, cinnamon or cumin and come in sometimes shocking colours.
Visit the interior courtyard restaurant of Casa Vertiz Hotel at Reforma 404 and try the enchiladas de coloradito for a tangy tomato flavoured mole. This classy restaurant is surprisingly inexpensive (unlike the adjoining hotel rooms). There is such a feeling of Old Mexico to the place that you expect Zorro in his black cape and mask suddenly to appear fencing with a uniformed soldier.
Or while away an afternoon on the trendy rooftop bar of El Olivo Gastrobar at Constitucion 207, sipping imported wine or local craft beer accompanied by endless plates of tapas. Or try El Olivo's full dinner of Atun del Monte, grasshopper encrusted tuna. Yes, grasshopper. Grasshoppers or chapulines can be found stuffed into a chicken breast, added to guacamole or included in tlayudas (oversized tortillas wrapped around shredded pork, cheese and other favourite foods.)
A few doors down the street from El Olivo is one of the city's top art galleries, Galeria Amphibia Arte Moderno, where you can buy originals or prints from two of Mexico's most celebrated 20th century artists, Rufino Tamayo and Francisco Toledo. Both artists are from the Oaxaca area, which is not surprising once you hear the familiar saying in this country that all Mexican artists come from Oaxaca.
The city is famous for its graphic arts with many images focussing on the dark side of life. Check out the Instituto de Artes Graficas de Oaxaca, just across Alcala from Iglesia de Santo Domingo, a 16th century Baroque cathedral where every Saturday lavish weddings are held. After the ceremonies, the bridal party along with a noisy marching band, dancing girls and three-metre high doll-like papier-mâché sculptures parade down Alcala towards the zocalo. At one wedding parade I saw, the dancing girls had fireworks exploding from the tops of their Carmen Miranda-style hats. How do you top that?
Oaxaca is filled with public art museums, exhibiting local and international contemporary works, along with pre-Hispanic art. Most are in colonial-style stone buildings that once were mansions of Spanish lords. Some of the top museums include Museo de los Pintores Oaxaquenos, Museo de Artes Contemporaneo de Oaxaca, Centro Fotografico Alvarez Bravo and Museo Rufino Tamayo, the latter museum created by Tamayo to display his own collection of pre-Hispanic art. All are in the central area and within walking distance of the zocalo.
Shoppers will notice small, carved wooden animals at almost every artisan stall. These are fantasy animals that bear only passing reference to real beasts on earth. They are called alebrijes and are mainly carved from the super-light copal wood. These creatures, brightly embroidered textiles and pottery made from black clay are popular souvenirs.
Oaxaca has hotels to suit every wallet. For the budget-minded, there is the Canadian-run Hotel Azucenas a few blocks from the zocalo. Rooms in the heritage home built around a courtyard start at about $56. Breakfast is served on the rooftop overlooking much of the city. Visit hotelazucenas.com. For more than twice the price in a grand mixture of colonial elegance and modern efficiency, try Casa Antigua, also near the zocalo. Visit hotelcasaantigua.com.
Got medical issues? Oaxaca has many fine medical specialists. Most charge about $40 per consultation. Younger ones tend to speak English. I once dropped into the office of a dermatologist another doctor recommended and asked for an appointment. "I'm sorry," said the receptionist. "The doctor can not see you right now but can you wait 15 minutes?" At home, I would have been told to wait 15 months.  She was a fine doctor.
Whenever I mention to friends I am going to Oaxaca, they will inevitably ask: "How's the beach?" Well, the beach is just a few minutes away by plane but eight hours or so by car because of the steep, winding roads through the mountains to the coast. Mexico is definitely more than beaches. And Oaxaca is just fine without one. Just ask Virginia Bartley or Brooke Broadbent of Ottawa, who discovered Oaxaca seven years ago and has been returning every winter since for up to six months.
"What do I love about Oaxaca?" Broadbent says, "You just go outside in the winter, have a coffee and go for a walk." Try that comfortably in Ottawa at 40 below. Daytime highs in Oaxaca in the winter climb to the high 20s. Nights cool down as low as 10 degrees. Humidity is usually very low. No need for an umbrella, snow boots or parka.
IF YOU GO
Air Canada and Aeromexico fly from various Canadian cities to Mexico City. There, one can continue to Oaxaca with Aeromexico or a number of other Mexican airlines, including Volaris. You can also fly Air Canada to Houston and then connect to United Airlines for a direct flight to Oaxaca.