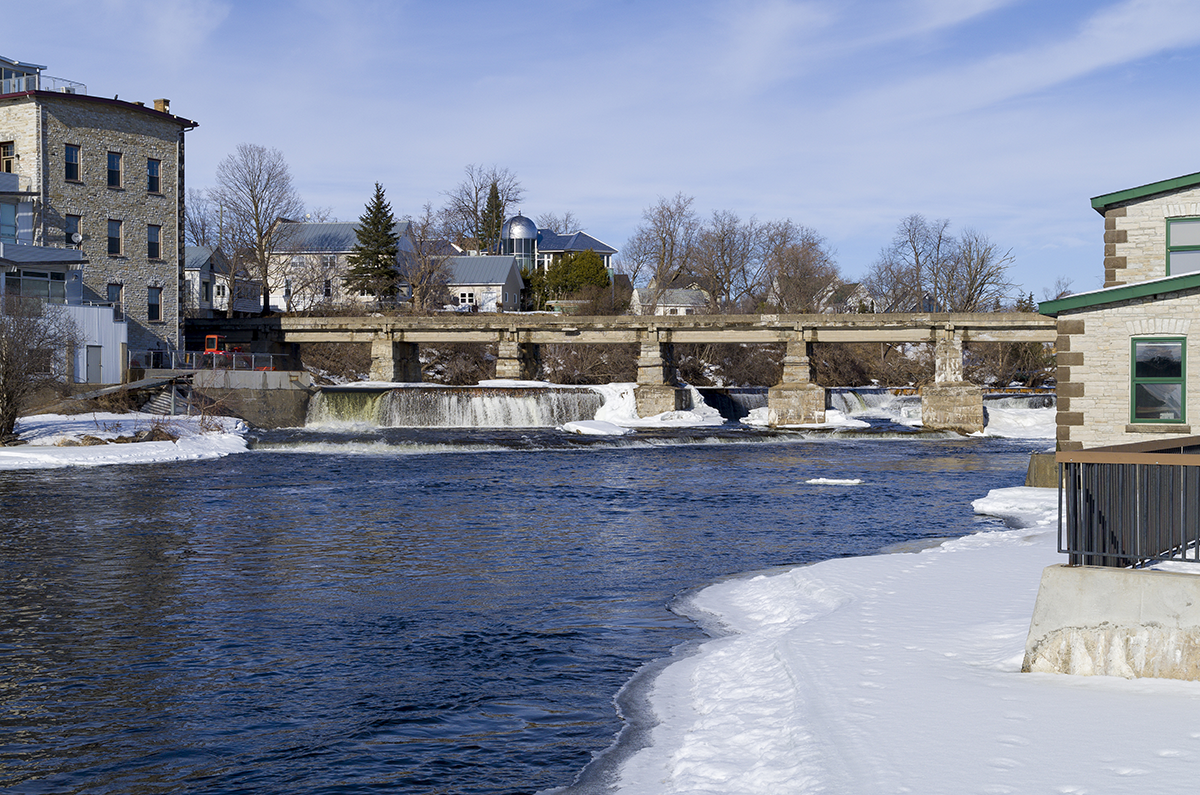 Off the Beaten Path
By Madeline Kallio
The friendly town on the Mississippi River
The picturesque community of Almonte on the Mississippi River is a delight for the sightseer and the shopper. Home to incredible Currier and Ives scenery and a collection of amazing boutiques and businesses, a visit to this out-of-the-way village is a trip never to be forgotten.
In 1819, David Shepherd arrived at the bubbling falls on the Mississippi River with a land grant to construct a sawmill and a grist mill. The community that grew on the site was called, appropriately, Shepherd's Falls. Daniel Shipman built a sawmill in 1821 and later a grist mill and the Almonte Hotel. By 1860, the community had been known as Shipman's Mills, Ramsayville and Waterford. When the settlement became a postal address, another Waterford in Ontario was discovered and the name "Almonte" was chosen after a very newsworthy Mexican General.
The patterned roof tiles, the heritage buildings and the remnants of the mills along the waterfalls and rapids of the Mississippi River, speak of its past. The Almonte Town Hall, 14 Bridge Street, has an exquisitely patterned roof and a beautifully carved upstairs hall which houses the performances of professional musicians and vocalists hosted by Almonte in Concert (almonteinconcert.com) and recorded regularly for CBC, as well as many other groups that perform there, including the Folkus Concert Series (613 256-9090). The Old Post Office, 73 Mill Street, cannot escape notice as you drive down Mill Street, and now houses Café Postino (613 256-6098), an authentic Italian restaurant. Built by the Rosamonds in 1857, the five-sided Victoria Woollen Mill, which stands at the corner of Mill and Main Streets, has been tastefully renovated into the home of The Heirloom Café and Bistro (613 256-9653), at the south end, which serves internationally-inspired creations and, at the north side, Joe's Italian Kitchen (613 256-4033). Rosamond's Warehouse and Counting House, built in 1875 on Rosamond Street, have been preserved as the Mississippi Valley Textile Museum (613 256-3754) which houses relics of the textile industry.
Almonte and the region is gifted with people who have made their mark in the world. Dr. Robert Tait McKenzie, world famous sculptor, physician and physical educator, housed his sculpture —The Minister and His Wife — in a millstone which is displayed beside the Town Hall. To the west of the town hall stands McKenzie's eight-foot-high bronze — The Volunteer. In July, in honour of James Naismith, the inventor of basketball, more than 100 teams in 20 divisions participate in the Naismith 3-on-3 Basketball Festival which takes over Bridge Street. Other famous sons were Edward Peacock, Governor of the Bank of England, who was knighted for his service to the British government; Mackintosh Bell, a famed explorer; and William Bennett Munro, a Harvard professor and advisor to President Roosevelt.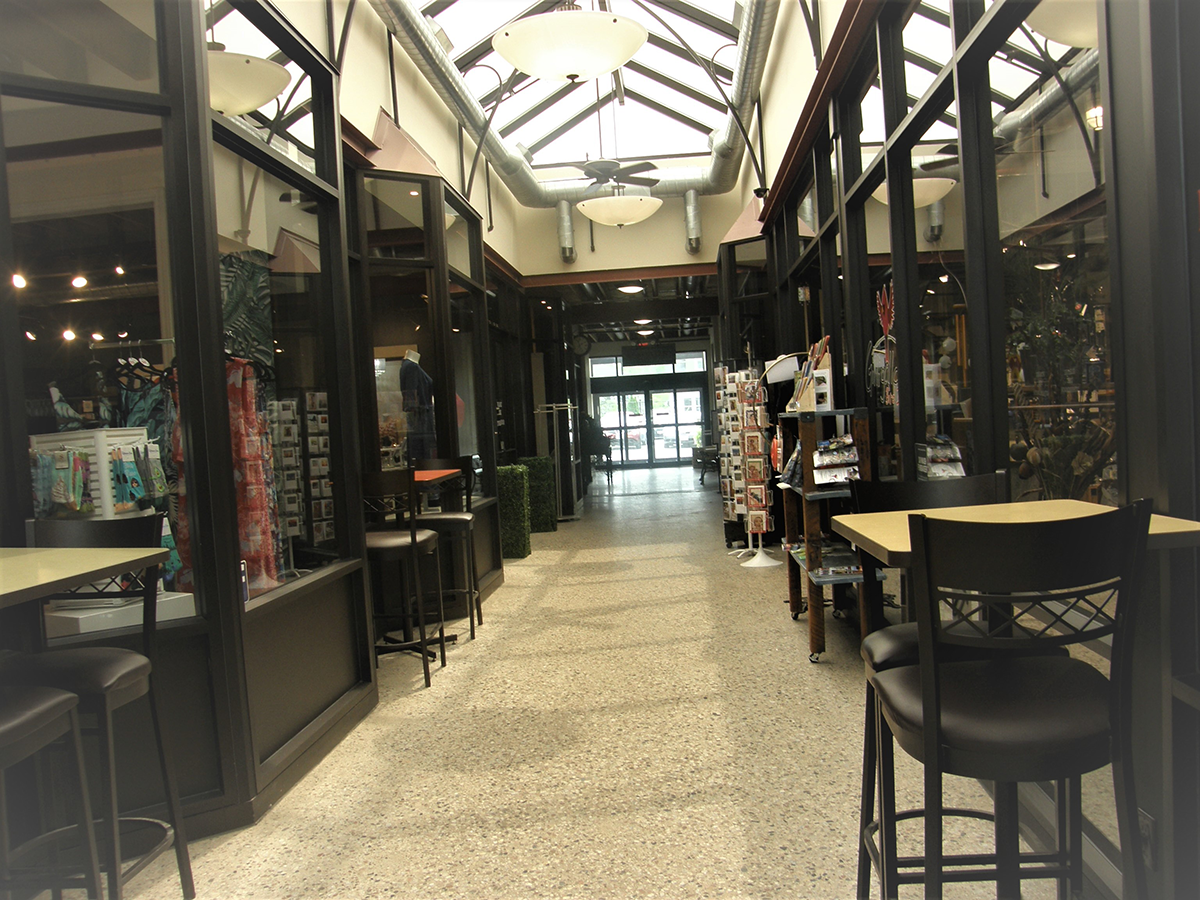 Events in Almonte take place at the Fairgrounds or the main street is blocked off. The Celtic Festival and the Almonte Agricultural Fair take place in July. All of the Scots and would-be Scots celebrate the Almonte Highland Games in late August. The Annual Christmas in the Valley Artisan Show takes place at the beginning of November at the Almonte Arena Upper Hall, 182 Bridge Street. Christmas season inspires the Light Up the Night Celebration and The Santa Claus Parade in December.
Two factories not to be missed are The Hummingbird Chocolate Factory (613 801-0357), 9A Houston Drive, which makes incredible chocolates and sells the seconds in its outlet store; and the Dairy Distillery (613 256-6136), 34 Industrial Drive, which makes unique vodka from milk sugar. Another gem is the Almonte Farmers' Market (613 256-2791), which is open on Saturday mornings from Victoria Day to Thanksgiving in the parking lot of the Almonte Public Library at 155 High Street.
A walk down historic Mill Street begins at the top of the hill. Buy your favourite cut of meat, deli items or cheese at Don's Meat Market (613 256-6801), 126 Mill Street. Slip into The Hub (613 256-5225), 118 Mill Street, for super bargains on used goods. Cashmere and Rose (613 256-1594), 102 Mill Street, is an exquisite gift and floral boutique. Enjoy a cup of tea and scrumptious goodies next door at the Tea and Cake (613 256-4830), 98 Mill Street. Avenir Design Studio (613 461-0090), 96 Mill Street, provides fun, quality, multi-wear clothing. A curated selection of fine foods, kitchen gadgets, linens and tableware are on display at Pêches & Poivres (613 256-5764), 89 Mill Street. Alliance Coin and Banknote (613 256-6785), 88 Mill Street, is a mecca for coin and banknote collectors. Quilting, sewing, knitting and embroidery supplies are available at Textile Traditions (613 256-3907), 87 Mill Street. The Superior Restaurant (613 256-3954), 84 Mill Street, is known for its crispy chicken and "superior" pizza. Explore Judy's original creations and her selected complementary brands of clothing at Judy Joannou Designs (613 291-5264), 83 Mill Street. An incredible collection of teacups and other treasures are found at Brenda's New to You (613 256-7171), 80 Mill Street. The Wee Bee Children's Shop (613 256-6680), 79 Mill Street, is a consignment shop for children's clothes and toys. Born out of the Almonte Farmers' Market, the North Market Café (613 256-2676), 78 Mill Street, uses locally sourced products and seasonal varieties. Cortelli's Pizzeria (613 256-5417), 74 Mill Street, can fill an empty stomach with great food. Craft items from near and far, many local, are stocked at Cheerfully Made (613 461-6233), 72 Mill Street. Threadwork (613 461-4611), 68 Mill Street, has a collection of fashions and accessories for women and men, as does Doree's Habit (613 256-8837), 65 Mill Street. Also, at 65 Mill Street is Carriageway Studios, an artist-run studio and exhibition space, and Kentfield Kids (613 256-5500) which deals in brand-name consignment clothing, toys and more. General Fine Craft (613 461-3463), 63 Mill Street, is a commercial art gallery featuring highly skilled, innovative artists. Gaslight Electric Café and Gallery, 61 Mill Street, offers comfort food, a jukebox and a gallery for Gaslight's original pieces of vintage-inspired neon signs and artwork. Franberries Toys (613 612-1251), 60 Mill Street, showcases a fine collection of retro toys. Mill Street Books (613 256-9090), 52 Mill Street, is "not just a bookstore" — it is an information centre and a strong supporter of the publication, The Humm, which promotes the arts, entertainment and ideas, as well as selling tickets for many of the performances that take place in Almonte. That's the Spirit (613 256-6322), 42 Mill Street, markets ethically produced body care, incense, candles, and jewellery. L. G. Lee and Sons (613 256-0350), 36 Mill Street, is a division of Lee Valley Tools. The Sivarulrasa Gallery (613 256-8033), 34 Mill Street, is a contemporary gallery featuring emerging and established artists. Nine Lives Antiques, 30 Mill Street, specializes in used books including Ontario history, trains and military and has a large variety of pins and military memorabilia. The Almonte Ice Cream Shop, 27 Mill Street, is open seasonally. Almonte Antiques and Collectibles (613 256-1512), 26 Mill Street, is a two-level repository of items from more than 50 vendors. The Quilting Quarters (613 256-4248), 24 Mill Street, is the go-to place for all quilting supplies.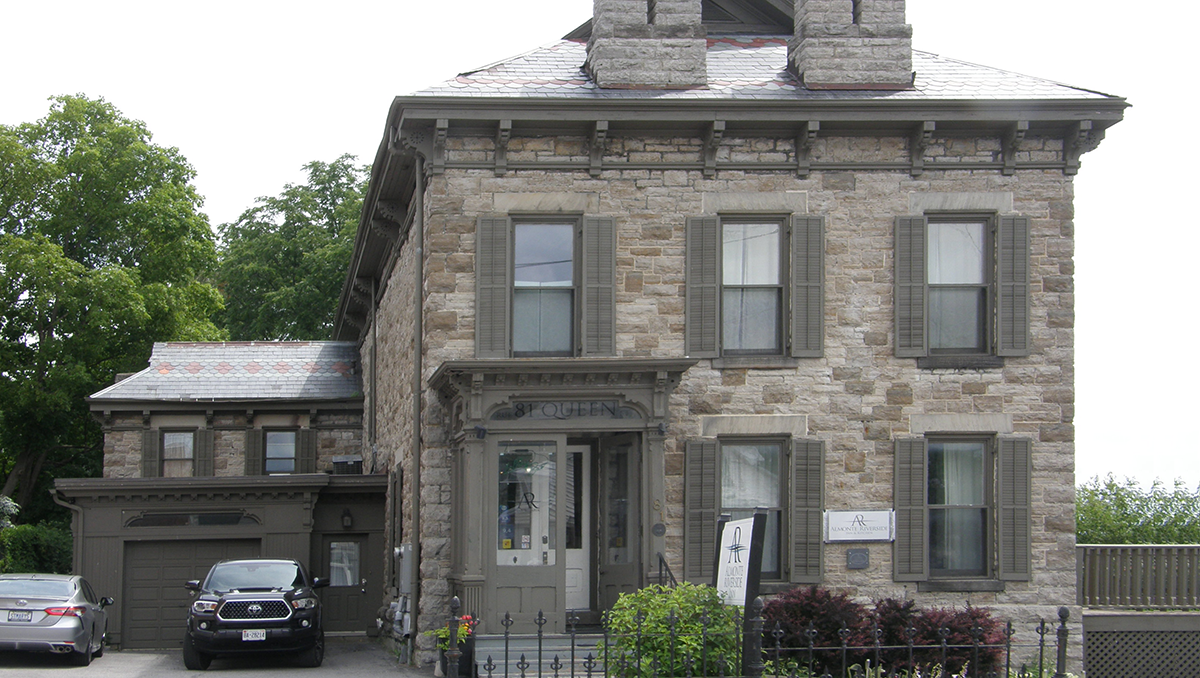 At the bottom of Mill Street, the Heritage Mall houses several interesting businesses. The entrance to the Mall is beside The Mill Street Crepe Company (613 461-2737) which offers a little taste of France. 8008 Lingerie (613 883-8008) stocks women's underwear. Crush Marketplace (613 461-2211) sells shoes, accessories, and home decor. Vamos Outdoors (613 461-2000) has an eclectic collection of outdoor paraphernalia. Acanthus Floral and Botannicals (613 461-0113), is a custom floral shop. Everything for birders is displayed at Gilligallou Bird Inc. (613 461-7333).
A walk down Little Bridge Street, a quaint street that kitty-corners between Mill and Bridge Streets, will find the restored building that is the The Barley Mow Restaurant (613 256-5669) at 79 Little Bridge Street by the river, which offers pub-style fare and casual, riverside dining. At Baker Bob's (613 256-7674), 75 Little Bridge Street, the rich smell of baking attracts even the most diet conscious. The Tin Barn Market, 73 Little Bridge Street, is the repository of cherished relics and contemporary glamour.
Just over the bridge, Pizzaria Unlimited (613 461-6161), 27 Bridge Street, serves pizza, and Indian food. The Canadian Café (613 256-3792), 11 Bridge Street, offers Chinese and Canadian food. The Kilted Goat Country Store (613 256-6066), Bridge and Water Streets, is a mecca for primitive-inspired, rustic, and country home decor.
West on Highway 49, several businesses are worth a visit. The Daily Scoop and Café (613 256-9066), 500 Ottawa Street, serves specialty coffees, gourmet sandwiches, designer desserts, exotic baking and is a gallery showcasing local artists. Sandwiched between the Subway Restaurant (613 256-0864), 415 Ottawa Street, and the Naismith Sports Bar (613 256-6336), 411 Ottawa Street, is Mamma's Place Restaurant (613 256-0816), 413 Ottawa Street, which serves a variety of dishes. Dandelion Foods (613 256-4545), 451 Ontario Street, an alternative to the big box stores, is a sustainable business supporting local farmers and producers. At the same address is Equator Coffee Roasters and Café which sells delicious, fair-trade coffee. With so much to explore, it would be a pleasure to stay the night. Menzies House 1850 Bed and Breakfast (613 256-2055), 80 Queen Street, is on the river across from the Old Town Hall, and makes a full breakfast and has a salt-water pool. Across the street, the Almonte Riverside Inn with Almonte Lobby Bar (613 461-2745), 81 Queen Street, is an elegant establishment with views of the river.
Almonte is a village filled with artists and artisans, quaint historic buildings and scenic waterways. This article can in no way list all of the exciting attractions there and visitors are encouraged to spend some time searching out other unique spots and businesses in Almonte. For more information on places to go and places to stay, contact the Municipality of Mississippi Mills (613 256-2064; mississippimills.ca), 3131 Old Perth Road, or visit exploremississippimills.ca. A Tourism and Information Centre is located in the Almonte Old Town Hall at 14 Bridge Street.