Pedaling through Éco-Odyssée
The Curious Trekker
By Peter Johansen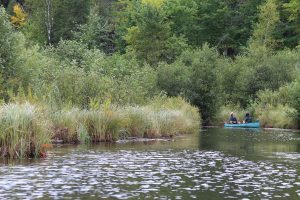 Months later, what I most remember is the sense of peace. It came from communing with nature, with iconic Canadian landscape: marshland created by beavers, occasional bird songs, and ancient tree-lined hills.
But at Éco-Odyssée, the one-of-a-kind tourism attraction just beyond the charming Outaouais village of Wakefield, nature's peace came in tow with the heartbeat of exercise. We sedentary city folk, most comfortable in our downtown high-rise, poked along in a pedal boat we navigated (badly) through liquid pathways. Éco Odyssée, you see, is a five-and-a-half-kilometre maze of picturesque waterways that crisscross each other more than 60 times. The labyrinth hearkens to the underwater channels that beavers carve for winter and is meant to bring folks into marshy beaver ponds, giving them a novel way to experience local animal habitats, not usually so accessible.
And by the end of our two-hour excursion—slow and quiet but tiring nevertheless—we felt both relaxed and exhilarated.
The visit began with a decision: did we want to take the easy way out, following signposts marked on a map, or did we prefer a more challenging adventure, deciphering cryptic clues to determine our route through the marsh? Did I mention we're city folk? The decision was clear: take the safer option. And so we were handed a map, told to look for sequentially numbered beaver-shaped signs to mark our journey, and go pedaling through the maze. Oh, the friendly attendant added, here's your walkie-talkie in case you need help.
We crossed a lovely covered bridge to the dock where canoes and pedal boats were moored, donned life jackets, and clambered into one with help from a staffer.
Because the channels aren't terribly wide, we were close to shoreline throughout the adventure. That helped us watch for animals and admire the diverse vegetation. But it also meant that until we got the hang of driving our boat—not very responsive to shifts of the rudder—we did a lot of backing up to maintain forward momentum. We weren't alone on the water, of course, every so often spying another party on a different route. Until we got the hang of driving, we found, it was best to move to the side, stop, and let the more experienced—or daring—pilots pass. But traffic wasn't really an issue and did little to erase the feeling that we were one with Mother Nature.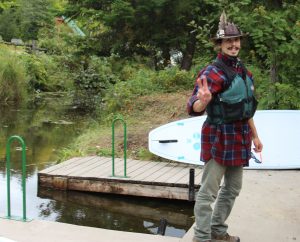 Waterlily leaves salted the water's surface, reeds and cattails grew along the shoreline, red sumac offered punches of colour, the Gatineau Hills provided a rugged backdrop. Every so often, trees arched over us, providing a shady bower, and our alert eyes sometimes spotted wildflowers along the shore. The flora was lovely. We were ready to spy fauna.
We spotted monarch butterflies here and there, and a lone duck resting under some weeds. About two thirds of the way through, we saw a turtle sunbathing atop an extensive root system emerging from the water. Other animals spied—a rabbit, raccoon, wild turkey—were merely wooden markers, important for those on the more challenging trek. But we failed to spy otters, muskrats, great blue herons, bald eagles or wild turkeys, which all make the territory home. And because we were following the beaver pathway, we were particularly disappointed the only ones we saw were two stuffed specimens in the welcome centre.
But beavers come as a natural theme at Éco Odyssée. Its founder, Michel Leclair, spent nearly four decades as Gatineau Park's beaver specialist. He even earned the title of "Beaver Whisperer. "These days, son
Olivier Rocheleau-Leclair manages the operation. He says he was drawn to science at a young age, keen on discovering all he could about life of all kinds. That led to undergraduate studies in biochemistry, then a master's degree in molecular biology. Olivier says he sought a more direct impact on the world than lab work offered, so came back home to provide people with opportunities to discover nature in ways they might not otherwise have. "People enjoy nature here, but they learn something, too," he explains. "With five different eco-systems on our
property, you soon understand our land is rich, very rich. You're prone to be aware of the diversity of life here, and if you're more aware, you're more prone to protect it."
Want to go?
Éco-Odyssée is located at 52 Chemin les Sources, Wakefield. Open daily until Labour Day, then weekends only through October. Cost is about $50 for a pedal boat that accommodates two adults and two kids, or $35 for canoes. Advance booking is required.
Bring sunscreen and hat, drinking water and camera. Insects are almost wholly absent. The grounds have picnic tables, washroom facilities, and kid friendly add-ons, such as a teepee. Note the facility is not wheelchair accessible. eco-odyssee.ca/en/
For those seeking longer experiences with nature, Le Bellevue offers overnight accommodation adjacent to the eco-park. Set on a bluff, it offers four bedrooms with balcony views of the fields and hills of the Canadian Shield.
A weekend brunch at Chamberlin's Lookout, above the Wakefield General Store, is a good bet. We made sure to pick up date squares and sausage rolls at the Wakefield Bakery on our drive home. Area information: tourismeoutaouais.com/en/