Carleton Place maintains a small-town feel, historic roots and active commerce
At the crossroads of two main highways that go south to Smiths Falls and west to Perth, Carleton Place has successfully evolved over the decades, and now is called home to an extensive and eclectic variety of small businesses, as well as well-known artists and artisans.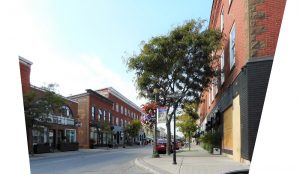 The central core of the town, which straddles a beautiful section of the Mississippi River is an historic remnant with some homes dating back to the early 1800s.The magnificent Town Hall (613 257-6200) at the corner of Bridge and Mill Streets, overlooking the Mississippi River, was completed in 1897 and boasts an old-style concert hall, a grand staircase and panelled council chamber. The original town hall and jail, and later the Victoria School, built in 1872 at 267 Edmund Street, is now The Carleton Place and Beckwith Heritage Museum (613 253-7013),the repository of local history and boasts a beautiful garden with a grass labyrinth. One of the most colourful of the town's famous sons was Captain A. Roy Brown, a World War I flying ace, who was reported to have shot down the Red Baron. The Moore House, at 170 Bridge Street,
built in 1873, is the Roy Brown Museum, information centre, gift shop and the Carleton Place Chamber of Commerce (613 2571976), which
offers self-guided historic walking tours. A host of murals depicting Carleton Place history adorn buildings around the town.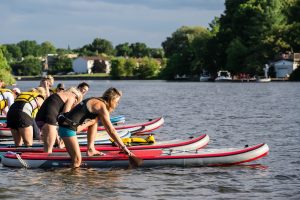 Treasures abound in the shops downtown and along the major highway corridor. The Real Wool Shop (613 257-2714), 142 Franktown Road, has exquisitely beautiful wool clothing, sheepskin and yarns from the Canadian Wool Growers Cooperative. The Cheddar Stop (613 257 3000), Highway 7, is a delicious outlet for Balderson Cheese and Ottawa Valley Fudge, Lanark maple products, local honey and specialty items. Excellent quality ladies' fashions, home décor items, collectibles and antiques, are featured at Wisteria (613 253-8097), 62 Bridge Street. Collectibles, new and vintage toys, books, jewellery, electronics, glassware, models, trains and more are available at Treasures 'n' More (613 257-1485) 124 Bridge Street. Graham's Shoes (613 257-3727), 139 Bridge Street, carries name-brand footwear. Flowers galore can be found at the Blossom Shop (613 257- 1855),167 Bridge Street. Acquisti Life (613 434-2106), 19 Bridge Street, sells trendy apparel for women and men. Apple Cheeks (613 451-2769), 53 Bridge Street, has consignment and new kids clothing. Burns Jewellers (613 621-4466), 115 Bridge Street, showcases jewellery, watches, Pandora charms and more. Brown and MacFarlane (613 253-8386), 21 Bridge Street, is a glass, mirror and gift shop. Country Ridge Home Decor (613 492-3300), 43 Bridge Street,  specializes in gorgeous farmhouse décor, candles and quilts. The Dress Shop (613 253-8080), 141 Bridge Street, offers 100 per cent Canadian made in-house designs. The Floral Boutique (613 253-2424), 77 Bridge Street, markets unique floral arrangements. Next door, Surrounding Memories (613 257-1301), also at 77 Bridge Street, has custom picture framing, a gallery and gifts. The Pickledish Quilt Shop (613 212-8770),24 Lake Avenue, stocks quilting fabrics, patterns and accessories. The Queens Crafters and Antique Market (613 253-5333),142 Bridge Street, hosts local crafters and antique vendors.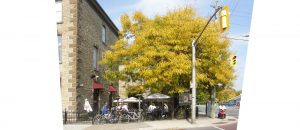 With so much to see and do, Carleton Place offers several interesting places to stay. Baron's Motor Inn (613 257-4002), 10451 Highway 7, has
comfortable guest rooms, in-room coffee makers and high-speed internet. WiFi, coffee makers and more are available at the 7 West Motel (613 257- 5666), 10470 Highway 7. Private suites with kitchenettes are available at the Riverbreeze Inn (613 253-3310), 254 Lake Avenue West. The magnificent old Mississippi Hotel, built by Napoleon Lavallee around 1872,is now the The Grand Hotel (613 4921566) 7 Bridge Street, and boasts The Carleton Room, a fine dining restaurant and the Smith and Barrel Pub & Eatery which offers unique adaptations on Gastropub fare in an atmosphere of Old English sophistication.
Once you have toured the town, you will certainly be looking for a place to have a sumptuous lunch. The Waterfront Gastropub (613 257-5755), 12 Bell Street, was built as a tannery in the 1860s by Bryce McNeely and is now a public house that serves high quality food. The Good Food Company (613 257-7284), 31 Bridge Street, has innovative cuisine, including fabulous breakfasts and seasonal lunch menus. The Thruway Restaurant (613 257-5326), Highway 7, is a family restaurant. The Thirsty Moose (613 253-0879),20 Bridge Street, serves local pub fare. The Good Food Companion (613 253-3288), 15 Allan Street, is a Chinese/Szechuan restaurant. A Chinese buffet is offered at Hing Wah (613 253-1818), 1 Bell Street Located at 35 Mill Street in the historic Boulton Mill, The Boulton House Restaurant (613 492-3535) offers scratch dining in elegant premises. Swiss Chalet (613 257-5248), Highway 7, serves chicken, ribs and more. Fisherman's Palace (613 257-1888), 45 Munro Street, serves Cantonese, Szechuan and Canadian Chinese dishes. Shawarma Place (613 257-4747), 545 McNeely Avenue, is a Lebanese restaurant, as is Lakeside Shawarma & Souvlaki (613 253-8333), 155 Bridge Street. Freska Café and Eatery (613 257-7529),151 Bridge Street, offers fresh food made to order for breakfast, brunch and lunch. Sagar Indian Cuisine (613 492-1333), 156 Bridge Street, serves authentic Indian cuisine for lunch and dinner. Canadian food and Italian food are the order of the day at Eating Place Restaurant and Bar (613 257-7595), 73 Bridge Street. House of Fong Restaurant (613 257-5628), 52 Beckwith Street, is a Chinese restaurant. Black Tartan Kitchen (613 492-0860), 132 Bridge Street, serves locally sourced modern food in an elegant dining room. A number of other restaurants are scattered throughout the town.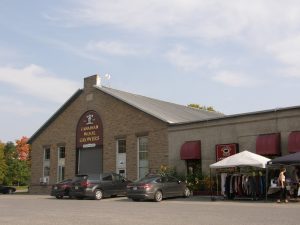 Olde Towne Bakery (613 253-0666), 73 Lake Avenue West, bakes bread rolls and treats daily and makes sandwiches fresh to order and much more. The Carleton Place Farmers' Market (cpfarmersmarket.wordpress.com) 7 Beckwith Street, is traditionally open Saturdays from mid-May to mid-October (best to check before travelling, as COVID restrictions may still apply).
The Mississippi Mudds (mississippimudds.ca) are an active theatre company who perform theatre, youth theatre, pantos and musicals in the historic Town Hall.
Community organizations are very active in promoting local events. At the end of May, Wine'd Around Downtown encourages guests to "wind" their way from one restaurant to another in the downtown area, sampling wines and appetizers. The Classic Car Show takes place in Riverside Park at the end of June. Carleton Place celebrates Canada Day in Riverside Park also. In early July, the Annual Scottish Heritage Tattoo takes place at Riverside Park. The Bridge Street Summer Fest (613 257-8049) at the end of July encourages guests to discover downtown. Dozens of wild, wacky and traditional scarecrows adorn the downtown streets in the annual Scarecrow Display in late October at the same time as Pumpkinfest. The Santa Claus Parade takes place at the end of November.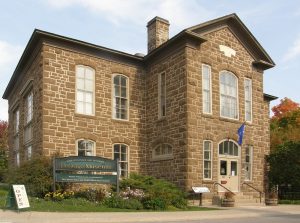 Take a little extra time when you go to spend a day or more, and you will experience a superb welcome from its inhabitants. This article cannot possibly describe all of the places to explore and the wonderful scenery you will find around this town on the Mississippi River; you will have to come and discover them for yourself! The Carleton Place Chamber of Commerce (613 257-1976), 170 Bridge Street, and Downtown Carleton Place (613 257-8049), 136 Bridge Street, can provide you with more information on the area. Because of seasonal business and the COVID crisis, it is wise to call ahead