Off the Beaten Path
By Madeline Kallio
A mix of traditions from Kazabazua to Maniwaki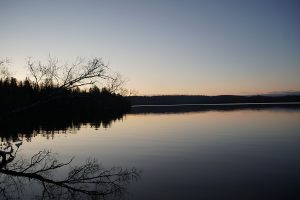 The eclectic mixture of French, English and Native language and culture intertwined in these communities makes them a unique and interesting area to visit. One feels at home in all of the venues
and the welcome is extraordinary. Situated on Highway 105 north of Gatineau and Ottawa, these communities offer their services and wares to visitors to the area and motorists passing through.
Kazabazua
The first settlers to arrive in the area were the Hogans and the area became known as Hoganville. The Hogans were shortly joined by the Gabies, the Chamberlains and the Pritchards. When the post office was established in 1862,the village was called Aylwin Township and then changed to Kazabazua from the Algonquin word "kachibadjiwan" which means hidden waters, water running underground or water passing under rocks to reflect the Kazabazua River, which disappears underground and reappears about 30 metres downstream. The river runs over rapids and under a natural stone bridge. A path leads down to the scenic area.
Although few in number, the restaurants in Kazabazua serve an excellent variety and quality of food. The Sue-Ellen Restaurant (819 467-3110), 408 Highway 105, is a seasonal restaurant that serves good Canadian homemade food and a variety of ice cream. Restaurant Michel Lachapelle (819 467-5568), 454 Highway 105, serves Canadian and Quebec cuisine. Just past Kazabazua, at 768 Highway 105, is La Binerie (Beanery) de Kaz (819 467-4848), open seasonally, where the most delicious beans, including molasses and vegetarian, are cooked in large kettles.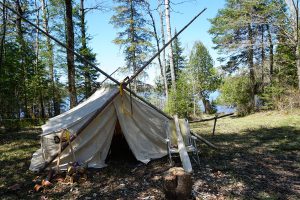 A drive along Highway 105 finds Irwin's General Store (819 467- 2037), 364 Highway 105, which has served Kazabazua for many years and is a hardware and construction store, with home decor and more. Beautiful wooden furniture is showcased at the Kaza Cabana (819 467- 3452), 413 Highway 105. The Marché alimentaire Kazabazua (819 467-2800), 351 Highway 105, is a food store and provides the basic needs for the community.
A stay overnight or for a few days can be enjoyed tremendously at Kazabazua's unusual and interesting accommodations. The Auberge des Deux Rives (819 467-3797) just east at 339 Lac Ste. Marie Road, has 12 large, spacious rooms. The restaurant has a comprehensive menu that includes Montreal-style smoked meat and Rum Pot for dessert. The unique Solisterra (819 208-6086), 7 Solisterra Road, has cottages built from straw bales that are off-grid and get their energy from the sun with magnificent masonry heaters for the winter and fully equipped kitchens. On 350 acres with two lakes, the resort offers boats for renters and encourages family reunions and get-togethers.
The Kazabazua Library (819 467-2852), 373 Highway 105, can direct visitors to a wealth of information about the area.
Gracefield
Augustin Ethyer was the first person to settle in Gracefield in 1840. By 1845, it had become a community of 20 families. New families settled on the banks of the Gatineau River in Northfield on the edge of the Village of Wright. Although these three municipalities always shared the same multiple services and infrastructure, they were not united into one as Gracefield until 2003. It is named to honour Patrick Grace, who opened the first business in the settlement and was mayor of Wright from 1885 to 1890.
The Gracefield Lookout on St. Eugene Street and the covered bridge are highlights of the area.
Entering the town, you will find Bric-à-Brac (819 463-4340), 20 Highway 105, which sells a collection of antiques. Aux Bas Prix du Dollar (819 463-1331), 92 St. Joseph, offers "millions of articles and a rainbow of smiles."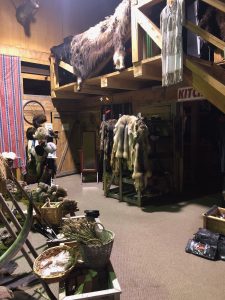 Gracefield has a few interesting restaurants. Brochetterie restaurant Milano (819 463-2460), 35 St. Joseph, has Italian, Canadian and Greek food, including brochettes, pizza and barbeque chicken. The Smoke n' Grill Restaurant (819 463-9990), 79 St. Joseph, serves grilled and barbeque fare. Subway Restaurant (819 463-1555), 27-A Main Street, serves subs and fast food.
The offices of the Town of Gracefield (819 463-3458) are located at 351 Highway 105 and can offer information on the area.
Kitigan Zibi Anishinabeg Community
The largest Algonquin First Nation Community in Canada borders Maniwaki on the south. Founded in 1851, the name means "Garden River." Algonquins of the mission at Lake of Two Mountains, under the leadership of Chief Pakinawatik, came to this area of the Désert River in the early 1800s. The Missionary Oblats of Mary Immaculate, who had established the mission of Notre-Dame-du-Désert demanded that the authorities establish a reserve for the Algonquins. Chief Pakinawatik, along with other leaders, journeyed by canoe on three separate occasions to Upper Canada (Toronto) and negotiated the terms for the setting aside of the reserve land; and the township limits were drawn in 1850.
Tax-free tobacco shops border the highway on the way into the reservation. The community-owned business, Awazibi Pure Maple Syrup (819 449-5170), 1 Paganakomin Mikan, marked its first decade of operation and now has a 90-hectare maple hardwood area and 17,000 taps. A living museum dedicated to the traditional way of life the Kitigan Zibi Cultural Display Centre houses a number of interesting artifacts. A Pow Wow is held each year on the first weekend of June. Two exciting native craft stores display a myriad of hand-made and  imported goods. Hawks Trading Post (819 441-1673), 276 Kichi Mikan (Main Street), has an incredible Algonquin exhibit with teepees and animals, an Indian casino, authentic native food, and local crafts and art. Pinock Smith (819 449-7521), 148 Paganakomin Mikan, builds canoes with a particular interest in Algonquin birchbark canoes and is also a gifted craftsman of toboggans, cradleboards, paddles, drums and other traditional crafts. Kitigan Zibi Anishinabeg Community (819 449- 5170; kzadmin.com), 1 Paganokomin Mikan, can provide more information on the attractions.
Maniwaki
The Hudson's Bay Company established a trading post in 1832 where the Désert and Gatineau Rivers meet. When the authorities established a reserve for the Algonquins in 1850 and the township limits were drawn, the township was given the name of Maniwaki, which is Algonquin for "Mary's Land." The settlement opened up and attracted businesses, farmers, loggers, and the railroad link to Wakefield. Irish, French and First Nations contributed to the development of the settlement and lived together in harmony. Maniwaki was officially founded in 1851, the same year that the Oblats established L'Assomption-de-Maniwaki Parish.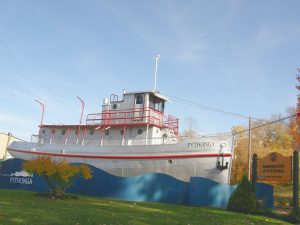 The Pythonga Tugboat (819 449-7999) sits magnificently on Oblats Street. For almost 65 years, the tugboat towed millions of cubic metres of timber on the Baskatong Reservoir, north of Maniwaki. Transported by rail to the town, the 70-ton Pythonga made its final journey by sled over the snow to the reservoir. She had seven crew members, comprising the captain and mate, two mechanics, two deckhands and a cook.
Maniwaki has a good selection of restaurants. The Sun Ning Restaurant (819 441-3888), 227 Desjardins Boulevard, serves Chinese and Canadian food and has a buffet. From French to Swiss cuisine, the Resto Le Notre-Dame (819 449-7099), 142 Notre- Dame, serves everything from pizza to filet mignon. Restaurant Le Rialdo (819 449-7327), 89 Main Street North, is a pizzeria and brochetterie. Chez Ti-Père (819 449-4219), 402 des Oblats Street, serves delicious poutine. La P'tite Maison (819 449-6290), 144 Notre Dame, offers the best chicken in Maniwaki. Café Cristina (819 449-4499), 100 Main Street South, specializes in homemade pastries, Chinese dishes and fresh bread of the day. Café du boulevard (819 449- 2427), 197 Desjardins Boulevard, serves good, homecooked meals. The Birch Bite (819 441-2124), 313A Fafard Street offers a menu of healthy, local fare. Subway (819 449-5552; 819 449-5568), 220 Desjardins Boulevard, serves a variety of coffees, soups, sandwiches and desserts. A number of seasonal casse-croûtes and fast-food restaurants can be found along the main routes.
There are many interesting shops along the main routes and tucked into side streets. A few are listed here to whet your appetite. Librairie Mi-Maya (819 449-3027), 159 Main Street South, is a gift, novelty and souvenir shop, which also sells books. Les Galeries Maniwaki at 100 Main Street South has a number of interesting stores, including Hart (819 449-6587), general merchants with clothing, kitchen items, snacks and more; Paysanne Bijouterie (819 449-2633), a showcase of fine jewellery; and Ribambelle (819 449- 4226), which markets clothing for women and children up to 18 years. La Mie Sous la Croûte (Artistic Bakery) (819 441-1629), 57 Roy Street, sells various healthy breads, pastries and local products. The J. O. Hubert General Store (819 449-3131), 165 Main Street South, sells a variety of sporting goods and hardware.
The Auberge du Draveur (819 449-7022), 85 Main Street North, is a hotel with sauna and a spa. Its restaurant, Resto Pub Le Rabaska (819 441-0035) serves a variety of dishes for breakfast, lunch and dinner. The Chateau Logue Hotel (819 449-4848), 12 Comeau Street, has a pool and spa and a restaurant. The Chateau Logue is home to the Historic Centre of Interpretation for the Protection of the Forest Against Fires. A 518-metre forest observation tower can be climbed to obtain a spectacular view of the area. Motel Central ((819 306-1117), 149 Main Street South, has a mini-fridge in each room.
You can obtain more information on the area from the Chamber of Commerce and Industry of Maniwaki (866 449-6627) or the Town of Maniwaki (819 449-2800).
Madeline Kallio is a freelance writer and regular contributor to Fifty-Five Plus.
One needs several days to search out all of the interesting nooks and crannies on and off the main roads; so, except for some of the businesses and attractions along the main route that are listed here, the discovery of the rest and the off-road places have been left to the visitor to find and enjoy. Because of COVID restrictions, it is wise to call ahead before you visit.