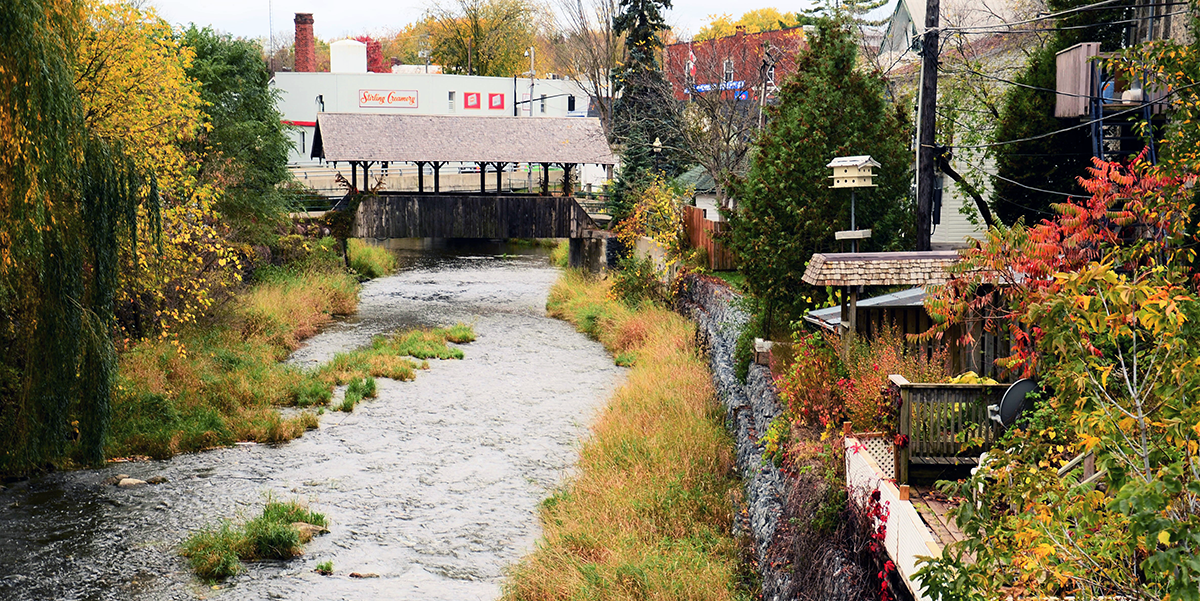 Off the Beaten Path
By Madeline Kallio
Little village with a big heart
A small, vibrant community, Stirling is graced with Rawdon Creek flowing through it and many activities take place around the Mill Pond. Situated just north of the Trent River and the Trent Canal, the village is surrounded by farmlands.
In 1797 John Bleecker and Caleb Gilbert were given a grant of land along the Rawdon Creek. Captain John Walden Myers, the founder of Belleville, was one of the first landowners. Joshua Goldsmith established a still in 1803 and Samuel Rosebush was granted a licence for a second still in 1804 and had built a mill.
Several distilleries were in operation by 1806; and a settlement had sprung up around the creek. Samuel P . Cummings owned the land around the Mill Pond. Settlers, including descendants of the United Empire Loyalists and those escaping famine in the British Isles, continued to arrive in the early 1800s. Many mills were built along the cascading waters of the creek. The community was known as Stirling Mills, Fidlar's Mills and Rawdon Mills until it was officially incorporated as Stirling in 1858 in honour of Stirling, Scotland, which reminded the Scottish settlers of home.
Stirling is home to a number of interesting attractions. Farmtown Park (613 395-0015), 437 West Front Street, houses the Hastings County Museum of Agricultural Heritage and, with its nine buildings, is a repository of the history of the area. The Stirling Festival Theatre, originally a community service building, has been renowned for its professional productions for many years. The Heritage Train Station (613 3950846), 122 North Street, was originally part of the Grand Trunk Railway from around 1879 until 1968. It was renovated and restored by the Stirling Rotary Club. Upstairs in the historic station, the Stirling Train Station Antique Shop (613 9228113), open from May to November, offers collectibles, guided tours and an information centre.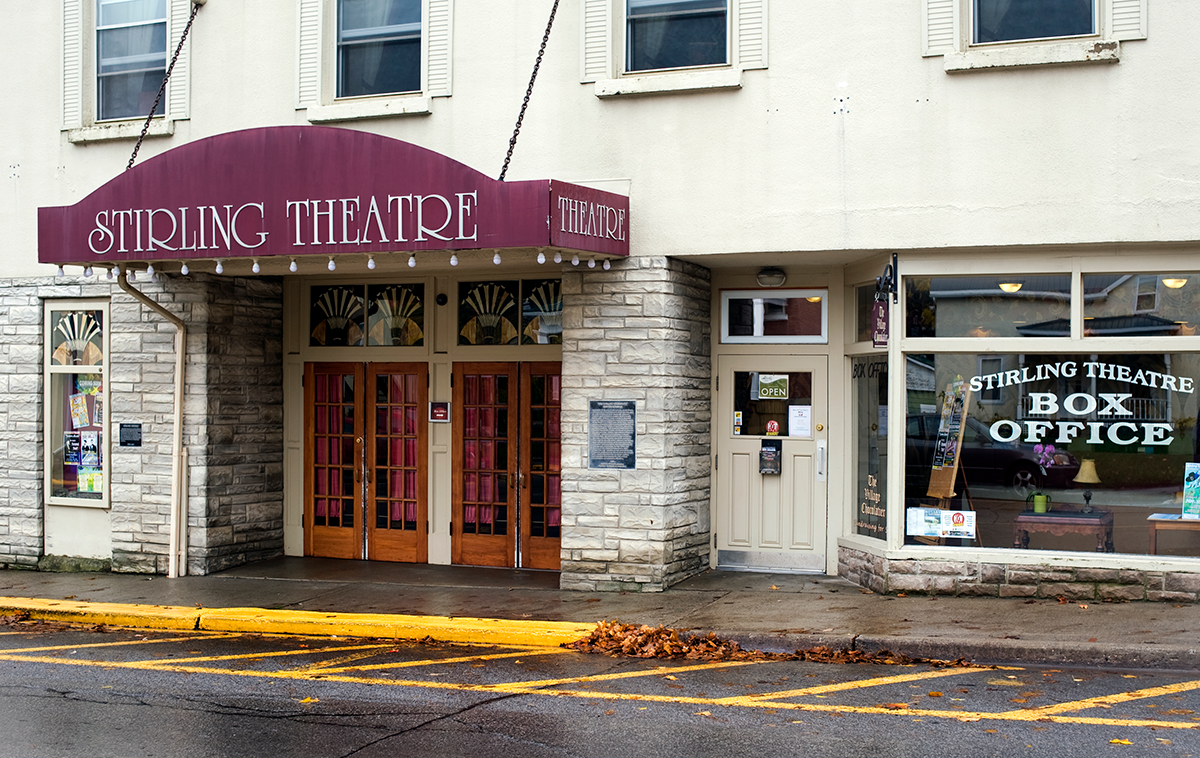 Stirling was named the 2012 Kraft Hockeyville Winner and received $100,000 and the opportunity to host an NHL game. The Washington Capitals and the Winnipeg Jets played at the Yardmen Arena in September 2013.
The merchants of Stirling offer the day-tripper something for everyone. The Apple Store/Cooney Farms (613 3952395), 10 Wellmans Road, sells a harvest of apples and a harvest of country-themed gifts. Good used family clothing, footwear, books, puzzles and gifts are at Beautiful Things (613 395-1038), 14 West Front Street, a thrift and consignment store. Blooms of Stirling (613 395-1353), 17 West Front Street, creates flower arrangements and gift baskets. Jessie's Jams (613 395-2393), 2528 StirlingMarmora Road, will tantalize your tastebuds with homemade jams, chili sauce, applesauce, salsa and syrups, as well as offering soy candles and gift baskets. Name-brand fashion collections are sold at Julia's Women's Wear (613 395-4100), 14 Mill Street. Clothing, home decor, unique gifts, artwork and more are featured at Rustic Routes and Hi Country (613 395-2929), 18-20 Mill Street.
Stirling Heritage Wines (613 3950002), 30 West Front Street, sells materials for wine making as well as glassware, candles and unique wine gifts. Vintage Junction (613 3954555) 36 Mill Street, features handmade wooden signs, handpainted antique dressers, scented candles, faux farmhouse greenery and home decor. Gay Lea Foods (1 800 513-7850), 1 Front Street, has purchased the Stirling Creamery and will continue to honour the tradition developed since 1925 of making cream from Eastern Ontario into the finest butter and will custom-make butter shapes in addition to butter balls and butter pats. Antique Elegance (613 395-110), 22 Mill Street, offers an eclectic collection of English antiques. Cedar Hollow Antiques and Collectibles (613 962-6426), 36 Mill Street, sells antiques, collectibles, interesting memorabilia, and a wide selection of hand-made items from local crafters. Kings Mill Cider (613 395-4079), 596 Kings Mill Road, produces a variety of premium ciders from home-grown apples. Livery Stable Antiques (613 395-1377), 51 John Street, offers a varied selection of antiques and collectibles. Squito Wear (613 3955051), 1078 Minto Road, sells mosquito-resistant clothing. Stirling General Mercantile (613 243-8462), 26 West Front Street, stocks retro candy galore, including a 16-foot candy bar, novelties, toys, fudge made on site and, seasonally, Kawartha ice cream. Stirling Surplus (613 395-9500), 144 Evergreen Road, is a liquidation outlet that buys and sells brand-name clearance merchandise and more. Home decor, watercolour artwork, photography and artfully repurposed furniture are featured at The Studio in Stirling (613 473-1592), 21 West Front Street. The Treasure Addict (613 395-1515), 32 Mill Street, showcases mainly Canadian antiques. The Tree Trunk (613 743-4040), 34 Mill Street, is a boutique-style shop that provides unique, stylish and parent-friendly baby and early childhood products. Mocha diffusion is the special technique used to create the exquisite pottery at Whispered Secret Pottery Studio (613 395-2147), 643 Sarles Road.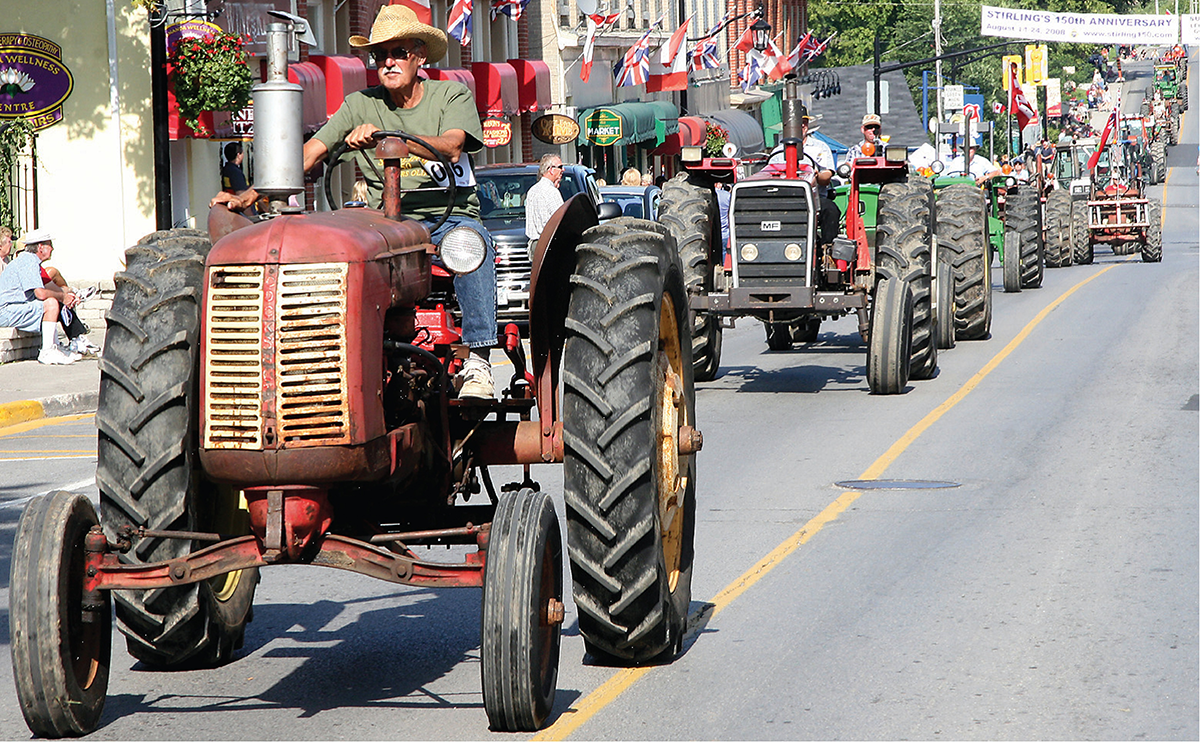 The restauranteurs in Stirling will be happy to serve you. Jenny's Country Lane (613 3955487), 38 Mill Street, is a family restaurant that serves all-day breakfast. Jim's Pizza and Restaurant (613 395-5111), 2 West Front Street, offers a variety of food, including Jimmy's Special Pizza. The Black Dog Family Restaurant (613 395-9444), is at 227 West Front Street. Vito's Pizza (613 395-1313), 160 North Street, also serves marinated fried chicken. Stirling Subway (613 395-6400), 127 North Street, makes subs and salads. The menu at the Springbrook Restaurant (613 395-3535), 4876 Sterling-Marmora Road, lists hearty breakfasts and family fare. The Scoop (343 2631975), 30 West Front Street, offers a wide selection of Kawartha ice cream. Café 23 (613 707-2722), 24 West Front Street, has traditional fare with a music venue. Savoury House Chinese Cuisine (613 395-1288), 24 West Front Street, specializes in Chinese and Asian dishes.
Two delightful places visitors a great place to lay their heads if you are planning a stay overnight. Stirling Bed and Breakfast (613 395-1647), 282 Edward Street, offers luxurious accommodation and gourmet breakfasts. Quiet Oasis in Quaint Little Town, 226 William Street, is listed on Airbnb.
Stirling hosts a number of events during the year, beginning with the Groundhog Fest at the beginning of February. The Stirling Car Show and Antique Flea Market take place the first weekend in May. Canada Day Celebrations are held on July 1. The Stirling Agricultural Fair has been held in mid-August for nearly a century and a half, and it offers everything that you might hope to find in a genuine country fair. The Water Buffalo Festival on the third week of September is a cook-off by local chefs, featuring water buffalo meat and mozzarella. The first two weekends of November open the doors of artists and artisans on the Over the Hills for Christmas Tour. The spectacular evening Santa Claus Parade is held on the first Friday of December.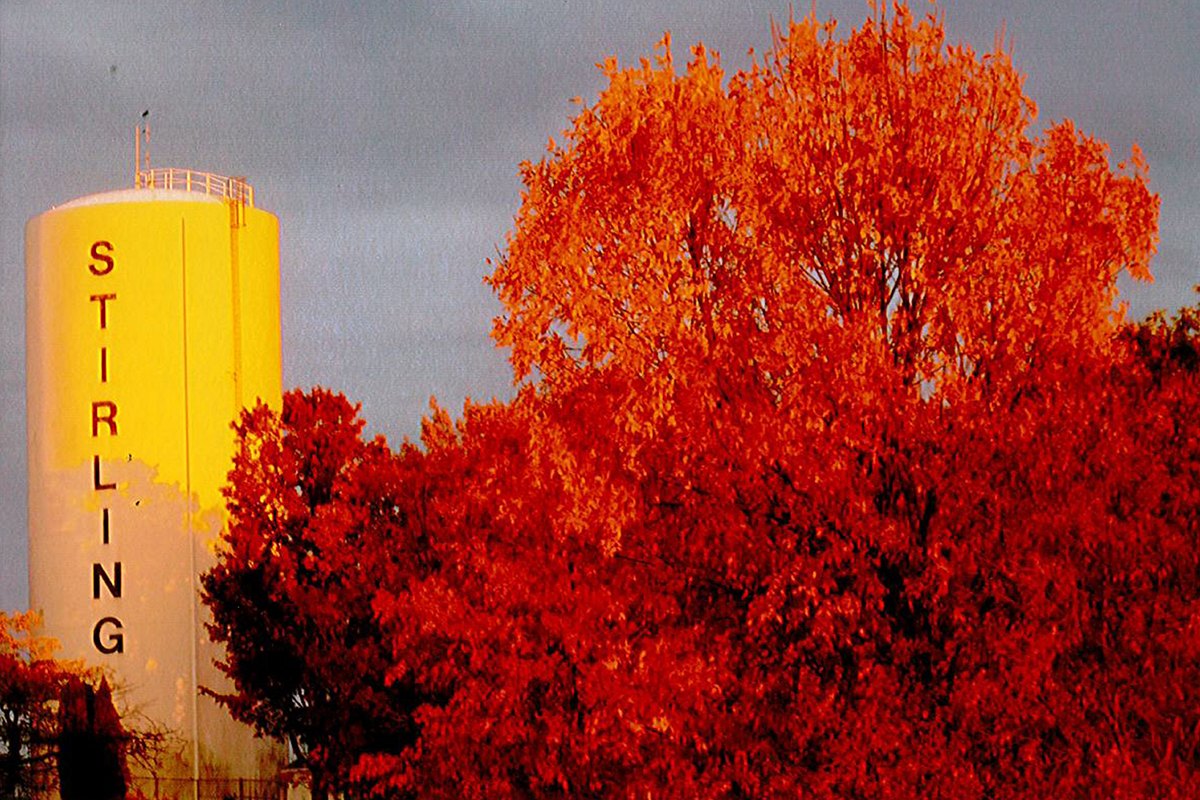 It is not possible in this article to list all of the exciting places to experience in this community and many have been left for you to discover when you journey there. You will indeed find a warm welcome when you visit the good townsfolk of Stirling. The Township of Stirling-Rawdon (613 395-3380), 2529 StirlingMarmora Road, would be happy to provide further information on the area.