Situated where the Gananoque River flows into the St. Lawrence, Gananoque is called the "Canadian gateway to the 1000 Islands." Indeed, City Cruises Gananoque has pride of place on the waterfront, with ships that offer cruises through the 1000 Islands during warmer months. But this charming town is a gateway to the past as well. With its elegant mansions and historic buildings, it offers a beautifully preserved showcase of yesteryear.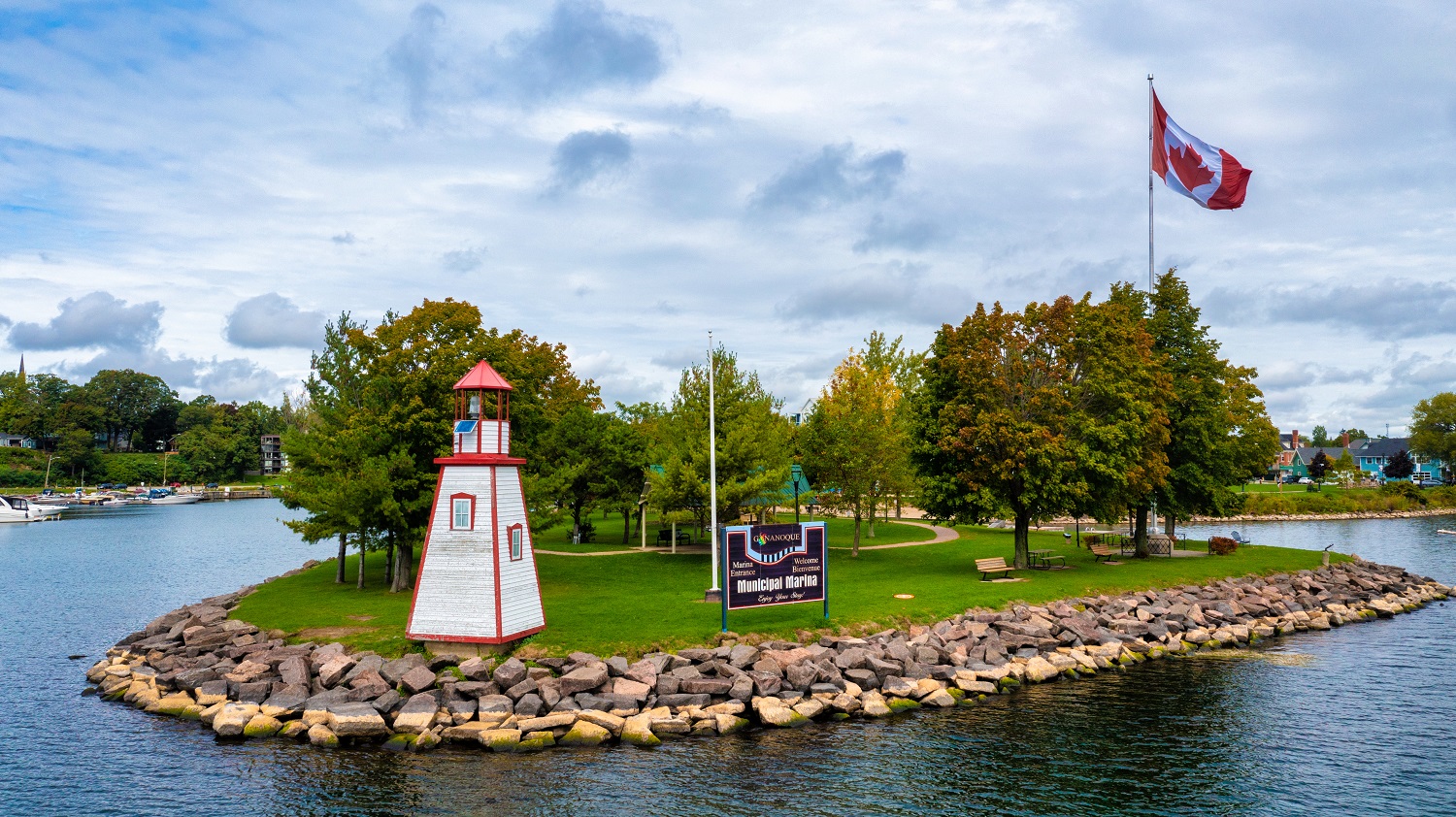 Gananoque was settled on land granted to American Loyalist Joel Stone in 1792. Charles McDonald, another American, became the settlement's economic benefactor. Many of the buildings still standing in the "olde towne" were erected in the 1800s and have been beautifully restored. The centre building of the Comfort Inn at 50 Main Street is the historic Clarion Inn which was the home of the McDonald family around 1890.
The stately mansion at 279 King Street West was built in 1872 by William Byers, who went on to become the mayor. The Victorian Trinity House Inn, 90 Stone Street, was built in 1859 by Dr. Atkinson, a medical doctor, who founded St. Lawrence Steel and Wire in 1886. The Gananoque Inn and Spa, 550 Stone Street South, originally the Gananoque Carriage Company, was established as a resort hotel in 1896 and houses the elegant Watermark Restaurant and Muskie Jake's Tap and Grill.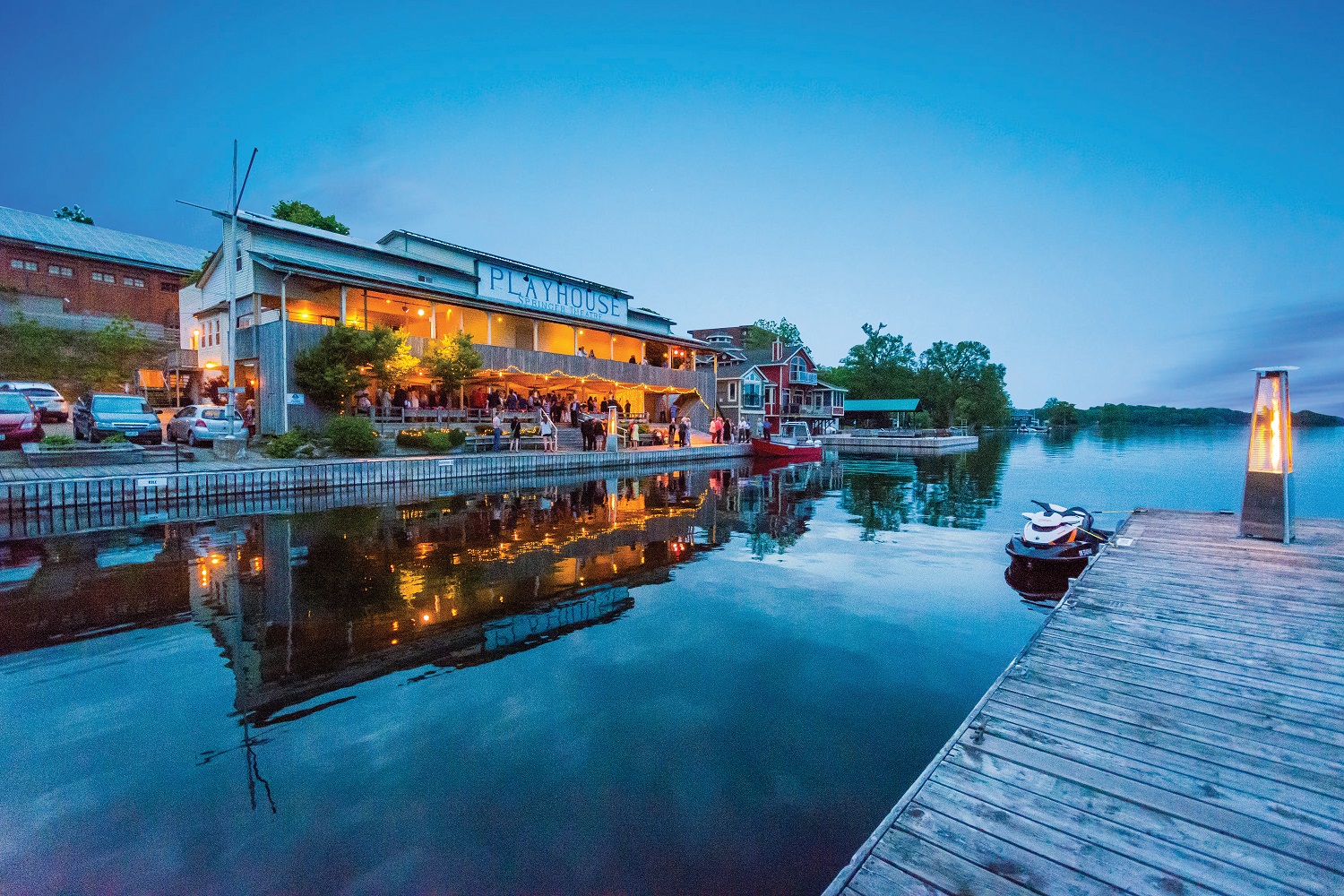 The elegant Woodview Inn, at 250 King Street West, was built in 1877. Today the charming boutique hotel is home to Graydon's Restaurant, offering casual fine dining. A personalized breakfast is included at Chrysler House, 75 King Street West. A Georgian-Victorian style inn, it was built in 1826 for a local ship's merchant. Turtle Island Bed and Breakfast, 415 Stone Street South, is an 1884 red-brick Victorian home that offers a hot breakfast made from fresh, local ingredients. Pangea House, 112 First Street, is a boutique heritage inn with each guest room modelled after a modern-day continent.
Gananoque Town Hall, 30 King Street East, dates back to 1831 when it was built of local bricks for John and Henrietta McDonald. This heritage building sits in the centre of the magnificent Town Park. Many more century homes and elegant mansions line local streets.
A place for the arts, Gananoque is home to the largest professional theatre between Toronto, Ottawa and Montreal: the Thousand Islands Playhouse. Performances are held in two theatres, the Springer Theatre, built in 1909 as a canoe club, and the Firehall Theatre, built as the Gananoque Armoury in 1913. Nestled on the edge of the St. Lawrence River, it offers a range of entertainment and presents one of the top summer festivals in Ontario. The Royal Theatre Thousand Islands, 75 King Street East, is an intimate theatre that showcases theatre, dance and musical performances.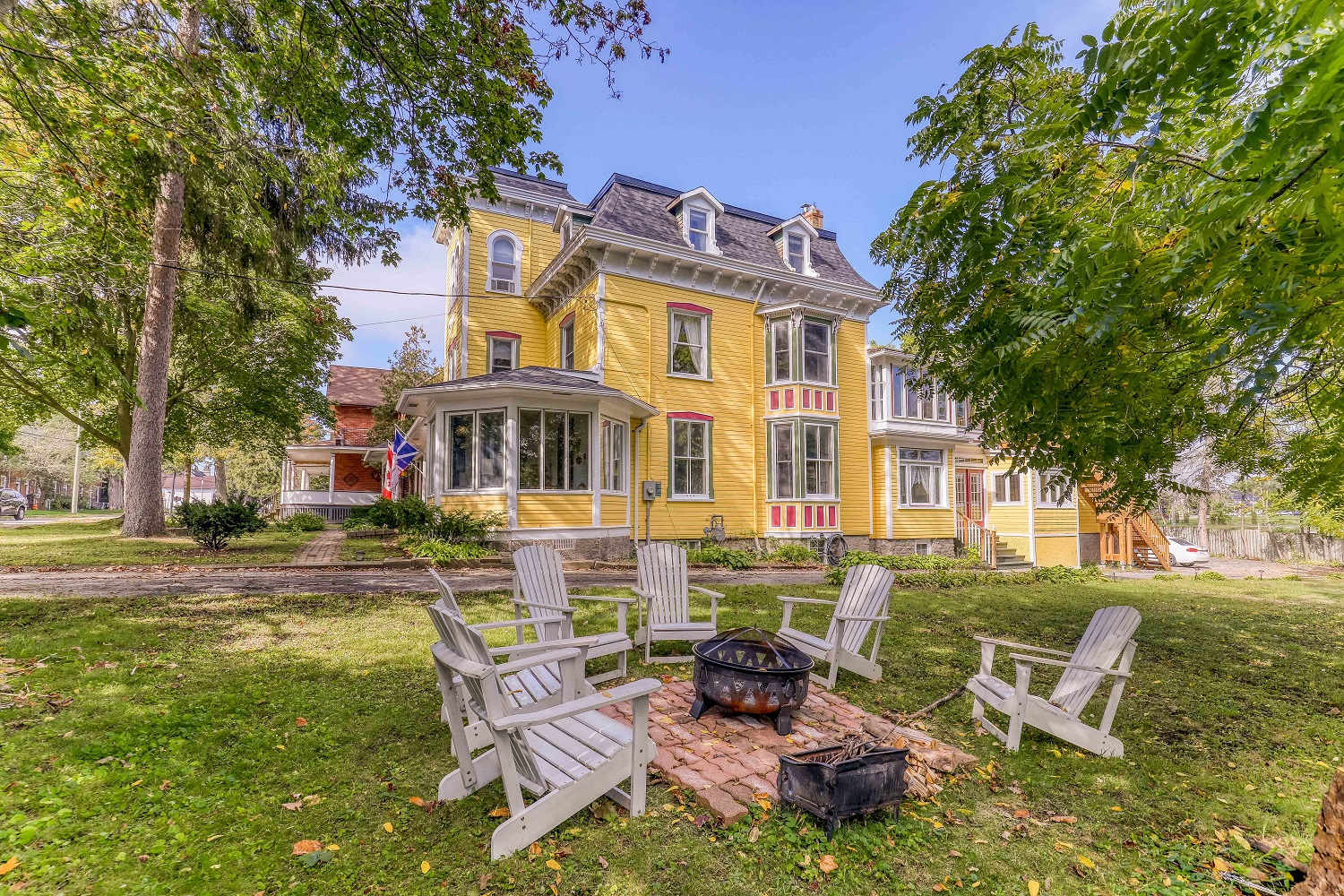 The 1000 Islands History Museum, 125 Water Street, encourages visitors to experience Canadian history in the famous islands and the 1000 Islands Boat Museum, 125 Water Street, is a hands-on museum where history can be experienced.
You'll want to shop here too. Donevan's Hardware, 135 King Street East, is an old-fashioned emporium and hardware store that started as a general store in 1872. Robeson's Country General Store, 190 King Street East has a coffee shop and includes antiques, furniture and home decor. Becker Shoes is at 180 King Street East and books, puzzles, puppets and treats are available at Beggars Banquet Books, 126 King Street East. You'll find lifestyle and branded apparel at the Thousand Islands Trading Company, 95 King Street East. If you head to "Gan" in the summer, on a Thursday, you can check out the Gananoque Farmers' Market. At 30 King Street East, it offers fresh produce, baking, preserves and more.
AxleWorks, 21 King Street East in the converted Gananoque Spring and Axle Company factory, is home to three spots you'll want to visit: Laverne's dishes a healthy twist on diner food, Steel Style Garage Clothing sells contemporary clothing and accessories and Market Vintage offers pre-loved clothing.
Art lovers are also in for a treat. VAGA Gallery features original art by Canadian artists in the 1000 Islands region. The MAK Gallery, 191 King Street East, presents the works of established and emerging artists and the O'Connor Gallery, 130 King Street East, features original design and contemporary art.
There are lots of dining choices too. Lighthouse Provisions and Delicatessen, 5 King Street East, is a fine food shop and delicatessen, while Anthony's, a family restaurant is nearby at 37 King Street East. Maple Leaf Restaurant, 65 King Street East, serves Czech schnitzel and other European fare along with Canadian cuisine, while the Old English Pub, 124 King Street East, offers traditional pub grub. Moroni's Restaurant, 155 King Street East, specializes in Canadian, Greek and Italian food, while the Riva Restaurant serves rustic Italian fare and wines. The Purple House Café, 165 Main Street, is a seasonal indoor/outdoor restaurant serving wood-fired pizza, salads and homemade desserts. Pistachio Café, 90 King St East, a vegetarian café, features gelatos and sorbets and has a beautiful patio. The Painted Turtle Café, 167 King Street East, the Pump House Creamery, 2 King Street East, and the Stonewater Gastro Pub, 490 Stone Street South, are other appealing places to have a bite or a snack.
The Shorelines Casino 1000 Islands, at the edge of Gananoque, has slot machines, table games, a gift shop. Its Windward Restaurant offers modern casual fare.
Gananoque hosts events through the year, including the 1000 Islands Family Ribfest and Rotary Summer Craft Fair on the last weekend of June. The Gananoque Arts Network presents GAN Arts Fest the third week of September. The end of November/beginning of December heralds the Gananoque Festival of Lights and the Chamber of Commerce Santa Claus Parade.
Details: 1000islandsganchamber.com; gananoque.ca