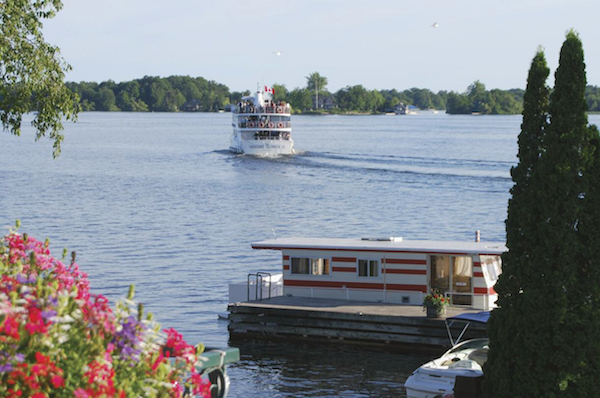 Visit the 1000 Islands on a floating cottage
Story and photos by Sherri Telenko
The imposing half-finished Boldt Castle on the American side of the 1000 Islands is something to behold. Rising above the forested islands surrounding it, the once private stone castle is now a popular public tourist attraction. Everyone who visits stops on the stairs to view the painting of Louise Boldt hanging in the house's majestic lobby. The story is that Louise inspired the building of this residential edifice, but it was never completed.
Boldt Castle, now owned and slowly restored by the U.S. Thousand Islands International Bridge Authority, is on Heart Island, accessible only by boat. You can take one of the many day-tour boats launching on the Canadian side from both The Gananoque Inn and the Gananoque public marina, or you can be your own captain and rent a houseboat.
A houseboat is one of the best ways to experience the 1000 Islands (there are actually 1,865 islands across an 80-kilometre or 50-mile range), and one of those once-in-a-lifetime experiences you'll tell your friends about. But first, the castle.
Boldt Castle
Boldt Castle was to be the summer home to end all summer homes. Plans indicated it was to have marble floors, ornate ceilings,inlay wood flooring, a three-level wooden staircase, 100 bedrooms, three dining rooms, a ballroom, a pool, Italian gardens and a guest house (or kids' castle) complete with bowling alley. It was the dream of George Boldt, a man who spared no expense to actualize his visions.
In the early 20th century, Boldt became a multimillionaire thanks to hotel investments that included the original Waldorf Astoria in New York City (where he allegedly invented 1000 Island salad dressing).The story goes it was his dream to build this mansion for his wife, the love of his life, who adored the 1000 Island region.When she died unexpectedly five years into the project, he abandoned the half-finished prop- erty and never step foot on the island again. Or, as one local said, "That's bull. He ran out of money." Likely, there's some accuracy to both versions.
Here's what is true: Boldt Castle stood empty for 73 years,abandoned then looted for copper pipes and covered in graffiti by partiers in the 1960s. In 1977, the Bridge Authority began the to-date $39 million dol- lar restoration. Far from complete, it's an interesting process to witness.
If you go, check in at American customs the minute you step on land. This is important. You'll need a valid passport for each person and, if you have your own boat, your boat registration number.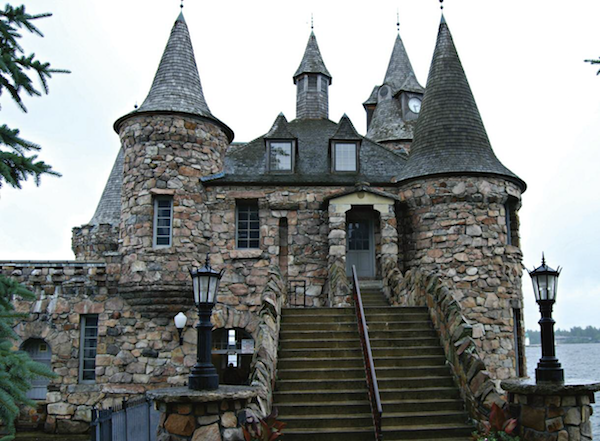 Rent a houseboat
If you don't have your own boat, there are several outfitters around the Gananoque area,such as Houseboat Holidays. This company is family-owned, dog friendly and rents for three, four or seven days, and has been in business since 1973.
Any houseboat (most are 38 or 48 feet long/12 or 15 metres) is like a floating RV complete with kitch- enette, sink and fold-out beds accommodating up to six people tightly. (Two is best, and four is possible in the 38-foot/12-metre models.Apparently, up to 10 peo- ple can sleep in the 48-foot/15-metre models). Each boat has a fresh-water tank for drinking, and a small bathroom and shower that runs on pumped river water.A barbecue on the front deck makes cooking easy, and a propane tank provides interior light and heat in the evening. Decks are level with most docks, making getting on and off simple.
Docking the boat can be challenging and this is when you'll need some boating experience — though the rental company says you don't. (You also don't need a boating licence). Houseboats are hard to ma- noeuvre and are wind-blown easily. If you are docking near expensive boats, you will likely receive welcome assistance from those who want to protect their own boats from a possible collision.
However, houseboats are reasonably easy to steer in the open water.They are a comfortable slow-glide (they don't go fast) and are one of the best self-contained ways to experience this picturesque St. Lawrence region that really is all about the islands. Most are private islands, and some only a rock with a cottage on top. Luckily, Parks Canada owns a number of the bigger islands, and several parks are available for docking, picnicking and campfires. Easy hikes which often involve boardwalks, wooden stairs and clean,cabin-like outhouses are found on every Parks Canada island.
Because they're spread throughout the 1000 Islands, it's difficult to enjoy all Parks Canada properties in a weekend — or even a week. Stick to the highlights, especially those within a reasonable boat driving distance from Gananoque,Ontario.This way, you'll spend more time on the islands than on the journey.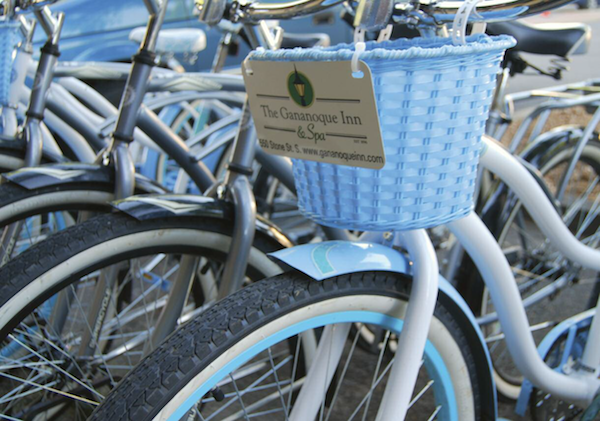 Explore national parks
Camelot Island earns its reputation for being the best hiking option for those who have a moderate fitness level. Like all Parks Canada island trails, these hiking paths are well-marked, often with boardwalks and stairs, and take less than an hour to navigate. Camelot Island is rocky and craggy, making it slightly more challenging than other islands.
Mulcaster Island, by comparison, is a walk in the park.There are flat trails around the island to leisurely enjoy in under an hour. If you're in need of dinner or a night's rest, this island is close to The Glen House Inn.
Further down the river, Georgina Island is located directly under the highway bridge that connects the U.S. to Canada.While this makes it easy to find, the sounds from the overhead highway and busy wa- terway nearby interfere with the serenity. It has longer, moderately challenging trails with small hills and two docks for fishing.
MacDonald Island is close to Gananoque and is often busy.This small island features a few campsites, including "glamping" cabins/tents which Parks Canada calls oTENTiks. It's primarily for boats and people to bed down for the night and run generators. It's one of the few islands to allow these noisy power supplies.
Beau Rivage Island, close to the Houseboat Holidays marina,is one of the most beautiful places to wake up in the morning. Best leave this island to the final day. As the sun rises, distant cries of birds fill the silence, and the silhouette of trees backlit by orange sky make for scenic photos.Across from the dock, the house built on a rock reflects in the calm waters. Walking trails through this island are flat and easy. Several metal fire pits welcome evening campfires, and wood is available for $6.50 (cash) on the honour system.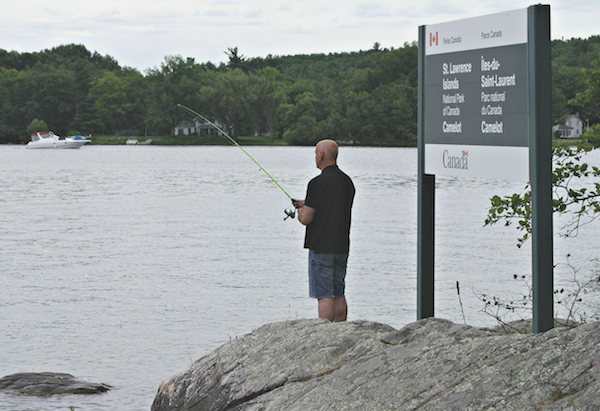 Dine at resorts
"You've got to try the prime rib," more than one 1000 Island or Gananoque resident said when we mentioned The Glen House Resort. Apparently, Friday night it's on special and people dock their boats at nearby Mulcaster Island after a late evening meal. (The Glen House Resort is waterside and has its own dock behind the restaurant.) If you don't arrive Friday,don't worry.The prime rib in queen- and king-sized portions is always on the menu, along with cornmeal-encrusted pickerel that's also iconic. It might not be the best you've ever eaten, but stopping here is like participating in a local custom — and it makes houseboating that much more civilized.
The same can be said for The Gananoque Inn and Spa, the first stop along the water after picking up the boat at Clark's Marina.This local favourite is clearly marked from the water and has docking space with overnight availability if you let the hotel know in advance.There are many rooms (most facing the water) in the main building and cabin-style rentals along the property.Enjoy dinner on the balcony facing the river and docked houseboats.
A final word of advice: if you take your houseboat from Gananoque to Boldt Castle (likely the farthest you'll get in a long weekend), don't follow one of the tour boats back to Canada. They make a detour into the widest part of the St. Lawrence River where the freighters come through. Although you legally can run a houseboat through these waters, that doesn't mean you should.
"I've had people driving a houseboat tell me they looked behind them and saw nothing but a wall of steel," Peter Latchmore, owner of Houseboat Holidays says. "Those freighters travel a lot faster than you do, so get out the way." It's best to avoid that route along the St. Lawrence River around Wellsley Island between the U.S. and Canada entirely.
Other than that particular area, travelling through the 1000 Islands (primarily the Canadian side) on a houseboat is an easy adventure for those who want to see the region as it should be experienced: from the water. Like a turtle, you'll have your home with you, leaving you free to explore Parks Canada islands and gourmet meals at any resort along the route. No one said enjoying nature had to be tough.
If you'd like to experience your own great Canadian houseboat adventure in the 1000 Islands, here's some advice:
In this region, Houseboat Holidays is the only com- pany (I found) that allows dogs on the boats, but they reserve the right to charge a $25 cleaning fee per dog, if needed.
Pack a cell phone charger that fits into a dash- board lighter.
Bring binoculars.You'll need them to see Parks Canada signs on each island.
Use both the large map of the area and a more de- tailed book with photos to navigate your way around. Some boating experience, particularly docking, is helpful. You'll likely get help docking from fellow boaters.
You don't need to buy park passes or pay when you arrive on each island because docking fees are included with each houseboat rental.
Bring bug spray that contains DEET. Not only is it good for mosquitos, but it also repels ticks, which are now a problem in the national parks.
Bring your own towels and toiletries. Sheets, pillows and blankets are provided.
If you cross into the U.S. side and then return home, dock and check in with Canada Customs (via phone) immediately. This is important. n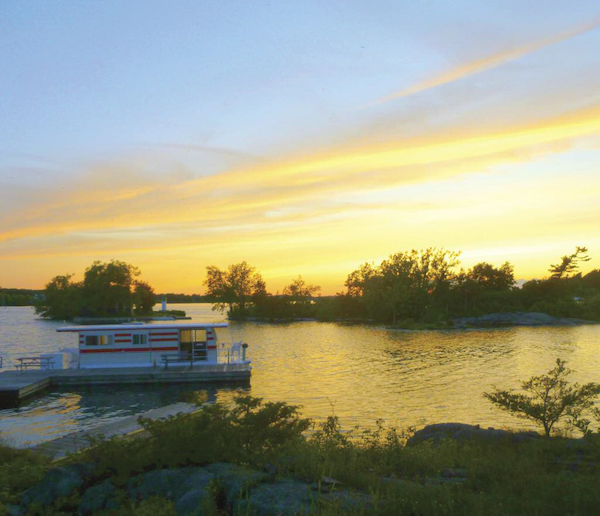 If you go…
Houseboats can be rented from Houseboat Holidays (613 382- 2842; houseboatholidays.net), located at Clark's Marina three kilometres (two miles) west of Gananoque on Route 2; about a 90-minute drive from Ottawa.Weekly rentals range from $1,000 to $1,500 (plus $70 optional insurance) depending on boat size and time of year. April/May and September/October are the cheapest and quietest time of the year. Shorter rentals are available.
The Glen House Resort (800 268-4536; glenhouseresort.com) offers rooms and cottage rentals as well as breakfast, lunch and dinner in the Shipman's dining room. The resort is located at 409 1000 Islands Parkway, Gananoque, Ontario.
The Gananoque Inn and Spa (888 565-3101) offers rooms, cottage rentals, spa services and dinner in the upper level Watermark Restaurant, or lower level Muskie Jake's Tap and Grill. The inn and spa is located at 550 Stone Street, Gananoque, Ontario.