Article and Photos by  Stephen Johnson
We took a recent family trip to the Dominican Republic that offered mom and dad plenty of relaxation time as well.  We divided our time between two resorts with the last being Riu Bambu.
After finishing with check-in, we headed to our room.   I really liked the facts that all the condo style apartments were set up on the grid system with an abundance of maps.  It made it virtually impossible to get lost. We settled into our spacious room and immediately wanted to hit the beach.   I could not help but reflect the temperature in Canada was about – 20 C while we were enjoying 28 C weather beachside.
All of our beach-lazing had worked up an appetite.  My wife, Sandra, being from Mexico, wanted to try the Mexican restaurant.  She said the buffet food reminded her of the food in Mexico which was a positive review.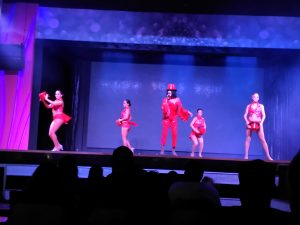 We ended the evening catching a live show in the main hall.  The theatre seated at least a thousand people and had the light and sound production of Las Vegas.  The show started with the entertainment staff dancing merengue. They had more rhythm than I could ever have after a lifetime of dance lessons.  The headline act was a Michael Jackson impersonator who made everyone feel like it was 1983 again. We called it an evening and fell asleep with the sounds of Thriller and Billie Jean still in our heads.
The next day we had planned another tough day in paradise, lounging by the pool and hanging out by the beach.  We started our day going to the breakfast buffet. It was the perfect way to get delicious food in a timely manner.  I particularly enjoyed all the fresh fruit juices that you just can't find in Canada. We headed back to our room and my wife and I were intrigued to watch the grounds staff cutting coconuts from the trees.   Again, another thing you just can't find in Canada.
Our plan was just to hang out by the pool near our room.  I liked the fact that they were mainly playing music from the Dominican Republic.   Our bartender filled us in on the various singers as I made a mental note to check them out on YouTube.     Rather than just spend all of our time at the pool, we decided to take a stroll along the beach. I liked the fact that it was not gated off between resorts so it was possible to walk for miles.  We must have walked for two hours along the beach.
For supper, we chose the Spanish restaurant as we had heard the paella was delicious.    It did not disappoint. Besides the paella, there were many tasty Spanish tapas including an assortment of cheeses and sausage.   After eating our meal, we were ready to go for another walk. We found a series of stores between our resort and the neighbouring resort, Hotel Riu Palace.   The stores sold an assortment of products unique to the Dominican Republic. Once our shopping bags were full, we decided to check out the Riu Palace. It was an opulent making a person almost feel like we were at the real Buckingham Palace.
We ended the evening enjoying another show featuring a Las Vegas style dance revue.   I could not believe the ability to dance all different kinds of dance styles.
For our final day, we decided to take an excursion to La Hacienda which offered up fun for all of us from ziplining to touring a traditional Dominican farm.
Soon enough, we were back on the plane headed to Ottawa vowing it would not be our last trip to the Dominican Republic.  For more information about Riu Bambu and all Riu properties visit, www.riu.com