Travel
By Peter Johansen
A wedding renewal makes for a meaningful trip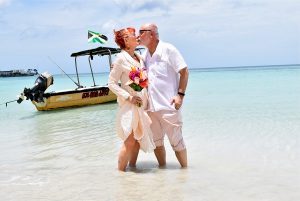 For the first time since arriving in Jamaica three days ago, I can't eat. I'm too nervous. Oxana and I will renew our wedding vows later today, and until I see her walk into the petal-strewn garden we've selected for our ceremony, my stomach is a butterfly garden.
We've come to Negril, a far cry from Ottawa and our blustery winter wedding 35 years ago. We liked the idea of slipping away by ourselves to somewhere warm — but not simply anywhere. Neither of us likes large tourist resorts. We're a tad particular about food. Oxana's skin breaks out in a sun rash if she's not careful. Negril seemed an unlikely choice, then, with its beach centric
days and booze-fuelled nights.
But Sunset at the Palms, a serene adults-only resort on Negril's outskirts, beckoned. Its 10 acres of lush tropical gardens, full of such plants as birds of paradise and shell ginger lilies, are tucked under a canopy of stately palms. A family of goats roams about. Culinary delights are sourced from local farmers. We could opt for activities from spa treatments to mixology classes, or simply seclude ourselves in our treehouse-style cottage, one of 65 units threaded along meandering walkways. It all proved ideal.
Carla Williams was ideal, too. She's the resort's wedding planner. We just had to tell her our preferences for setting, flowers, cake and music (our original wedding tunes, of course). She booked an officiant and photographer, arranged for a private candlelit celebratory dinner, and ordered our breakfast in bed the next day (when fortunately, I could eat again). She even helped Oxana afix glittery fingernails for the day.
The toughest part: deciding what we'd say. Online sources offer suggested scripts, but it fell into place when Oxana suggested we brush off our original vows. They were still perfect. And when it was all over, we felt giddy. Like newlyweds.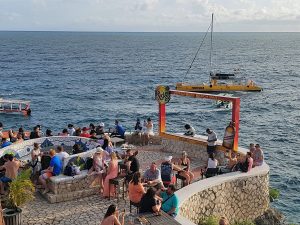 We're not the only ones saying, "I still do." Cruise lines, resorts and package tour companies all tout renewal packages, and claim business is booming. Motorcycle dealers in Florida and retirement homes in Saskatchewan alike, mount group renewals. A spate of event planners can organize every detail, while books and websites will guide do-it yourselfers.
"I think renewals are even more important than the original wedding," says Geri Bain, who co-wrote The Complete Guide to Vow Renewals. "They're such a romantic thing — even often more romantic than the first time." Bain, a former editor at Modern Bride magazine, admits COVID-19 has put a damper on renewals, but it has also focused attention on personal relationships. As a result, she predicts that once pandemic lockdowns end, there'll be pent-up demand to celebrate renewals with family and friends. Despite Zoom, she adds, "there really is no substitute for hugs and in-person celebrations."
Experts point to several benefits of wedding renewals — and of getting away to perform them.
Ottawa family therapist, Martin Rovers, says it takes hard work to sustain a healthy marriage and "renewal is a great idea because it means I want to work on my marriage." Noting that even solid couples spend just 20 minutes a week talking about intimate things, Rovers says going away — perhaps on a cruise — can help carve out time for deep conversation. "Love takes work, effort, imagination, getting away," he argues.
Burlington-based couples counsellor, Marilyn Belleghem, adds that it's more difficult to stay married these days. People live longer and therefore have more time to drift apart. But, she says, "people who can adjust to change and deal with that are more likely to renew their vows." It tells one's spouse you still love them and makes that statement public.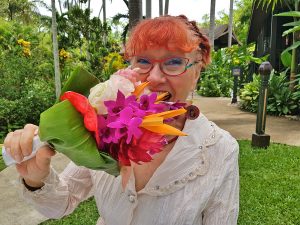 Other benefits include:
• discussing what each wants the other to promise as vows are worked on
• creating a new memory to cherish
• having your children witness your commitment to each other
• celebrating with friends who supported you through the ups and downs of your life together
• inspiring others to live happily together
• having a good reason to visit a dream destination you couldn't afford on your honeymoon
• organizing the event however you want (underwater renewals, nude renewals, even Elvis-impersonator
renewals have all been done)
But experts share cautions, too. The most important: a renewal won't save a faltering marriage. Just ask celebrities like singer Madonna or model Heidi Klum; their high-profile renewals were each followed by divorce. Says Rovers: "A cruise won't necessarily save a marriage. It could be an exotic disaster." In fact, Belleghem warns, talking about a potential renewal might unveil irreconcilable issues that lead to separation instead.
Cost can be another pitfall. "Everything works around a budget," says Shelley Beach of Expedia Cruise Ship Centres in Ottawa. "I can sell you anything and blow your budget right out of the water. Know what you want, but don't wear rose-coloured glasses." She notes, though, that agents can advise couples on destinations or explain the fine print in a resort package.
Brenda Jovanovic, who owns Ottawa travel agency Destination Anywhere, agrees. After a lot of online research, all properties can look alike, she adds. "You need a travel agent who's been to some of them and can sort out the differences." And she advises spending money on a photographer. "In a renewal, photos are about the only thing you'll have to bring back."
In the end, every couple makes their own choice. For some, the celebration may be a backyard barbecue with family and friends. For others, it will be a family reunion at a ski resort. For some, a cruise might satisfy both a spouse who wants to relax and a partner who wants to explore. And for us? It was a way to celebrate our 35 years together, in a serene place we could discover together, with the mutual assurance that "we still do."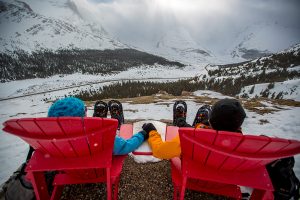 Other Destinations for "I Do, Take Two"
For information on Sunset at the Palms: thepalmsjamaica.com. The renewal package is about US$359.
Need other inspirations? How about one of these?
The rugged outdoors. The natural beauty of Algonquin Park, Ontario's first provincial park, inspired artists like Tom Thomson, and offers active options that include canoeing, hiking and guided wolf howls. Rough it in tents, yurts, or seek the comforts of a resort like Arowhon Pines. algonquinpark.on.ca
Family-friendly fun. Sandals, an all-inclusive adults-only resort chain, has a solid reputation for weddings across the Caribbean — but it offers renewal packages, too. Couples wanting grandkids in tow, can opt for family-oriented sister properties under the Beaches brand. sandals.com/vow-renewals/; beaches.com/wedding-renewals/
Lord and lady. Feel like royalty at Ireland's luxe 800-year-old Ashford Castle, once home to the Guinness family. Refurbished rooms and suites squirreled away in turrets, help kindle romance; as do the immaculate 350-acre grounds. While you're at it, try a falconry lesson. ashfordcastle.com
A peak experience. Jasper is a quieter version of Banff, but just as romantic. Breathtaking vistas of the Rockies and pristine lakes beckon all year. Heli-skiing, golf, hiking, canoeing — even train rides — will entertain all. Elegantly rustic Jasper Park Lodge caters renewals well. fairmont.com/jasper/
Amore in Amalfi. Dramatically perched along the Tyrrhenian Sea, the Amalfi Coast is one of Italy's most romantic destinations (and a UNESCO world heritage site famed for limoncello and anchovies). Soak it all up at I Giardini dei Sensi, a small villa overlooking the sea and hills of Positano. giardinideisensi.com/en
Cruising to "yes." Nautical nuptials are hot: Carnival alone hosts 1,000 renewal ceremonies yearly. Worried about on-board viruses? Consider a river cruise by the likes of Avalon or AmaWaterways. Their smaller boats are never far from shore. Most lines offer packages. cruisecritic.com/articles.cfm?ID=348
Renewal Resources
facebook.com/VowRenewalInfo
idostill.com
Books
Susan Breslow and Geri Bain,
The Complete Guide to Vow Renewals: How to Create a Celebration of Marriage that You'll Love.
Kindle Books, Amazon, 2018.
Patricia Bosley,
Renewing Vows: An Essential Guide to Celebrating the Renewal of Wedding Vows.
CreateSpace Independent Publishing, 2015.
Sharon Naylor,
Renewing Your Wedding Vows: A Complete Planning Guide to Saying I Still Do.
Broadway Books, 2006.