There's no denying that Ibiza has a reputation as one of the world's best clubbing and partying destinations, but many people don't realise that the island has so much more to offer. The island of Ibiza enjoys a tropical temperature all year round which makes it the perfect place to take your next holiday, whatever the season. If you're interested in getting out and about at night, there are plenty of restaurants and bars in the towns and on the beautiful beaches, but your days will probably be spent exploring and relaxing in whatever way suits you best. If you're considering a holiday in Ibiza, here are some tips and ideas to get your planning started.
Stay in Your Own Private Villa
While the island is certainly not short on hotels and resorts, you don't have to stay right in the middle of the action. There are plenty of accommodation options to choose from so you can be as close or as far from the buzz as you like. For example, James Villas have a wide range of luxurious villas in Ibiza, which can provide you with your own peaceful sanctuary.
Visit Ibiza Town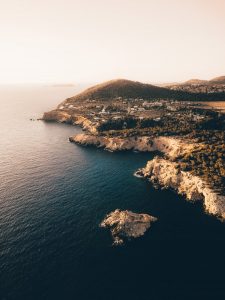 The town of Ibiza is known locally as Vila d'Eivissa. It is one of the oldest settlements in the Mediterranean with cobbled alleyways and offers visitors an authentic Ibizan experience. Highlights include the Plaza de la Constitución, where you can buy delicious local produce such as wines, olive oils, cheeses, herbs and more at the traditional market. You can also take a peaceful boat tour around the harbour during which you can view the fortified walls of Dalt Vila, which is a beautiful example of military architecture. Make sure you try some authentic Ibizan restaurants during your trip to keep off the well-beaten tourist path.
Discover the Island's Rich History
In 1999 the island became a UNESCO World Heritage Site. Like all of the Balearic Islands, Ibiza has a rich and diverse history thanks to the different cultures which have settled there over the years. In fact, the island's history reaches all the way back to the Phoenicians and the Carthaginians as well as the Renaissance era, and it has great biodiversity.
Take a Boat Trip to Formentera
The small Balearic island of Formentera is south of Ibiza and can be reached by boat very easily. Why not take a day to visit the island, book a sailing tour, and enjoy the peace and quiet of white sand beaches and warm, clear waters?
Treat Yourself at Las Dalias Hippy Market
The Las Dalias Hippy Market is located in San Carles and is a great way to spend an afternoon (or longer). It's a vibrant market where you can buy some beautiful handmade items, including hats, jewellery and baskets. It's the perfect place to treat yourself to an authentic Ibizan souvenir.
Explore San Miguel
The village of San Miguel is just a 10-minute drive from the coast and features a range of activities to keep you busy. The architecture is beautiful, and you'll find some of the island's best tapas in the restaurants there, but you can also visit the historic C'an Marca Caves which are within the hills which surround Port de Sant Miquel. The caves are over 100,000 years old and are accessible from the beach. You can take a guided tour of the stalagmites and incredible waterfalls which are illuminated during a light show.