Celebrity Chef Take Over
By Sherri Telenko
I was lucky in Las Vegas — not in the casino, but in the restaurants.
During the summer of 2017, I happened to be in the right place at the right time: the opening of Robert Irvine's Public House in the Tropicana Resort and Casino. The first day it opened and Robert Irvine himself was there meeting guests, posing for photos and generally excited about his first Las Vegas venture, one that saw a promotional photo of him ten stories tall hanging outside the Tropicana a year in advance of his arrival. Now, he's here.
Perfect timing because I'm in Sin City on a mission: I'm visiting celebrity chef restaurants in Las Vegas. After watching chefs on television tell others how it's done, I want to experience firsthand what they're doing. On my list: Gordon Ramsey's Pub House at Caesar's Palace; Bobby Flay's new burger joint; food veteran Emeril Lagasse's modern creole at The MGM and upscale GIADA at the Cromwell Hotel.
But first, Irvine of Restaurant Impossible fame, is a little late to the party considering how many are here before him. But RI Public House opened big — actually building an extension to The Tropicana.
"Previously, this was a small sports bar with nothing here," Irvine tells me pointing to the central area of this artful casual boutique pub with central bar and a menu taking advantage of the wood-burning style pizza oven. The waiter recommended the wild mushroom pizza with doughy crust like its traditional hand-thrown Venetian inspiration. Signature guava nectar cocktail is a perfect pairing.
Why select the Tropicana? "Because the company shares the same beliefs about giving back," Irvine says. "Earlier today, we had a helicopter land out front with a 93-year-old veteran of the Second World War." Then opening day, the house was full of American military veterans Irvine invited to be first to try the pub.
"I plan to be here a lot," Irvine says, which distinguishes his property from many others in Vegas sporting celebrity chef affiliation in name only.
Nonetheless, Irvine is in good company. Chef-endorsed restaurants along The Strip almost outnumber the all-you-can-eat buffets of days gone by, raising the calibre of cuisine available to average Las Vegas clientele. If like both Irvine and Gordon Ramsay, you're on television critiquing (even criticizing) the culinary endeavours of others, yours better be good. RI Public House delivered.
What about Gordon Ramsay?
Notorious British bad-boy chef Gordon Ramsay of Hell's Kitchen and Master Chef fame is no stranger to Las Vegas. His image brands four restaurants along The Strip: the low-key Gordon Ramsay Fish and Chips at the LINQ; upscale Gordon Ramsay Steak in Paris; party-time Gordon Ramsay Burger at Planet Hollywood and 'authentic' 290-seat English Pub style Gordon Ramsay's Pub & Grill at my favourite, Caesars Palace.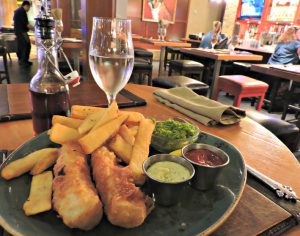 After watching an intense Chef Ramsay, show contestants on Master Chef how to make the perfect fish and chips, I had to taste the work of this short-fused chef myself. Of course, I knew Ramsay wouldn't be manning the fryers, but that didn't stop me from heading to Caesars Palace and judging the influence of the master.
For $30, a plate of fish and chips should be good, especially in Las Vegas. The result? The Yorkshire ale battered fish was admittedly light, flaky and excellent, but the chips were under-seasoned and soft, not crispy as Ramsay emphasized on television. A hint of mint accented the mushy peas, which I prefer over coleslaw, but the serving could be a bit more generous. Add a pint with the meal and you have (almost) classic British fare at twice the price you'd pay at the neighbourhood pub.
Nothing beats Bobby Flay
Not everything is sit-down and casino adjacent. Bobby Flay of Beat Bobby Flay and Iron Chef notoriety is upping the ante in the burger and fry market with Bobby's Burger Palace near the Mandarin Oriental. He's also put his name on the Mesa Grill in Caesar's Palace specializing in Southwestern fare, but the street-front Burger Palace is going after the diner crowd and recreating a retro stool-and-counter vibe (with alcohol).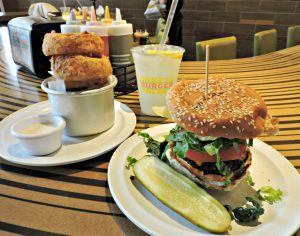 Walk-in, order at the counter from a menu of beef, chicken, turkey or veggie burgers, pick a topping combination such as Green Chile, Brunch Burger (with fried egg) or Bobby Blue Bacon (with blue cheese) and select a side such as sweet potato fries for less than the price of a casino buffet. Plus, you can 'get crunchified' by adding potato chips on your burger.
But this is not fast food; it's not even food fast. Saddle up at the counter where you're in full view of a busy kitchen and the plastic number sign representing your order reminds customers that quality, made-to-order food takes time. So, relax; your burger is on the way and worth the wait.
For the record, the Bobby Veggie Burger with BBQ mushroom, quinoa and chickpea is excellent and do yourself a favour: forget the diet and order the peg of buttermilk onion rings as a side. Best celebrity chef food you'll eat for under $15.
Classic Emeril Lagasse
Charming Chef Emeril Lagasse has been in the celebrity chef game a while and is one of the first to lend his name to cookware. He's also lent credibility to several Las Vegas restaurants including Emeril's New Orleans Fish House at the MGM Grand where he claims status as 'the king of modern Creole cooking.'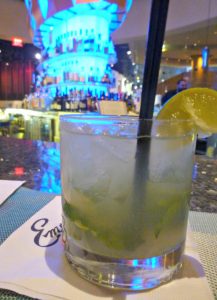 It's night two for me in Las Vegas and I'm checking out the 'Happy Hour' menu — a great way to try restaurant classics in smaller plates at lower price points. Emeril's also offers a signature mojito at this Louisiana-inspired fine dining restaurant. Might as well try the signature Emeril's New Orleans Barbeque Shrimp along with a cocktail. The shrimp is fresh, grilled perfectly and comes with a buttery rosemary biscuit. A side of cornbread is standard at the Fish House, ideal for finishing the extra sauce that's mild, slightly sweet rather than sharp or tangy.
If you haven't gotten enough of cornbread, try the cornmeal fried Louisiana Oysters or Fall River Clam Chowder. Feeling really adventurous? Crystal Fried Florida Frog Legs. Enough said.
According to the bartender, Lagasse makes an appearance at the restaurant about once a year, and tonight is not the night. Finding him here is clearly not as likely as running into Irvine at Tropicana's RI Public House.
Brunch at Giada's Home
Finally, after three days chasing celebrity cuisine in Las Vegas the adventure ends at GIADA at The Cromwell, The Strip's first boutique hotel (without a casino). Fitting too, because noshing at GIADA is a welcome reprieve from the street-level pulsing energy of Las Vegas Boulevard. The Strip is two-storeys below but still visible through the floor-to-ceiling windows — this restaurant capitalizes on something rare in Vegas buildings: natural light. From the civilized calm of GIADA, you can see the Bellagio Fountains across the street, in case you forget where you are.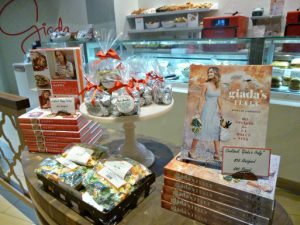 Giada De Laurentiis, host of The Food Network's Giada at Home, brings her Italian roots to The Cromwell, along with a fresh antipasto station, a first at an Italian eatery on The Strip, and weekend brunch for those avoiding the buffets. The brunch tasting menu is recommended if you're a Giada fan. Otherwise, brunch options rather than dinner are the cheaper way to sample this California influenced Italian menu.
I volleyed between selecting cannelloni with jumbo lump crab, citrus ricotta, vodka sauce or caprese frittata with mozzarella, heirloom tomatoes and basil, but settled on salmon benedict with wilted spinach, piquillo peppers, prosecco hollandaise, poached eggs and toast — my top pick meal in Vegas complemented by professional service to enhance the experience.
As an alternative to upscale trendy, Pronto by Giada opened this year at Caesars Palace. It's a casual version of her Cromwell Hotel restaurant featuring grab-and-go options such as artichoke and tuna sandwich, fresh pressed juices and Giada's signature arugula, crispy pancetta and candied lemon salad.
Quick and easy yes, but still a far cry from Shake Shack and unlike most things in Vegas, a sure bet. Not all celebrity endorsements are, but thanks to some friendly competition in the neighbourhood, food is less of a gamble.