An iconic Canadian experience
By Peter Johansen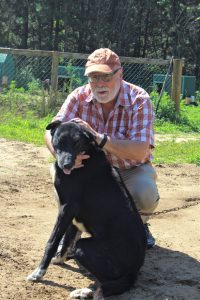 Denis Rozon points to a faded snapshot of himself at one and one-half years of age. Beside him sits one of his mother's sled dogs. Today, decades later, sled dogs remain his companions. But now there are 40 of them.
Denis owns Timberland Tours, a dogsledding operation in Bristol, Quebec, about 45 minutes northwest of Ottawa. He introduces folks to an iconic Canadian experience that combines communion with nature and adrenaline-raising excitement. He teaches guests how to handle his friendly animals safely, has them prepare for a ride across six kilometres of professionally designed trails, and then serves them hot dogs cooked over a wood fire after their run. It all takes about three hours.
Such an experience might not be all that rare in the snows of a Canadian winter. But what makes Timberland Tours stand out, and what brought us here, is unusual. Tours run year-round, even when — especially when — there's not a speck of snow to be seen. Like the crisp autumn day we arrive.
Denis hitches eight dogs to a 300-pound flatbed buggy equipped with small, thick tires. He invites guests to help harness the dogs, a simple task made a tad difficult because the rambunctiously friendly animals won't stand still. But when the job is eventually done, we clamber aboard, grab the rails, and glide along the well-groomed sand trail at speeds up to 25 kilometres an hour.
The dogs yelp until they're off. Then it's silent, except for musher Denis's commands, as we glide under a canopy of red pines, pass a profusion of wildflowers and ferns, and enjoy the trail's gentle rises and falls, twists and turns, thanks to the rolling terrain of Quebec's Pontiac region. Because of the cushioning effect of both shock absorbers and our legs, the ride is surprisingly smooth, compared to a traditional winter-time sled. "We've had people 80 years old," Denis says, "and kids as young as one. Everybody's welcome."
But, of course, in winter Denis uses more familiar two-person sleds for his tours. They're like cushioned toboggans on runners. After instruction, folks set off with one guest driving and the other a passenger; they can switch positions half-way through. "We always have a guide in front and a guide in back to help anyone who has trouble," Denis adds.
If dryland sledding is a surprise, so are his dogs. They're not huskies, the breed traditionally associated with sledding. Instead, they're Eurohounds, a recognized Scandinavian mix of husky, pointer and greyhound. "They're sprinters good for racing," Denis explains. "But they can't keep going for a long time. Huskies are tougher, stronger."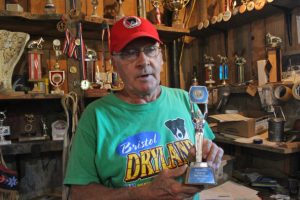 He believes his Eurohounds are better behaved around tourists, too. "A husky will stand quiet and still, and then suddenly snap at you. They're hypocrites." I pose for a photo with eight-year-old Bolt — "like Usain Bolt," Denis explains, referring to the Olympic-winning runner — and he's indeed friendly: he licks my face and nudges against me when I try to walk away.
Denis started sledding when he was six. By age 12 he hooked up his pet cocker spaniel as a lead sled dog and, with a few of the neighbour's animals, hit the trails. He took to dryland racing in his 20s. By 1973 he'd nabbed bronze in his first competition. He's happy to show guests the shelves of trophies won in subsequent races over 45 years. That depth of experience, he says, gives him the discipline to ensure a safe time for guests.
Racing eventually led him to inaugurate the Bristol Dryland Championship, held each fall. The initial event in 2010 attracted 55 teams, mainly from the U.S., where the sport was more popular. Today, 300 teams come from as far away as Australia and Chile. Competitors vie in several categories, pulling a range of vehicles that include bikes, scooters and carts. There's even an event called canicross, in which a human and dog are tied together and race on foot. "If you fall down, you're dragged like in a cowboy movie," Denis quips. Success has led to a winter event, which attracted 80 teams when it debuted last January. Both events attract hundreds of spectators.
"Timberland is always getting bigger with tourists," says its proud owner. And as proof, he points to 18 new teepees that will allow overnight packages starting next spring. Meanwhile, there's always your own opportunity to sled. Whatever the weather.
WANT TO GO?
Timberland Tours is in Bristol, Quebec. From Gatineau, head west on Highway 148. About 16 kilometres past the turnoff to Quyon, turn right onto Ragged Chute Road. Proceed about six kilometres to 36 Ragged Chute Road. Cost for a half-day package is $120 for adults, $60 for children 12 and under. For details: timberlandtours.ca
Want more than hot dogs? Consider lunch at Café 349 (349 Main St., Shawville). Fresh salads, sandwiches and daily specials are offered.