Travel Bug
By Susan Campbell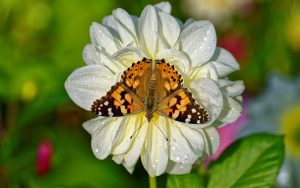 Where butterflies aren't free, but well worth the price of admission
Who doesn't love to see nature's most spectacular winged wonders flying freely? But sadly, many species of butterflies have been endangered by human development. However, there are many organizations that have created "Butterfly Farms" to study their behaviour and promote their conservation, and many are open to the public. These compounds allow budding "lepidopterists" (people who study butterflies and moths), to observe butterfly behaviour within protected confines. In places as close as Niagara, to further flung destinations like Aruba, England, Austria, Malaysia, Australia, and more, you can witness metamorphosis in action and have butterflies flitting all about you, and even landing on you, amid lush gardens. Well worth the price of admission. Find a list of butterfly farms and public gardens around the world here: butterflywebsite.com/gardens/index.cfm
The best place to learn to scuba for mature & limited mobility travelers
If becoming a PADI certified scuba diver has always been on your bucket list, it's never too late. Especially if you plan to learn to dive on the little Dutch Caribbean island of Bonaire, a destination that offers the best shore diving in the world, and a place where you can simply walk into shallow waters from the beach to explore pristine reefs full of colorful coral and marine life instead of jumping off a boat. And their resorts are chock full of first-rate dive operators and experienced instructors, and accessible diving is also a specialty there. In fact, they are one of the prime dive destinations of the Wounded Warriors program, and many of their resorts offer wheelchair accessible units as well. tourismbonaire.com/bonaire-diving.
The 1st Mountain Club Med Resort in Canada
Think of Club Med, and typically spring break style tropical getaways might come to mind. But that is so yesterday. Club Med today is a much more upscale all-inclusive brand and surprisingly, they are also the pioneers of the all-inclusive ski resort concept and offer 19 snazzy mountain resorts located all over the world. And now, they have just opened Canada's first Mountain Club Med Resort in Charlevoix, Quebec. The stunning Laurentian Mountains and forests cresting pristine freshwater lakes will be the backdrop for this picturesque modern escape, and though designed to operationally follow their original all-inclusive ski resort model, this Club Med will be their first mountain resort to be open year-round offering four fabulous seasons of fun and activities for all ages. clubmed.ca/l/quebec-charlevoix
New "Little Canada" will be big on enjoyment
Experience our country in miniature form at Toronto's cool new attraction that will open this year called "Little Canada." This interactive experience will showcase our country's famous landmarks, cityscapes and more with exceptional attention to detail. The first five destinations to be completed will be: Little Niagara, Little Golden Horseshoe, Little Toronto, Little Ottawa, and Petit Québec, and you'll also get a behind-the-scenes look into the building of the sixth destination, Little North. And each year or two after opening, a new destination will be created until the entire country is represented coast-to-coast. Witness craftspeople in action at their Miniature Makers Workshop and become part of a scene yourself through their "Littlization Station" that can produce a "mini-you" via scanning and a 3-D printer. little-canada.ca
Special tour for 75th anniversary of the end of WWII
Liberation Tours has created a special fall edition of their battleground tour to mark the 75th anniversary of the end of the Second World War. Their 2020 Holland Liberation Tour winds from Paris to Amsterdam through the Normandy Shores, Dieppe, Vimy Ridge, Passchendale and other places of special significance to the role of Canadian soldiers in the fight. Retrace their wartime journey and visit many Canadian War cemeteries with military experts like John Fotheringham, a retired Lieutenant Colonel of the Canadian Armed Forces and lead historian, master storyteller, and professional actor Phil Craig who is also a co-founder of Liberation Tours. Flights depart from Toronto to Paris and return via Amsterdam. Land tour only option also available. Liberation specializes in battlefield touring. liberation75.com/fall.htmln
Susan Campbell is an award-winning travel writer originally from Ottawa, but now based in Montreal. Her work has appeared in hundreds of major print and web publications throughout North America. Follow her on Instagram and Twitter @suectravel.