Travel Bug
By Susan Campbell
Star Clippers crowned world's leading green cruise line… again.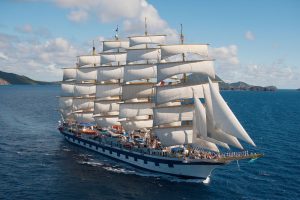 You can sail the seas the most environmentally friendly way if you embark upon a Star Clippers voyage aboard their majestic wind-powered vessels. Although this mode of water transportation might be an old fashioned way of travel, you won't want for luxe amenities once aboard either. In fact, they were also awarded the honour of World's Leading Luxury Sailing Cruise Company at the World Travel Awards in 2020, as well as World's Leading Green Cruise Line, an award they have garnered seven times. Environmental accolades aside, the experience of sailing aboard a modern-day tall ship is absolutely exhilarating, and their safety protocols and curated port-of-call itineraries are also top-notch. Choose from voyages throughout the Caribbean, Mediterranean, Indonesia, Thailand and Singapore. Visit: starclippers.com/ca
Fancy living the Sir Richard Branson lifestyle this year?
If you're seeking a once-in-a-lifetime style holiday with a small travel bubble of your special people, look no further than Sir Richard Branson's Virgin Limited Edition — a collection of extraordinary vacation properties personally curated by the famous billionaire philanthropist himself. The collection includes stunning villas in Spain, private islands in the Caribbean, snazzy safari retreats in Africa, magical casbahs in Morocco, and even a private luxury lodge high in the Swiss Alps. And you can be sure the accommodations and level of
service will be up to the exacting Branson standards if you take the leap, and many properties can be completely bought out for ultimate privacy. Why not make 2021 the year to really live a little?
Explore their enchanting options here: virginlimitededition.com/en .
Did you know that Aruba has the world's greenest hotel? The tiny Dutch Caribbean island of Aruba holds many paradisiacal pleasures, but now it's also home to the hotel that has won arguably the most prestigious environmental award on the planet. Already the Caribbean's most eco-certified, and only carbon-neutral hotel, Bucuti & Tara Beach Resort was awarded the Global United Nations 2020 Climate Action Award for Climate Neutral Now. 510 organizations worldwide submitted for consideration, but this was the first time in the award's 10-year history that a hotel received the honours. Bucuti & Tara owner, Ewald Biemans, has been proving for decades that sustainability and first-rate hospitality can be a reality for all. And this resort also consistently ranks as one of the most romantic escapes in the Caribbean. Visit: bucuti.com .
Sleep with the wolves this winter

If too much lockdown has you restlessly howling at the moon this winter, escape to the wilds of Omega Park in Montebello, Quebec, and
join their pack of wolves for a unique sleep-over experience. Their three wolf cabins are luxe log accommodations that sleep from four to six
people and give you a rare look at Gray Wolves (also called Timber Wolves) going about their business. The cabins are fully equipped with
human creature comforts like fireplaces, kitchens, and more, and provide a safe spot for all ages to view these incredible canines from the floor-toceiling windows. Maybe you'll even find yourself dancing with them! Nightly rate includes admission to Omega Park to see the other animals on-site, too. Visit: parcomega.ca/hebergement
Why you need travel insurance now more than ever
Many destinations are now requiring proof of travel insurance due to the COVID-19 virus and will not allow entrance without it. So how do
you choose the right one that will cover costs that might incur due to the pandemic when you travel? Check the policies carefully and ask ahead about what will covered. Many firms like The McLennan Group have recently initiated separate plans that address issues like out of country hospitalization, and treatment for pandemic related issues. And you might also want to check out options to add to your travel extras like Air Ambulance Worldwide that will allow you to return home for treatment at an affordable cost should you need it for an emergency, too.
Visit: themclennangroup.com/products_travel_covid19.html and airambulanceworldwide.com/airambulance-canada 
Susan Campbell is an award-winning travel writer originally from Ottawa, but now based in Montreal. Her work has appeared in hundreds of major print and web publications throughout North America. Follow her on Instagram and Twitter @suectravel.