Travel Bug
By Susan Campbell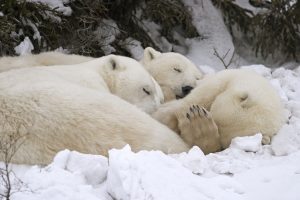 Chill with the polar bears in Churchill
Natural Habitat Adventures offers the best safe, responsible, and sustainable opportunities to get close to polar bears in Churchill, Manitoba. Proudly partnering with World Wildlife Fund experts and Great White Bear Tours, their small group itineraries are exceptionally designed with the environment and the animals always in mind. Guided by expert naturalists, you'll ride in custom-built 'Polar Rovers,' and you can also stay in their private and unique rolling hotel, The Tundra Lodge, where the bears like to hang out. Plan ahead for a fall adventure when the bears gather in the greatest numbers on the western edge of Hudson Bay. Conservation through exploration is the Nat Hab Adventures' motto. See all of their nature tour options around the world (including polar bears) at nathab.com.
Dive into a new skill on Bonaire
If becoming a PADI certified diver is on your bucket list, the little Dutch Caribbean island of Bonaire (the 'B' of the ABC Islands — Aruba, Bonaire, Curacao) is surrounded by pristine and protected healthy reefs chock full of mesmerizing sea creatures. Touted as a diver's paradise, it also has some of the world's best shore diving sites which are ideal for beginners. Most resorts have their own dive operators, and there are first-rate outfits like Dive Friends Bonaire that offer excellent professional instruction. If you start your course material online ahead, you'll only have to do two-and-a-half days of in-person training to become certified so you can spend more of your holiday time exploring Bonaire's many other pleasurable pastimes. Visit: padi.com/education/elearning-programs and tourismbonaire.com.
New luxurious perspectives package in Vancouver
Sip champagne while you soar with the eagles via an awesome private aerial adventure over the city with SKY Helicopters. Afterward, become really grounded in body, soul, and spirit while you luxuriate at CHI, The Spa's private spa suite at elegant Shangri-La Hotel Vancouver. Spa treatments include a personalized massage, collagen face mask, eucalyptus steam, and tea service. This epic VIP package is available throughout 2021 through Shangri-La Hotel, Vancouver, the epitome of Zen right in the heart of the city between the
mountains and the sea. It's a sleek urban escape within walking distance of Vancouver's best attractions. If you're not planning on travelling out west, gift certificates for the Luxurious Perspectives Package are also available for those who are already there. Visit: shangri-la.com/vancouver/shangrila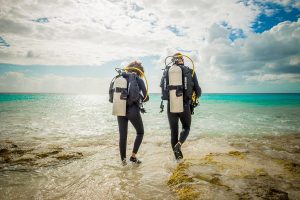 Plan to see "The Unseen West"
If you're a fan of train travel or have been fortunate enough to take a famous Rocky Mountaineer Canadian rail trip,
then bookmark this news for an epic future adventure when travel restrictions between the US and Canada allow it. A brand-new American route through what they call "The Unseen West" will debut this summer travelling between Denver, Colorado, and Moab, Utah. Named the "Rockies to the Red Rocks," the two-day journey includes an overnight stay in Glenwood Springs. Aboard their classically designed luxury coach cars with oversized
windows, you'll enjoy unparalleled views of haunting ancient canyons, deserts, natural archways, and the mystical hoodoos of the Arches National Park region. They will also offer their signature SilverLeaf and their SilverLeaf Plus service aboard. Visit: rockymountaineer.com/train routes/rockiesred- rocks
New flexible travel credit pass trending
This new service was created in response to a year of quarantines and travel bans for those itching to plan new adventures but reluctant to commit to timeframes due to uncertainty. It's called Flexipass By Travel Stride, and it provides a financially secure way to book epic trips with trusted outfitters in a no-risk fashion. The pass comes in different denominations and covers over 23 different travel companies offering thousands of trip choices spanning seven continents. It can also make an ideal gift for chronic wander lusters and can be redeemed or cancelled for a full refund up until 2023. That offers plenty of planning time, and considerable savings are to be had on whatever trip you choose when you book via the pass. Visit: flexipass.travelstride.com 
Susan Campbell is an award-winning travel writer originally from Ottawa, but now based in Montreal. Her work has appeared in hundreds of major print and web publications throughout North America. Follow her on Instagram and Twitter @suectravel.