OFF THE BEATEN PATH
By Madeline Kallio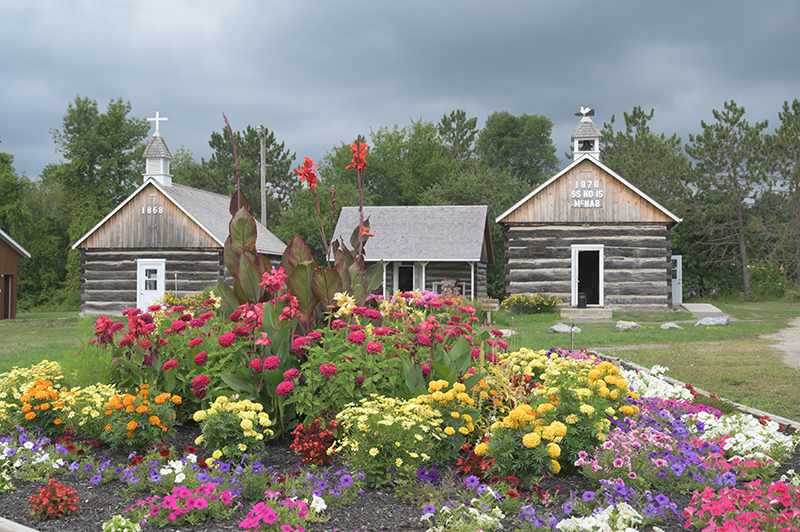 A hint of the past—of a time when tall pines crowned the land in the pristine wilderness around clear lakes—can still be felt when visiting Pakenham and White Lake, an area of delightful vistas and vacation destinations. Artists and artisans have chosen to locate in and around these small, friendly villages. Delightful businesses have brought their skills to the country. History and tall tales abound.
PAKENHAM
Colonel William Marshall travelled down the Mississippi River in 1822 and named the tumbling falls at today's Pakenham "Little Falls." A year later, when Robert Harvey and John Powell made a clearing in the woods at "Little Falls" to build a cabin and a grist mill, they called it Harvey's Mills. Then Andrew Dickson arrived in 1831 and bought the land on which the settlement was located. Dubbed the father of Pakenham, he developed most of the businesses and laid out the plans for the village. For a short time, the village was called Dickson's Mills. Originally, though, the township had been named for Sir Edward Pakenham, brother-in-law to the Duke of Wellington, so the village was named Pakenham Mills in 1832 and that name was shortened to Pakenham in 1856.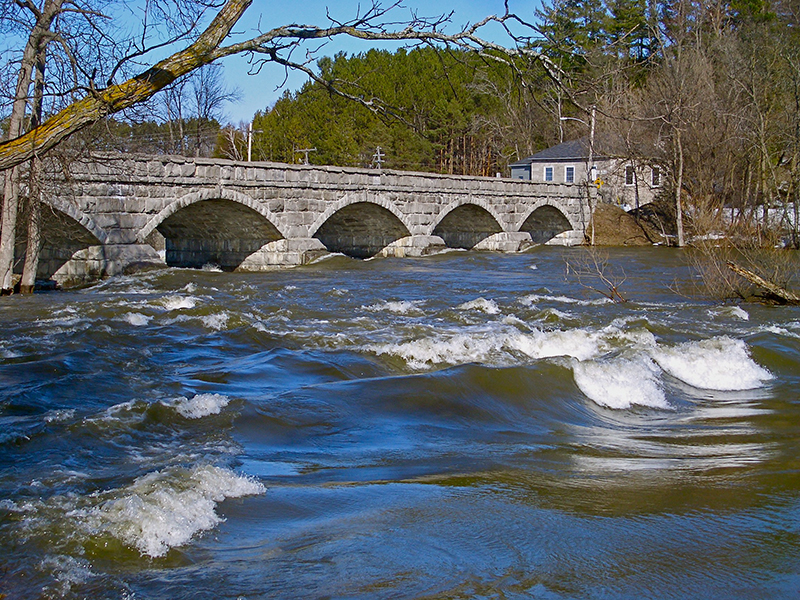 Pakenham is home to the only five-arch stone bridge in North America. Built in 1901 by O'Toole and Keating of Ottawa with stone from a local quarry, it straddles the Mississippi River over the scenic falls. A conservation area borders the riverbank on the east side, crowned by the magnificent stone home of Andrew Dickson, which was built in the mid-1800s.
Behind the stone house above the community is a collection of buildings, anchored by the beautiful Victorian stone mansion that was Dickson's son William's home and, later, an inn and fine-dining establishment. At one time, the site was a mink ranch. Today it's a unique refuge called Stonebridge Haven. Located at 4839 Kinburn Side Road, it offers courses, retreats, coaching, support for caregivers and seniors, walking paths and more.
Explore Pakenham's past by following the Museum on the Streets self-guided walking tour. Starting at the Cenotaph on Hwy 29, five panels with vintage photographs and descriptive text will lead you through the downtown. mississippimills.ca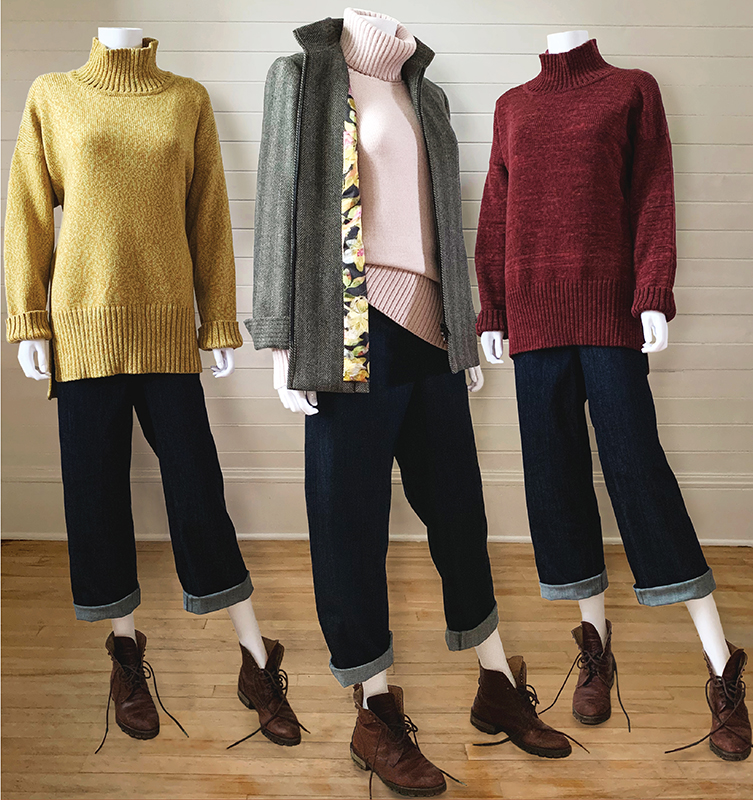 Historic Graham Street is home to a number of interesting places. At 2524 Graham Street, you'll discover Pakenham General Store & Bakery. A landmark in the community since 1840, it features wood floors, displays of vintage grocery tins, original wooden counters and a miniature railroad. Along with groceries, this general store offers freshly-baked bread, sticky buns, local cheese, maple syrup and other maple products.
Nicholson's Sundries, 2529 Graham Street, is a convenience store that also sells groceries. The Centennial Restaurant, 2536 Graham Street, dishes Italian and Canadian food, while Penny's Fudge Factory, 2483 Graham Street, sells over 50 flavours of fudge. 3 Apples Bakery, 2544 Graham Street, offers a variety of gluten-free baked goods, including bagels, bread, pizza crust, cookies and squares. Keepers Coffee Botanical and Vintage, 2518 Graham Street, offers locally roasted coffee, house-made baked goods, plants, artisan products, vintage housewares, upcycled items and accessories.
At 919 Sugar Bush Road, you'll discover Indian Creek Orchard Gardens, an organically managed micro farm. This spot provides naturally grown artisanal fruits and vegetables through the growing season, so you'll want to load up on fresh produce.
Fashion fans are in luck too. Award-winning dress designer Paddye Mann can be found at 156 MacFarlane Street, in the original home of tailor William Tait. You'll be charmed by both the place—a Regency-style, stone cottage with exquisite gardens—and the style: Paddye's designs are based on a philosophy that clothes should be comfortable, the colour exceptional and the personality of the wearer must be allowed to shine through. Another must-visit spot for arts enthusiasts is the studio of glass artist Chris Van Zanten at 2828 Concession Road. It's just north of the village.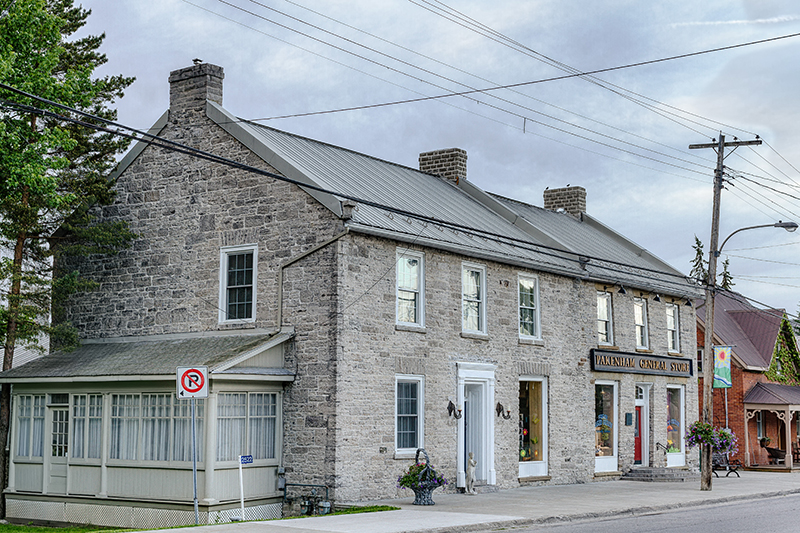 Just south of Pakenham on County Road 29, you'll find Pakenham Highlands Golf Club at the corner of McWatty Road. It includes three nine-hole golf courses and an indoor lounge. A short way down County Road 29 on the shores of the Mississippi River, you'll find the Copper Kettle Restaurant. It serves fine European cuisine with locally grown ingredients.
Craft beer lovers will want to visit Cartwright Springs Brewery, 239 Deer Run Road, where the beer is brewed from natural spring water. For another kind of delicious treat, check out Scoop's Ice Cream and Frozen Yogurt at 111 Waba Road.
WHITE LAKE:
Waba Road leads out of Pakenham to the small communities of Waba and White Lake. White Lake General Store, 6 Burnstown Road, offers an eclectic mix of merchandise, food and gifts, including everything from clothes and crafts to beer and hotdogs. The Kitchen Restaurant, 620 Bellamy Road, dishes up prepared meals, pizza, calzones and more.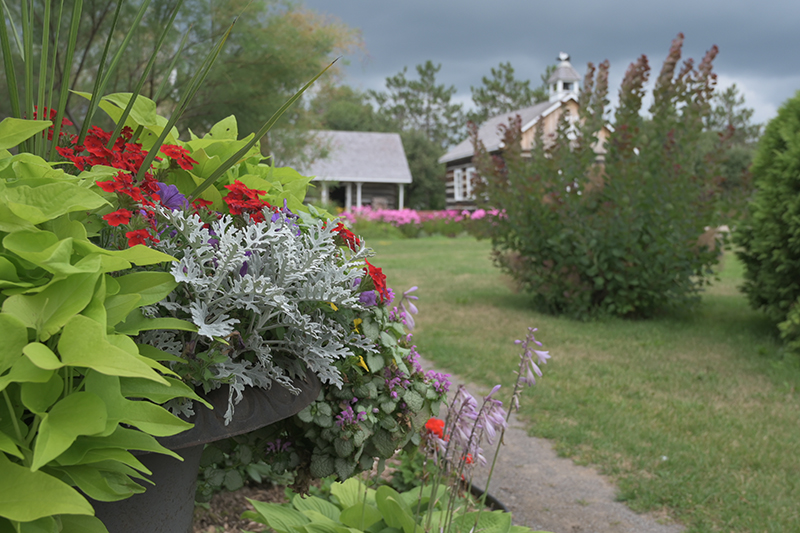 You might want to ask for your food to-go, so you can enjoy a picnic on the grounds of the Waba Cottage Museum and Gardens. Open from Victoria Day weekend, this idyllic, waterfront landmark is at 24 Museum Road in White Lake. It is a faithful reconstruction of the house built in 1835 by the founder of McNab Township, Archibald 13th Laird of McNab. McNab fled Scotland and his inherited debts to became administrator of the township. He brought with him a number of Scottish settlers who he ruled with an iron fist and who—after petitions, court battles and legal manoeuvres—finally ousted him. Today, the site includes five restored historic buildings, eleven beautiful gardens and picnic facilities on eight lovely acres on the shores of White Lake.
This summer, Herb Fest 2022 is happening once again on the grounds of Waba Cottage Museum and Gardens. The annual event, held virtually in 2020 and 2021, is taking place rain or shine, from 9 a.m. to 4 p.m. on July 31, 2022. Live music, active living demonstrations and cooking presentations will be part of the fun.