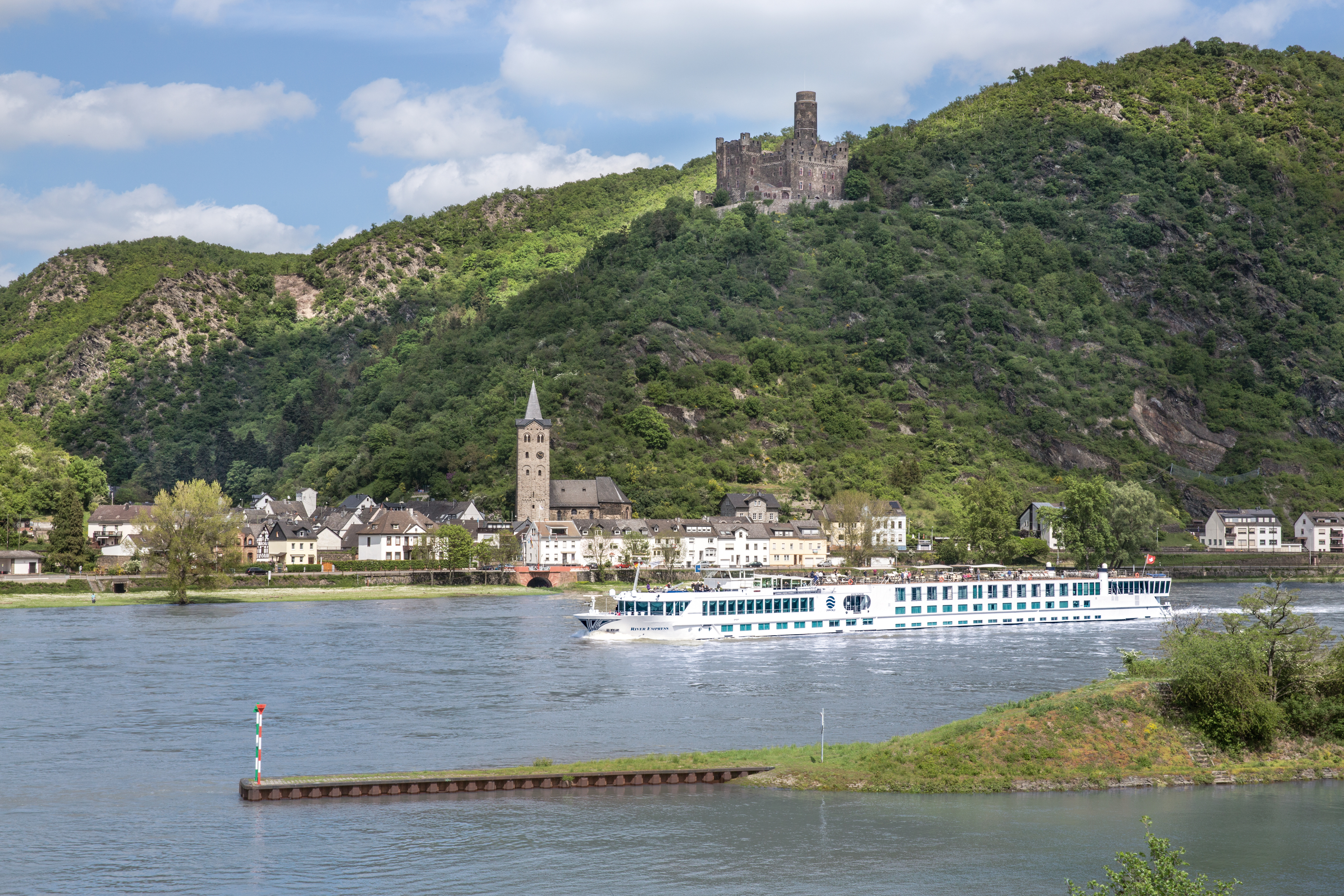 European river cruise the ultimate in luxury
By Barbara Cameron | June 2019
There's really only one way to travel the legendary Rhine River: Take the deluxe route. Along with the breathtaking scene what LUXE Ottawa publisher George Coyle enjoyed on Uniworld's nine-day Remarkable Rhine excursion from Amsterdam in The Netherlands to Basel in Switzerland. Encompassing four countries, France and Germany plus The Netherlands and Switzerland, along with five UNESCO World Heritage sites, including Germany's Cologne Cathedral, dating back to 1248 and described by UNESCO as a "Gothic masterpiece," this outstanding European tour is all about life's finer things.
"It was beyond five-star cruising," George reports of the holiday. Far from the crowds and capaciousness of one of those ubiquitous mega-vessels that are akin to moving, Big-Box cities, this boutique river cruise is designed for luxuriating in the royal treatment to match the majestic landmarks along the way.
Distinguishing itself as "the world's only authentic boutique cruise line," Uniworld offers itineraries in Europe, Asia, Egypt and Russia. Wherever you choose to go, it has a stellar reputation for excellence, having earned the titles of "Number One River Cruise Line" in the Travel and Leisure 2018 World's Best Awards and "Top European River Cruise Line" in the Cruise Critic Cruisers' Choice Destinations Awards.
No surprise there. The European fleet of sumptuous ships boasts an average capacity of just 130 guests, along with a staff-to-guest ratio that's second to none in the river cruise realm. "The service on the ship was truly outstanding," George notes.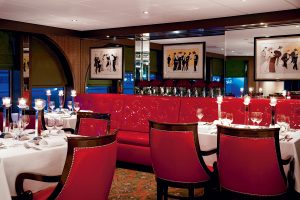 A Uniworld European cruise is also notable for unforgettable shore excursions and all sorts of onboard luxuries, from beautiful linens and beds hand-crafted by England's Savoir to Italian marble bathrooms and L'Occitane and Hermès bath products. As for the ambience, it's as inviting as it is arresting. Thanks to original art, antiques and one-of-a-kind décor inspired by the illustrious region itself, there's a sense of timeless old-world elegance and hospitality.
Better yet, these sophisticated cruises are all-inclusive, from the unlimited beverages (including premium selections) to the fabulous meals, prepared using fresh, local ingredients sourced from the destinations en route. "The food was amazing," George notes.
As a seasoned world traveller, he also appreciated the convenience and pampering of having a butler at the ready. "He would arrange private dinners for us at sail-away, or a later breakfast up on the sun deck, or a late-night snack or cappuccino in our suite. We didn't have to lift a finger the whole trip."
And what a trip! "It's a great way to experience Europe," George explains. "You get to experience multiple places — we visited seven spots — but still have the comfort of your top-notch stateroom and Uniworld's first class service. It's carefree, too. You don't have to worry about making any of the arrangements that typically go along with touring several destinations in one vacation."
At each destination, Uniworld guests get to choose from three different excursions, led by English-speaking local experts. "There's an excellent selection of options, all included," George notes, adding, "The guided tours were amazing and informative." For those who want to tour on two wheels, bikes are available for the pleasure of guests.
And while there is no end of things to do and see on land, the journey itself is just as captivating. "Being on the water is always very relaxing and attractive; pulling up to and away from the different ports was particularly beautiful."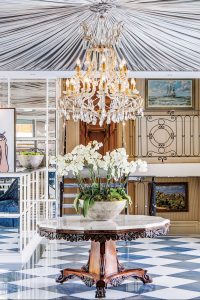 For the Ottawa publisher, the Remarkable Rhine adventure started in Amsterdam, a European capital known for its architecture, canals (it's nicknamed Venice of the North), cycling culture and cultural landmarks, including the Van Gogh Museum and Anne Frank's house. "It was our favourite place," he says. On this 2018 timetable, Uniworld travellers had the option of taking a private Morning with the Masters tour of the Amsterdam Hermitage to see its famous collection of Dutch Masters. An art historian revealed Portrait Gallery highlights and some of an exhibition of Dutch art collected by none other than Catherine the Great. Other options included a Do As The Locals Do walking tour, a cycling tour of the trendy Jordaan district, and a Jewish Heritage tour that included visiting the Jewish Museum and the Portuguese Synagogue.
George particularly liked visiting Amsterdam's De Negen Straatjes or The Nine Streets. Named for the nine side streets in the city's canal belt, this quaint, charming destination is full of hotspot eateries, galleries, picturesque architecture, unique shops and cafes.
From Amsterdam it's off to Cologne, a city that dates back 2000 years and that serves as the Rhineland's cultural centre. The must-see place here is the iconic Cologne Cathedral, a Gothic wonder that was once the tallest building in the world. Its awe-inspiring architecture and shrine to the Three Magi draw people from around the world. Here, a local expert shares insight and insider knowledge of the historic cathedral and also introduces Uniworld guests to highlights of the Old Town. Beyond this there are excursion options that focus on beer, contemporary art or Jewish history. Beer lovers get to sample a brew made in Cologne, art enthusiasts can see Museum Ludwig's important collection of contemporary art and guests interested in Jewish history can visit an ancient mikveh and other landmarks in the Jewish quarter.
Day Four of the cruise entails a visit to Oberwesel (Bacharach), an idyllic locale that looks as though it was plucked from the pages of a book of classic fairytales. Options here include a guided stroll and taste of locally grown Rieslings, or a hike up to the 12th-century Stahleck Castle to take in its scenic views. George witnessed something extra special. "In Oberwesel, we visited a mediaeval festival. It was very authentic and the whole small village shut down for this event. They only do it every two years."
At this point in the trip, once guests are back onboard, they're treated to the dramatic scenery of the UNESCO-designated Upper Middle Rhine Valley, an historic and cultural landscape that for centuries has inspired artists of all sorts.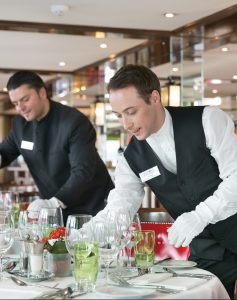 The next stop on the cruise is Frankfurt, a commanding international city of skyscrapers and heritage architecture. Here guests can take a Do as the Locals Do walking tour of the Old Town, sample delicacies at a covered market, and visit the Städel, Germany's oldest museum. For those who'd prefer to explore by bike, the tour goes along the city's famous Museum Mile, featuring 13 acclaimed attractions. And people curious about the city's Jewish legacy can discover the Rothschild family's rags-to-riches story.
The final port in Germany is Speyer, one of the oldest cities in the country. (It celebrated its 2000th anniversary back in 1990). There are lots of options here. A local expert guides a stroll through the historic town that's famous for its UNESCO World Heritage Site, The Speyer Cathedral. Founded in 1030 by Conrad II, it was the burial place of German emperors for almost 300 years. There's also an excursion to Worms, an ancient Jewish center of learning and religion. Or you can do like George did, and visit the Weinessiggut Doktorenhof estate for a vinegar tasting. "This was very unique and different," he notes. "Similar to a wine tasting but you sip different vinegars." Following the tasting, he adds, "We went back to a local chef's house and did some cooking for the afternoon. It was a private event with only 12 of us. It was very fun and unique and we got to use the vinegar from the tasting in the cooking."
From Speyer, the cruise continues to Strasbourg, a picturesque city of cobbled lanes and half-timbered houses in the Grand Est region of northeastern France. Here you can explore Petite France on a Do as the Locals Do walking tour. Try some of the delicious food — such as choucroute, pastries, flammekueche, pain d'epices, chocolate and cheese— and walk it off by investigating the city's many attractions, from the gothic Strasbourg Cathedral to the remarkable Maison Kammerzell, a splendid historic landmark built in 1427. Those who opt to do the bicycle tour can explore both historic Petite France and the European Quarter, with its striking modern buildings. There's also an opportunity to find out about the city's rich Jewish history, dating back 2,000 years. "Strasbourg was also one of our favourite spots," George mentions.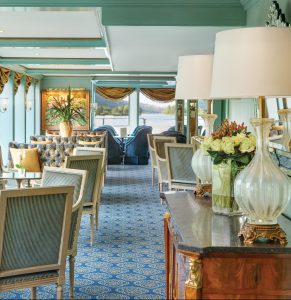 The final port on the Remarkable Rhine cruise is Basel, Switzerland. Here guests can experience the medieval heart of the city on a Do as the Locals Do walking tour or take a Let's Go bike tour along the Wiese River, stopping at the celebrated Fondation Beyeler Museum. An architecturally stunning, modern site, it features 250 impressionist and modernist works, including paintings by Monet, Cezanne, Lichtenstein, Klee, Van Gogh and Warhol. Guests interested in Jewish history and culture can take the Jewish Heritage tour of Basel, a city that's considered the cradle of modern Zionism.
From start to finish, Amsterdam to Basel, it is an unforgettable journey on the mighty Rhine, George says, and one he recommends highly.