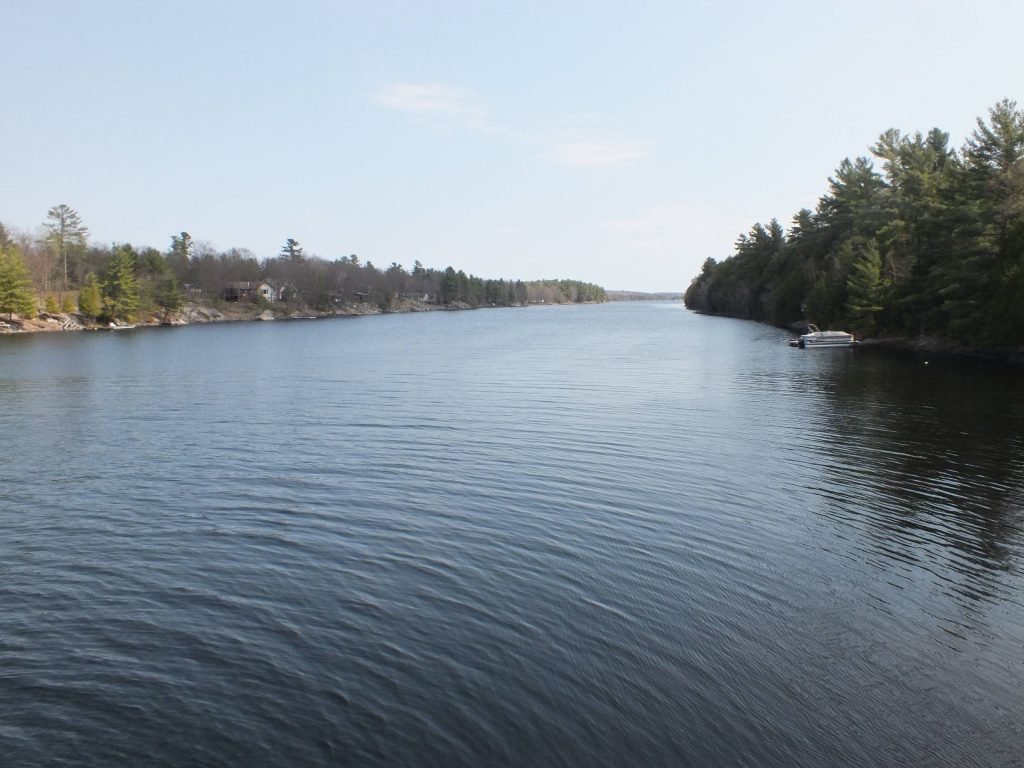 Warm-weather day-tripping through Sharbot Lake and Arden
By Madeline Kallio | July/August 2019
Drained by rivers and graced with relatively unspoiled forests and lakes, the region around Sharbot Lake and Arden is a wonderful escape for tourists and home to many exceptional artists and artisans. The Trans-Canada Trail travels east and west through downtown Sharbot Lake and offers great views of the lake. The K and P Trail follows the old Kingston to Pembroke (Kick and Push) Railroad lines north and south. Both offer spectacular scenery.
Sharbot Lake
Sharbot Lake and its namesake village were named after the Sharbot family, a Mohawk chief and his Algonquin wife who were farmers in the region. The village, established as a post office in 1877, nestles at the top of the magnificent lake and stretches up to Highway 7. Sharbot Lake Provincial Park (613 335-2814) is just west of Highway 7 and commands the area around Black Lake and bordering on Sharbot Lake.
Sharbot Lake is a community geared to tourism because of its location — it has several establishments that cater to the traveller. In addition to the many campgrounds and cabins, Sharbot Lake Country Inn (613 279-2198), on Road 38 overlooking the east side of Sharbot Lake, has spacious motel rooms and the Crossing Pub serves a wide selection of family meals and is also a venue for some of the top musical acts on the Canadian roots music circuit. Rock Hill Bed and Breakfast (613 279-3006), 14225 Road 38, is situated on a hill overlooking Sharbot Lake and offers cozy bedding and delicious meals.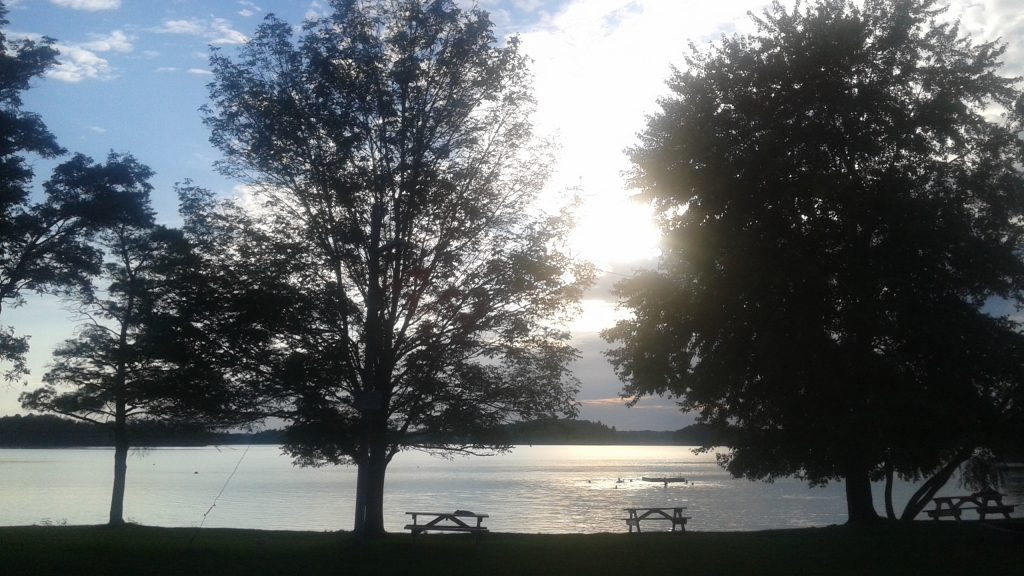 A few interesting businesses serve the community. Sharbot Lake Pharmacy (613 279-2901), 1036 Elizabeth Street, is a full pharmacy and stocks gifts. Sharbot Lake Home Hardware (613 279-2647), 14593 County Road 38, has a wide assortment of items. Cardinal Café (613 279-3734) 14153 Road 38, is a restaurant and coffee shop serving homemade lunches. The Amazing Dollar Store (613 279-2626), 14583 Road 38, has an eclectic mix of a little of everything. Maple's Restaurant (613 279-3200), Road 38, is a family restaurant with an ice-cream parlour, mini-putt golf course and playground. Seed to Sausage (613 279-2455), 12821 Road 38, just south of Sharbot Lake, makes artisanal cured meats and sells gourmet foods. Gray's Grocery and Corner Bakery (613 279-2725), 14832 Road 38, offers fresh baked goods and meals to go, as well as grocery items. Sharbot Mini Flea Market, 14641 Road 38, is a collectibles store. Subway (613 279-7827), 24858 Highway 7, specializes in subs and fast food. The Treasure Trunk (613 279-2113), 12795 Road 38, is a second-hand store, run by Community Living North Frontenac. The Sharbot Lake Farmer's Market, Medical Centre Road, takes place every Saturday from 9 a.m. to 1 p.m. from Victoria Day weekend until Thanksgiving.
The backroads are home to artists and artisans. Martina Field (613 279-3268), 1138 Bender Road, is a maker of exquisite, original prints and will open her studio. Visitors can browse in her gardens. Inlaid with artistic designs, guitars, mandolins and dulcimers grace the studio of Bob Miller (613 279-3003), 1568 Tryon Road. Visits to these artists are by appointment.
A railroad man, Gary Cooke, worked for many years on the railroads and the dismantling of the railway line through Sharbot Lake. He amassed an incredible collection of railroad memorabilia; and, in 2011, an old caboose was brought to Sharbot Lake by railway enthusiasts to house the collection and other memorabilia that had been added. The caboose, now the Railway Museum (613 279-2777) sits on a piece of railway track in Railway Heritage Park.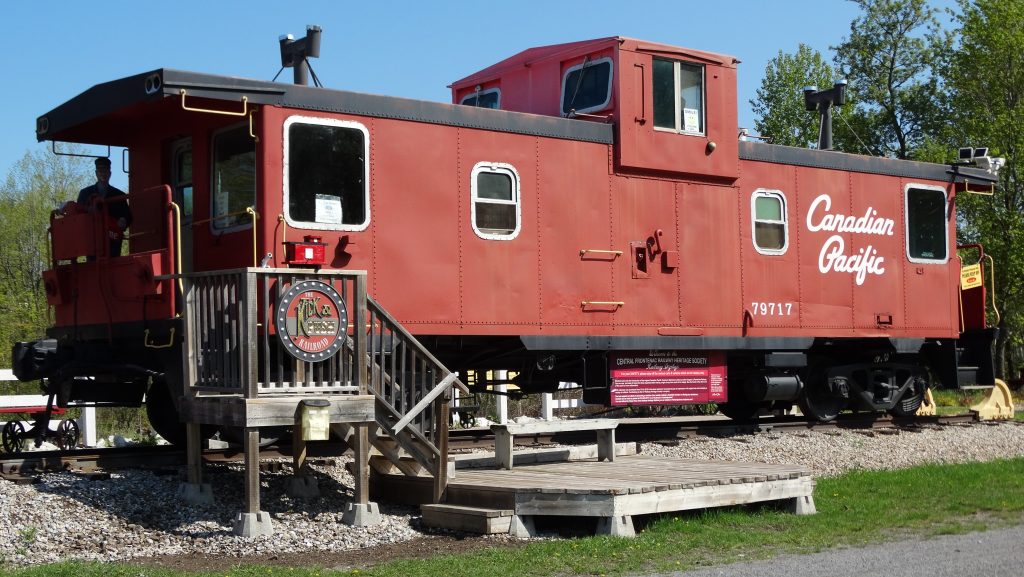 Sharbot Lake is host to several summer concerts, concert series and other events. The Blue Skies Festival (blueskiesmusicfestival.ca), a folk music festival, has been held in a farmer's field just north of Sharbot Lake for over four decades from Friday to Sunday the long weekend in August. All the villages in Central Frontenac participate in the Villages Beautiful Project in which individuals buy park benches and donate flowers to be placed around the village. In Sharbot Lake, part of this project are the three days of entertainment and children's art at the Festival of Trees at the Community Hall in mid-December when local businesses decorate 40 trees which are raffled off for charity, along with gingerbread houses and Christmas stockings.
Arden
Just west of Sharbot Lake and south of Highway 7, the quiet, peaceful settlement of Arden sits on the edge of Big Clear Lake. The Arden Road will take you into the Village of Arden. A large sign indicates that it is an artisans' community. The park around this edge of the lake has a swimming spot with picnic tables. The Villages Beautiful Project is evident throughout the village which also has the Kennebec Recreation Park and is on the Arden Garden Trail, a part of the Trans-Canada Trail.
The early settlers were mostly United Empire Loyalists and came north along the Salmon River. The Rathbun Lumber Company established itself just north of Arden in the mid-1850's and drew many settlers to the region who dispersed and started farming. A grist mill, a sawmill and two general stores promoted the establishment of the village. Originally called Clear Valley after the lake, a new name was required in 1865 when it became a post office. Arden was chosen by the postmaster after the poem Enoch Arden by Alfred, Lord Tennyson. Arden means "a steep place" in ancient English and aptly describes the area. Subsequently, a cheese factory was built, and the Methodist and Anglican Churches were established. A waterwheel on Arden Creek, built by Edward Barker, provided electricity for the region from 1914 to 1920.
There are no restaurants in Arden; but you can enjoy ice cream and pizza at the C-4 Country Convenience (613-483-9320), 6323 Arden Road. The Arden Legion (613 335-2737), 5957 Arden Road, offers light meals and carries a small selection of groceries including milk, bread, ice cream, snacks and canned food.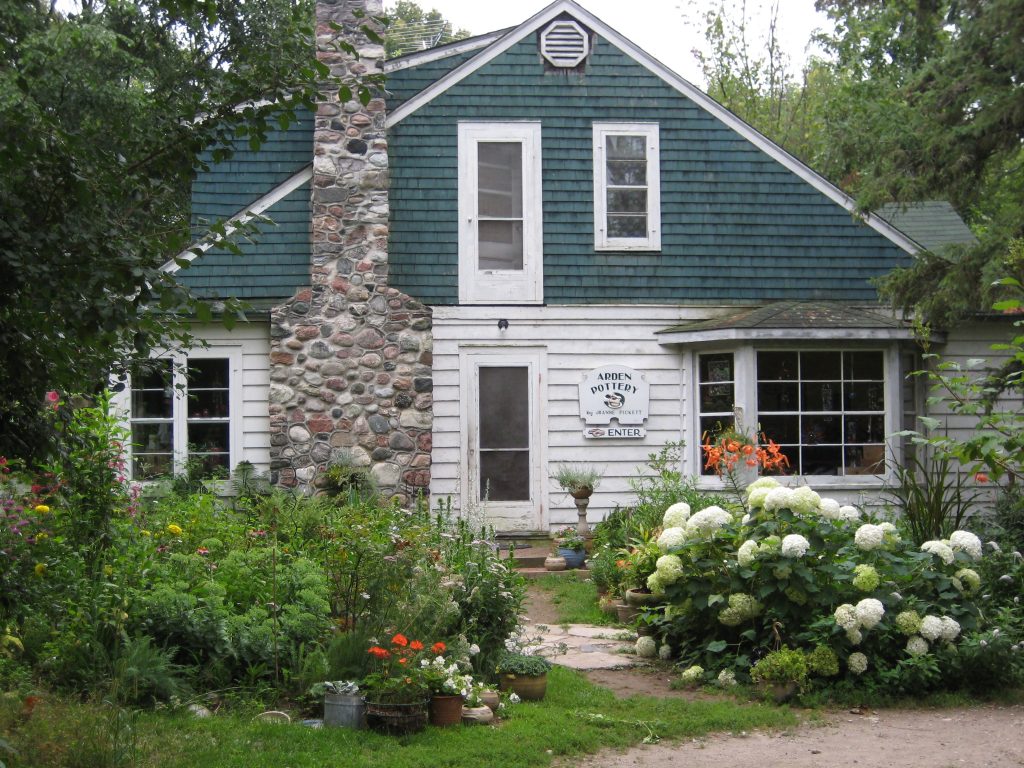 The Village of Arden is an artist's mecca. Surrounded by an enchanting garden, Joanne Pickett's Arden Pottery (613 335-2763), 1040 Big Clear Lane, features functional and decorative pieces, as well as garden pottery, and is displayed tastefully in her studio in the old house, formerly owned by Robert Lindsay, a local historian. At the corner of Bridge Street and Elm Tree Road is an historic brick building which was once the Clear Lake Hotel. For over forty years, it has been the home and studio of Sarah Hale whose art gallery and gift shop, Arden Batik (613 335-2073) features wax and dye landscapes of Eastern Ontario, as well as a wide variety of cards and gifts. Across the road from the hotel is the seasonal Learning Curve Market Garden (613 335-2073), 1029 Elm Tree Road, a sustainability garden, which offers fresh produce, preserves, seedlings and planting know-how. Overlooking a picturesque bay on Big Clear Lake, Judith Versavel's Gallery on the Bay (613 335-2032) on Arden Road, is where she showcases her original paintings and asymmetrical jewellery, along with guests' offerings of wood turning, photography, fibre arts, pottery and more. For over twenty years, Rodger MacMunn has created exquisite carved cedar signs, vintage signs and murals that inspires a sense of history in his workshop T. R. MacMunn and Sons (613 335-2510) at 1905 Price Road.
A multitude of cottages, campgrounds and lakeshore accommodations are available on the lakes surrounding Arden. Circle Square Ranch (613 335-5403), 1361 Price Road, is a 360-acre Christian retreat centre which focuses on youth programs and offers retreats and getaways overnight and on weekends.
Spending time with the people and enjoying the natural beauty of this region is a treat to the senses. We cannot possibly ensure that all the nooks and crannies where attractions and businesses are found can be listed in one spot. This leaves the excitement of exploration to those who enjoy travelling the backroads. Make sure you call ahead to confirm details since some businesses are seasonal or available by chance or appointment.The Township of Central Frontenac (613 279-2935), 1084 Elizabeth Street, Sharbot Lake, can provide you with more information, or visit frontenac.ca.