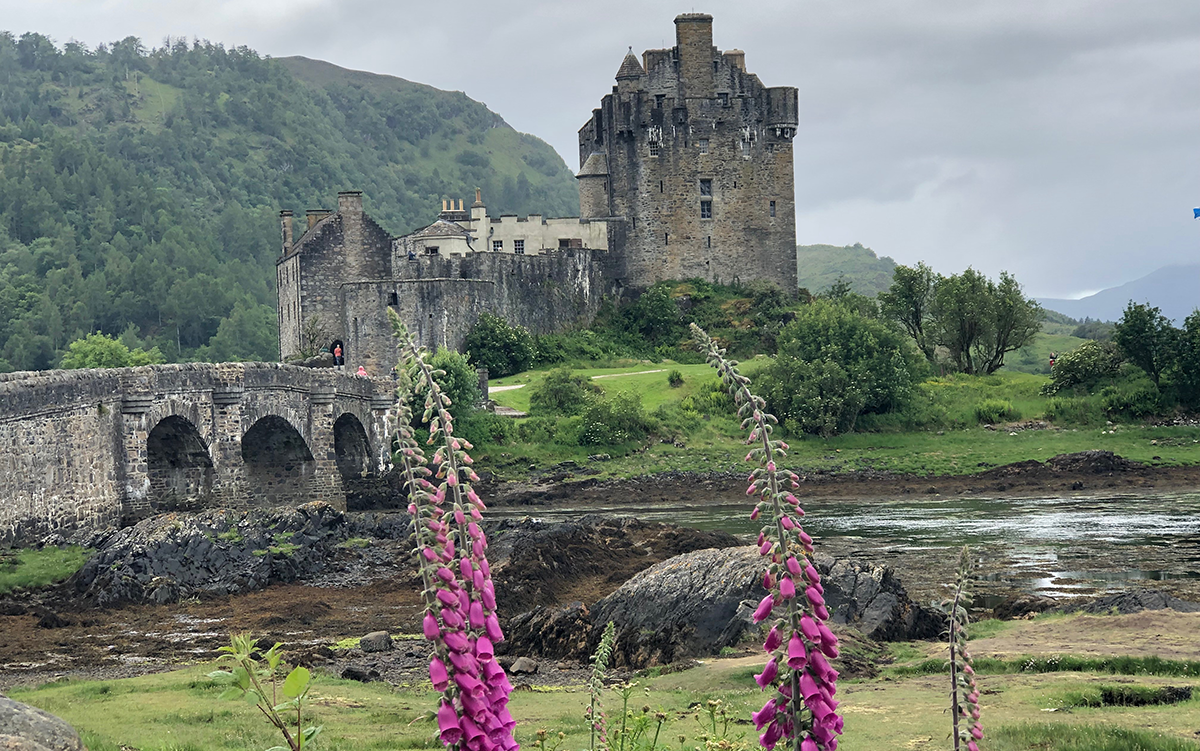 Travel
By Michele Peterson
Savour the spirit of the Scottish Highlands on a leisurely luxury barge cruise
"Look for small, green dandelion leaves," says Executive Chef Dave Lawrence as he leads our small group of foragers along a misty path beside the Caledonian Canal, south of Loch Ness in Scotland. "The young leaves are the most tender and will be best for our lunchtime salad."
It's early June and there's no better way to experience spring in the Scottish Highlands than by harvesting wild herbs and greens. Filled with purple lupin, delicate elderflower and silver-white daisies, the countryside is a spellbinding burst of new life.
Along with my adult daughter, I'm participating in a deluxe six-night cruise of the Caledonian Canal in the Scottish Highlands on the Spirit of Scotland barge. This impromptu foraging experience is just one of many opportunities for first-hand exploration when barging with European Waterways.
With a maximum speed of 10 knots, the purpose-built hotel barge glides slowly through the historic canal, offering time to explore villages, whisky distilleries, museums and stately castles by bicycle, by foot or by chauffeured minibus. We overnight onboard, enjoying the convenience of unpacking just once.
The Spirit of Scotland's itinerary begins in Inverness, strategically situated where the River Ness meets the Moray Firth on Scotland's north east coast. It then continues across the highlands of Scotland following the Great Glen through immense lochs (lakes) surrounded by dramatic mountains to the country's west coast.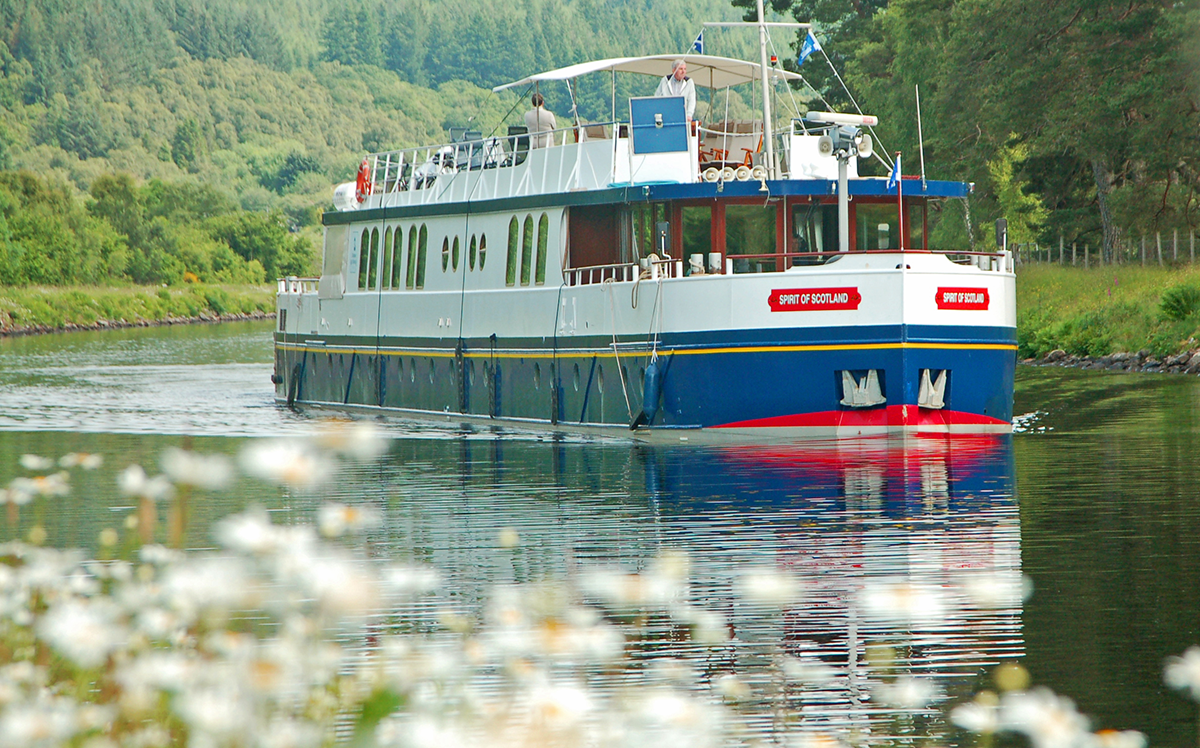 Known as the cultural capital of the Scottish Highlands, Inverness is well worth exploring. We immersed ourselves in history at 19th century Inverness Cathedral, marvelled at soaring Inverness Castle and Clava Cairn, the atmospheric Bronze-age burial tombs and standing stones. Fans of the Outlander television series will also appreciate its Jacobite history, which served as inspiration for author Diana Gabaldon's best-selling novels.
Our Spirit of Scotland barge was moored at Muirtown near the sea lock with views over the Beauly and Moray firths. A champagne toast, followed by a welcome dinner, allowed us to mix and mingle with the other guests in the barge's elegant dining room lined by panoramic windows.
Staffed by a crew of six, boutique-sized Spirit of Scotland holds just 12 guests in six staterooms and features a cozy Scottish décor of tartar plaid and teak decking. The dining room and lounge are ideal places to relax as the captain navigates the barge through the Caledonian Canal.
The barge's leisurely passage through the 97-kilometre long canal built in 1822 took us through Loch Dochfour, across Loch Ness, to Fort Augustus, Kytra to Laggan Locks and Neptune's Staircase, a series of eight locks in Banavie. The canal lined by walking paths, tiny hamlets and forested hills, immersed passengers in the beauty of the highlands while serving as a launching point for excursions.
Highlights included an excursion to the Tomatin Distillery Visitor Centre, the legendary spirit of the Highlands. Tomatin distillery dates to 1897 and its award-winning range of whiskies includes the lightly-peated Highland malt Cù Bòcan, named after a ghostly dog, said to haunt Highland villages.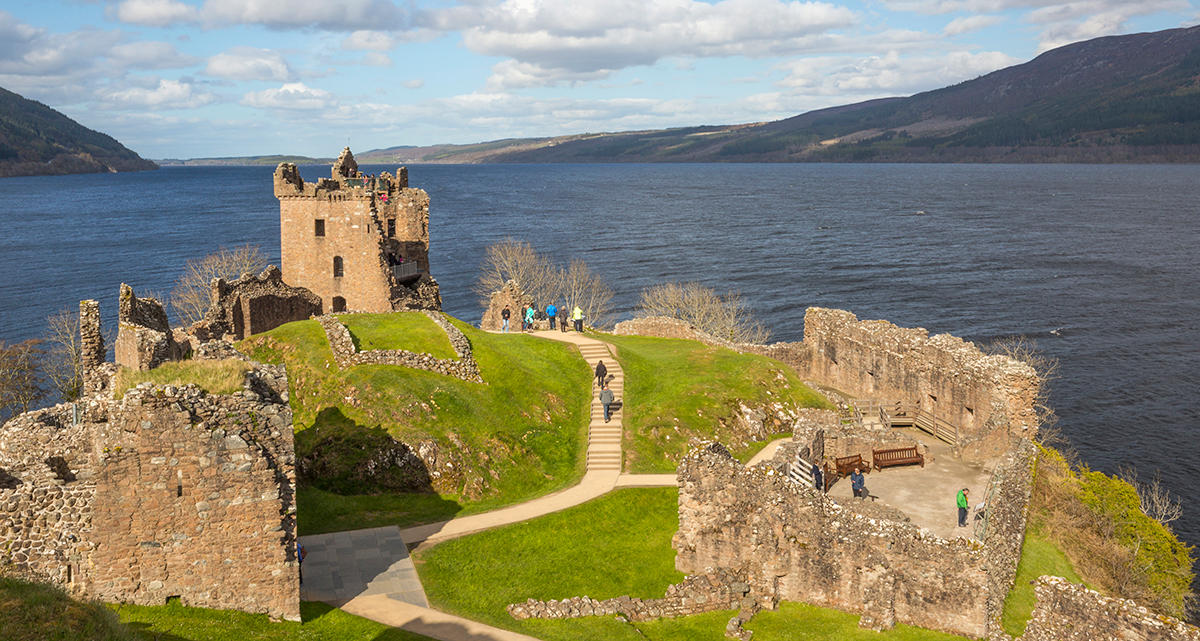 Another fascinating excursion was the Culloden Battlefield where Jacobite supporters, seeking to restore the Stuart monarchy to the throne, fought hand-to-hand with British government forces in 1746. Stepping into the powerful sights and sounds of the 360-degree battle immersion theatre in the Visitor's Centre, and then walking the windswept moor where headstones mark the graves of hundreds of Scottish clansmen who died in battle was an especially moving experience.
Other memorable experiences included a falconry demonstration at a Benedictine Monastery set on the banks of Loch Ness, and an in-depth visit to 14th century Cawdor Castle, the ancestral home of the Campbells of Cawdor. Shaded by centuries-old oak and linden trees, the impressive 11-room stone castle features a drawbridge, moat and formal gardens.
Another timeless site was Eilean Donan Castle, situated on an island where three sea lochs meet. One of the most iconic symbols of Scotland, the 13th century stone castle has appeared in films such as Highlander, The World is Not Enough, Rob Roy and many others.
Barge life as we navigated along the Caledonian Canal was slow and easy, yet luxurious. Full days punctuated by serene views of grazing sheep, Shetland ponies and ancient ruins were followed by the welcoming cabins of the Spirit of Scotland, equipped with two single (or one double) beds, an ensuite with heated towel racks, plush bathrobes and slippers plus a spacious built-in closet, desk and bedside table of polished walnut.
In addition to excursions and onboard entertainment, European Waterway's fully all-inclusive plan includes onboard gourmet meals, unlimited beverages including exceptional French wines, fine Scottish whisky and other spirits, hand-crafted cocktails and more.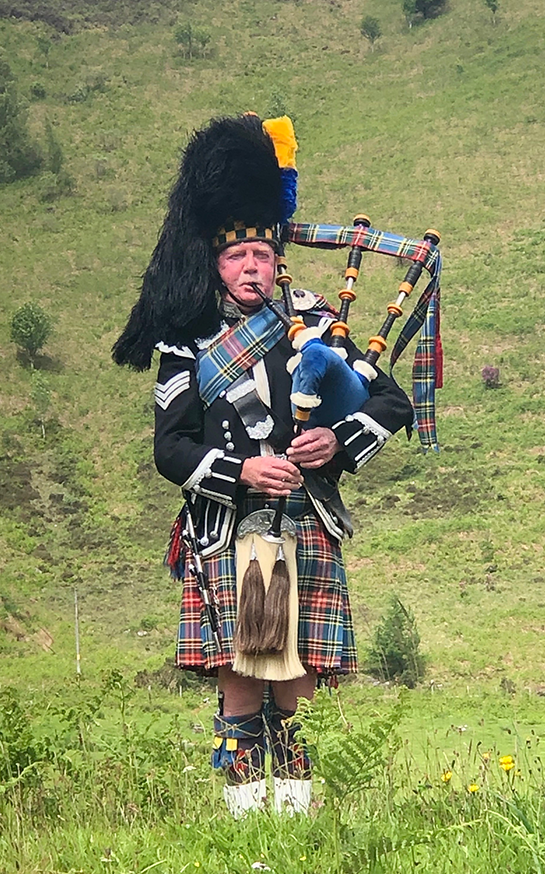 During our cruise, Executive Chef Dave Lawrence carefully noted passengers' food preferences and allergies, adjusting the set menu as needed. Menus featured international dishes as well as Scottish classics such as Cullen Skink smoked chowder, Scotch egg and of course haggis, a savoury pudding considered the national dish of Scotland.
Our cruise itinerary concluded in Banavie near Fort William and Glencoe, site of the massacre of the MacDonald clan following the Jacobite uprising of 1689-92. The West Highland Museum is home to a fine display of Jacobite memorabilia and geological artifacts as well as a special themed-guide for Outlander fans.
At the conclusion of the European Waterways cruise, we wrapped up our journey by travelling with ScotRail to Edinburgh, the stately capital of Scotland where we overnighted at the Dunstane Houses Hotel, a restored Victorian townhouse in the historic West Coates neighbourhood. Sipping a Scotch whisky in its relaxed Ba' Bar lounge was a fitting way to savour our time exploring Scotland at a slow and easy pace.
Michele Peterson is an award-winning Ontario-based travel, food and lifestyle writer. She can be reached at michelepeterson.com