Settlement that crafted dreams and fortunes
By Madeline Kallio | May 2019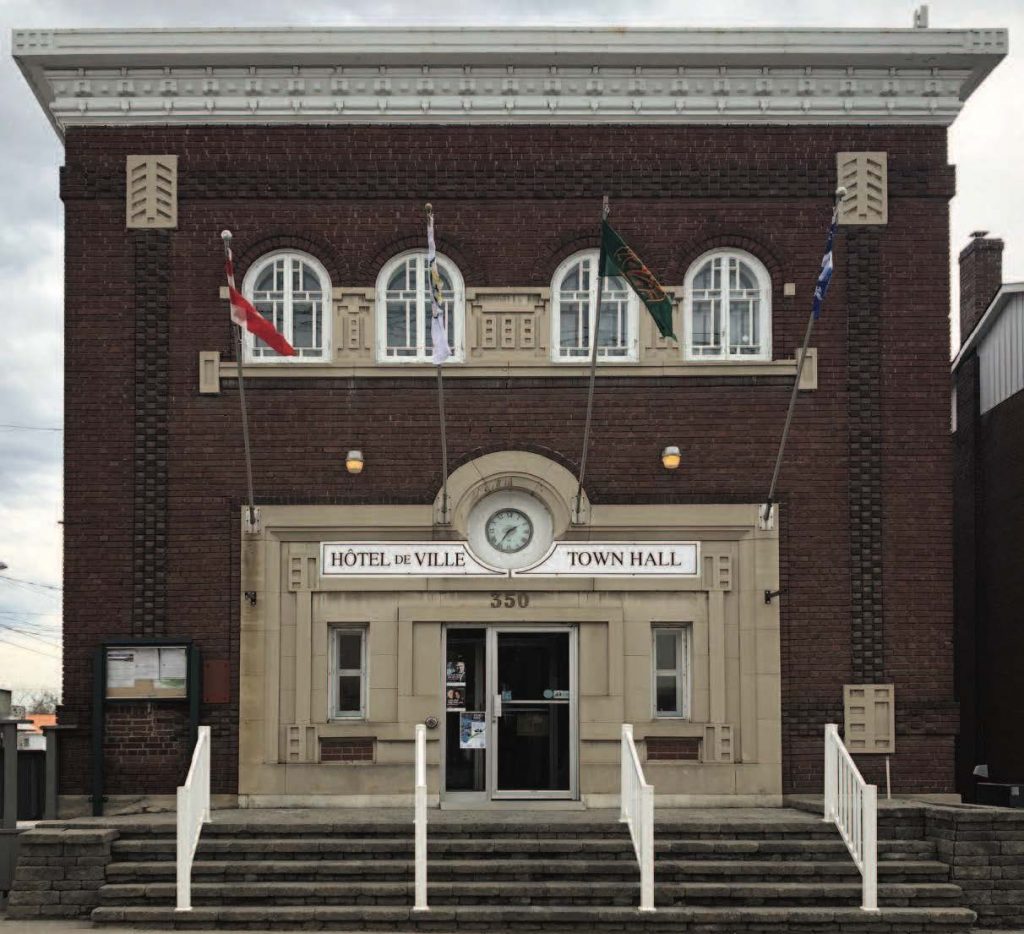 For the day-tripper looking for a pretty drive to an historic destination, Shawville should be on your list.
This district along the Ottawa River is exceptionally scenic. Many of the backroads lead to lakes, rivers and hidden attractions. Historically, it is the region of the mighty white pine, which crafted the fortunes of the lumber kings and which was highly valued in Britain and Europe. Majestic forests still inspire the day-tripper and the magnificent "rocks" of the Great Canadian Shield enhance the grandeur of a trip to Shawville.
The first squatters arrived at what is now Shawville around 1820. Irish Protestants John Dale and Thomas Hodgins travelled with their families near what is now Carp and then proceeded up river to what they were told was "a fine country." Being well-pleased with the river and countryside, Dale left his family and all their belongings on a small sandy beach and he and Hodgins blazed a trail through the bush for miles until they came to a delightful bubbling spring where the soil was much drier and looked more attractive for cultivation. He called the location "The Springs" and brought his family there in 1821 where he proceeded to build a cabin. Thomas Hodgins settled in "Paradise." Hodgins' letters to Ireland encouraged a number of family settlers to emigrate and he came to be known as "Daddy Tom."
By 1822, a number of settlers looking for land found the trail blazed by Dale and Hodgins and the settlement began to grow. James Prendergast, a Protestant Irishman, was appointed the Crown Land Agent for the area in 1825 and official colonization of the area began to take place. Brought up in the violent climate of the conflict between Protestants and Roman Catholics, Prendergast decided that he would avoid this situation by not allowing Roman Catholics to settle in the area, giving them the excuse that all of the settleable lands were taken and there was no more room.
The settlement began to expand when a teacher was brought in, in 1827, and Prendergast built a sawmill and a gristmill. Thomas Durrell began operating a lumber business and employed John Egan, who shortly thereafter began his own timber business. With the wealth of white pine, a number of others also began cutting timber. James Sinclair, a weaver, began producing flannel and home-spun cloth that was reported to be literally wear-proof. James Shaw arrived in 1843 with his brother, William. He built a general store with the post office around 1856. The settlement was then known as Clarendon Centre. In 1873, the community became incorporated as Shawville in recognition of James' leadership, his prominence in the village, and possibly because he donated land for some public buildings.
Shawville is known for its red brick houses which are evident throughout the village. A historical walking tour, produced by the Pontiac Historical Society, is available from the Pontiac Archives (819 647-7013), 356 Main Street, below the Shawville Public Library. The Pontiac Museum (819 647-3538), 210 Lake Street, is located in the former Canadian Pacific Railway station which was moved to the Shawville fairgrounds on Lake Street. The station, completed in 1886, served the Pontiac and Pacific Junction Railway (called affectionately the Push, Pull and Jerk). The museum was opened by the Rt. Hon. John Diefenbaker on October 9, 1976. The building includes a turn of the century school room, a general store, agricultural engines, household appliances, clothing and other heritage items. The remains of James Hodgins' grist and sawmill, built in 1858, are visible beside the playground and picnic tables in Mill Dam Park. The Hodgins' mark on Shawville is evident also on several businesses.
A number of restaurants are available to serve the visitor. Hursty's Bar & Grill (819 647-2546), 368 Main Street, offers pub food. Chez In (819 647-6111), 391 Highway 148, offers authentic Thai cuisine. An all-natural, seasonal menu is the order of the day at Café 349 (819 647-6424), 349 Main Street, which also exhibits hand-crafted artwork. Italian cuisine is a specialty of Billy T's Pizza (819 647-5140) 437 Highway 148. Kojack's (819 647-2254), 291 Main Street, offers a Chinese and Canadian menu. Cartrites Restaurant (819 647-6647), 371 Highway 148, is a family restaurant. Lello's Restaurant (819 647-6222), 174 Victoria Street, is a fast-food establishment serving pizza and shawarma.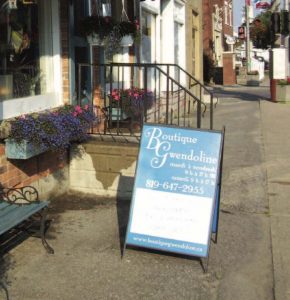 Shoppers can browse a number of interesting businesses. A large assortment of items stocks the shelves at the Renaissance Variety Store (819 647-5086), 193 Centre Street, which includes books, video games, games, movies and more, some old and some new. Shawville Shooz (819 647-5711), 387 Main Street, sells an eclectic variety of shoes, as well as accessories and handbags. Hidden on a side street at 315 Bristol Street is the Pontiac Home Bakery (819 647-2575) where the delightful smell of baked goods will not let you leave without a taste! The original sign for G. F. Hodgins Store is still visible on Stedmans V. & S. (819 647-3729), 375 Main Street, which has a little of everything you need in dry goods. The W. A. Hodgins Hardware (819 647-6363), 325 Main Street, has been in the Hodgins family for over 150 years and has an amazing selection of items. Ladies' fashions with a flair fill the store at Boutique Gwendoline (819 647-2955), 338 Main Street. All cuts of meat are sold at the Pontiac Butcher Shop (819 647-6016), 185 Centre Street. Timeless Treasures (819 647-6510), 443 Main Street, offers antiques, including furniture. Jolie Folie (819 647-2247), 305 Main Street, markets women's clothing and fashion accessories. The Little Red Wagon Winery (819 744-0842), 165 Calumet Road West, is a family-owned winery that offers tastings and meals in summer months.
Overnight guests are always welcome at the Shawville Village Inn (819 647-5454), 921 Highway 148, which advertises "Country Style Hospitality at Its Best."
Shawville hosts an exciting season of events. The first weekend in June is the time for the Fishing Derby at Mill Dam Park. The Pontiac Artists' Studio Tour takes place two weekends in mid-June.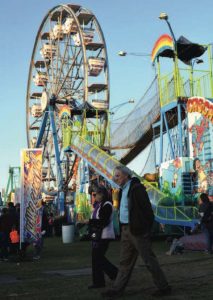 The Shawville Country Jamboree happens mid-July at the Armstrong Heritage Farm, Highway 148, and attracts headliners, including local country singer, Gail Gavan. For over 150 years, the Shawville Fair, the Regional Fair of Western Quebec, has dominated the social scene the first weekend in September with more than 65,000 people who turn out to enjoy the activities. The end of November brings the colourful Parade of Lights.
There are so many other places to visit in this region that this article does not attempt to include them all, but has left many exciting adventures for the visitor. This article is meant only to provide a glimpse into the community. Many people you will meet will share the history and information about the attractions and events so that you can continue to explore. Because some of the businesses may be seasonal or open specific hours, it is wise to call ahead. To obtain more information of activities and businesses in the community, contact the Municipality of Shawville (819 647-2979; town.shawville.qc.ca), 350 Main Street.