Travel
By Sherri Telenko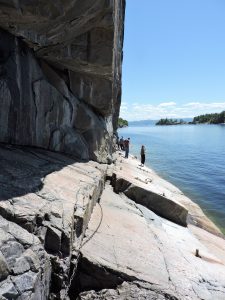 Inching barefoot across a narrow path of smooth wet stone and clutching only a bolted down chain, I'm determined to see the Agawa Rock Pictographs visible along the rockface shoreline at Lake Superior Provincial Park inWawa,Ontario.Apparently,35 red ochre images are visible (some only from the water) on the lake adjacent rockface, likely carved centuries ago. If you don't have a boat, there's only one way to see them.
Lake Superior Provincial Park
Curious and daring visitors to Lake Superior Provincial Park follow the mostly downhill scenic path to Lake Superior's edge, where park employees guide people in small groups along the pictographs — barefoot is recommended for best grip. Yes, it's challenging, and I make the mistake of looking behind me, towards the crashing waves blanketing the vast lake's surface. I'm done. I did half the route. That's bragging rights enough for me, and I follow the chain back to firm ground — and my shoes.
Lake Superior Provincial Park, despite having several campgrounds, expansive hiking trails through a landscape that inspired the Group of Seven, and a museum-quality Visitor's Centre, is a provincial park less travelled. Thanks to its remote location, crowding is not an issue.
The closest city to this Ontario Park is Sault Ste. Marie, a two-hour drive away. Sault Ste. Marie is my destination this road trip, but Lake Superior Provincial Park, with pictographs, Old Woman Bay and Sand River along the PinguishbiTrail, is worth the diversion.
Voyageur's Lodge & Cookhouse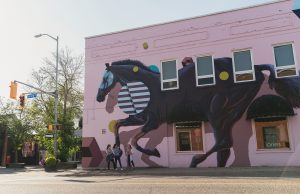 Heading East toward Sault Ste. Marie along Highway 17, I find another 'worth the drive from The Soo' destination: Voyageur's Lodge & Cookhouse in Bachawana Bay, a seasonal motel, restaurant and gift store, designed in the log cabin spirit of the voyageurs. Stop for gas and a 'world famous' apple fritter, or even better, stay for a pancake breakfast or white fish dinner — locally caught and fresh.
The best option? Spend the night in one of Voyageur's Lodge log cabin-inspired rooms (several dog-friendly with kitchenettes), particularly if you're lucky and it's bus tour day. That's when Voyageur's Lodge owner and history buff, Frank O'Connor, dons the uniform of a Voyageur, a 17th Century French fur-trader who paddled and portaged from one wilderness trading post to the next. Standing beside the functioning 30-foot canoe acting as a signpost at the motel's entrance, O'Connor re-enacts the life and journey of the Voyageur who often had only flour left when reaching nearby Pancake Bay, hence the name. And the breakfast special.
Sault Ste. Marie's waterfront boardwalk
Ultimately, my destination is Sault Ste. Marie, a small city closer to Michigan than Toronto, and not somewhere I thought I'd end up, but glad I did. 'The Soo,' as it's often called, is defined by its outdoorsy vibe, Native Canadian heritage, and a bourgeoning food scene. That's right, independent chef-run restaurants are on the rise, which is a good thing, because it's easy to build an appetite admiring the fall foliage engulfing the city.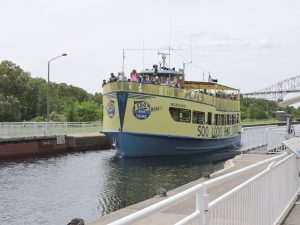 Sault Ste. Marie has no shortage of accommodations, from brand-named hotels, to campgrounds and B&Bs. However, the towering Delta Waterfront Hotel is ideally located along the waterfront boardwalk, where I spent most of my time. From here, it's a comfortable walk to desirable sites including the Parks Canada historic canal.
Start at the Delta Waterfront Hotel beside the Roberta Bondar Pavilion (home to Beaver Tails if you're craving), then follow the boardwalk to the statue of William Henry "Bill" Orazietti, a 19th century dog-sled racer and keep going. Slowly. Observation decks along the waterfront (where someone is likely fishing) dictate a meditative pace. Tour boats travelling hourly through the locks, dot the water along with the occasional wave-making high-speed
racer, for thrill seekers.
The boardwalk connects the Delta Hotel with the historic canal locks.
Parks Canada Lock Park and Whitefish Island
Run by Parks Canada, the green space along the Sault Ste. Marie Canal is where the city's waterfront boardwalk leads. Built in 1895 and once a major thoroughfare completing the connection between the Atlantic Ocean and the Great Lakes, the Sault Ste. Marie Lock was once the world's largest and first to use electricity. Today, the original mechanics are still in use (without fail) and housed in a windowed covering so everyone can see them in action. Linger for about 15-minutes to watch pleasure craft and tour boats rise and fall with the water.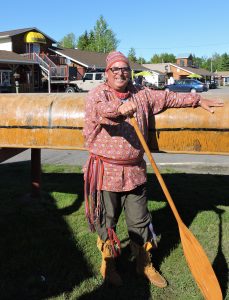 On select July and August afternoons, the nearby Superintendent's Residence offers afternoon tea — a genteel break from the waterside walk before you head across the canal to my favourite reprieve in The Soo: Bachawana Whitefish Island.
Whitefish Island is accessible by a narrow, metal walking bridge and easily strollable thanks to recently groomed gravel trails, clear signage designating direction and landmarks, and a mist-like calm. According to Native elders, the island is a source of healing plants; there's something undeniably serene here, where contemplative fishing is allowed in the pulsating river rapids.
Whitefish Island has a long history of appropriation and in 1981 was designated a National Historic Site of Canada. However, after a land claim was filed in 1982, the 22-acre island was eventually returned to the Bachawana First Nation of Ojibways in 1997.According to the current Chief, there are plans to continue the restoration — trails and signage were the first step — but funding issues and vandalism is slowing the process.
Thanks to the boardwalk, it's also an easy walk to the Mill Market that operates Wednesdays and Saturdays (the busy day when all the vendors are there). Look for the red barn-like building and inside you'll find all local vendors including fresh whitefish sellers and the best fish 'pepperettes' snacks that didn't make it back to my car.
Trains, planes, and a casino
You can't spend all your time outside in Sault Ste. Marie — well, you can but you don't have to. Close to the waterfront, the compact and surprisingly quiet Gateway Casino is open all year until 2 a.m. and offers 425 slot machines, six table games, an on-site grill-style restaurant and free parking.
Unfortunately, the 2020 train season is cancelled. That's right. Sault Ste. Marie has a train season thanks to the popular Agawa Canyon Tour Train. Under normal circumstances, one of the most
popular train tours in North America, runs September to mid October — another reason to visit in autumn. This one-day excursion takes fall colour lovers 184 kilometres through Algoma wilderness and Canadian Shield forest and past granite rock formations.
However, the Canadian Bushplane Heritage Centre remains a cultural cornerstone of a northern visit. Thanks to determined volunteers maintaining these planes that once fought forest fires and transported supplies (and people) to remote locations, visitors can walk among (and even board) some restored heritage aircraft noting the diversity in size, style and even technology. If you love life-sized planes, this will be a thrill. Plus, you'll learn why astronaut Dr. Roberta Bondar is a hometown hero in Sault Ste. Marie, Ontario
If you go…
Driving from Eastern Ontario is the best way to get to Sault Ste. Marie, Ontario (especially in 2020).From Ottawa, take the Trans Canada Highway for approximately nine hours.
Accommodations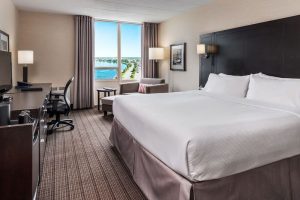 The Delta Waterfront Hotel by Marriott, 208 St. Mary's River Drive, is the city's only boardwalk-adjacent waterfront hotel and boasts contemporary-styled rooms with duvets and charging stations, on-site restaurants and patios, conference facilities and a pet-friendly policy.705- 949-0611.
Across from the waterfront, Days Inn & Suites byWyndham,332 Bay Street, offers economical hotel lodging. 705-910-0212.
KOA Holiday Campground at 501 Fifth Line East, offers all the common campsite facilities: tent sites, trailer pull-throughs and cabins for car drivers. Plus, dogs are not only welcomed, but encouraged, because there's two off-leash playgrounds, grooming baths and a dog agility ring for trained pups. 705-759-2344.
Outside of Sault Ste. Marie, find the Voyageur's Lodge & Cookhouse, 11054 Highway 17, Batchawana Bay, Ontario. 705-882-2504. voyageurslodge.
Attractions
Agawa Canyon Tour Train, 87 Huron Street, agawatrain.com, 1-800-461-6020
Canadian Bushplane Heritage Centre, 50 Pine Street, 705-945-6242.
Gateway Casino, 30 Bay Street, 705-759-0100.
Dining
Housed in a refurbished historic building known as the Machine Shop (and sharing a space with The Gelato Mill café and The Boiler Room specializing in wood oven pizza) the Mill Steakhouse & Wine Bar, 83 Huron Street, focuses on classic fine dining steak and fish dishes and thoughtful wine pairing. 705 942-3051. Fluid Boardwalk Patio & Grill, 208 St. Mary's River Drive, inside the
Delta Hotel offers daily breakfast buffet and waterfront casual contemporary lunch and dinner on the waterfront patio. 705-945-6999. Breakfast Pig Badass Eatery, 265 Bruce Street, is a self-described 'Soo staple' serving breakfast only, Friday to Sunday, 8 a.m. to 5 p.m., and serving pork products from local Sunnynook Farms. 705-450-6911.