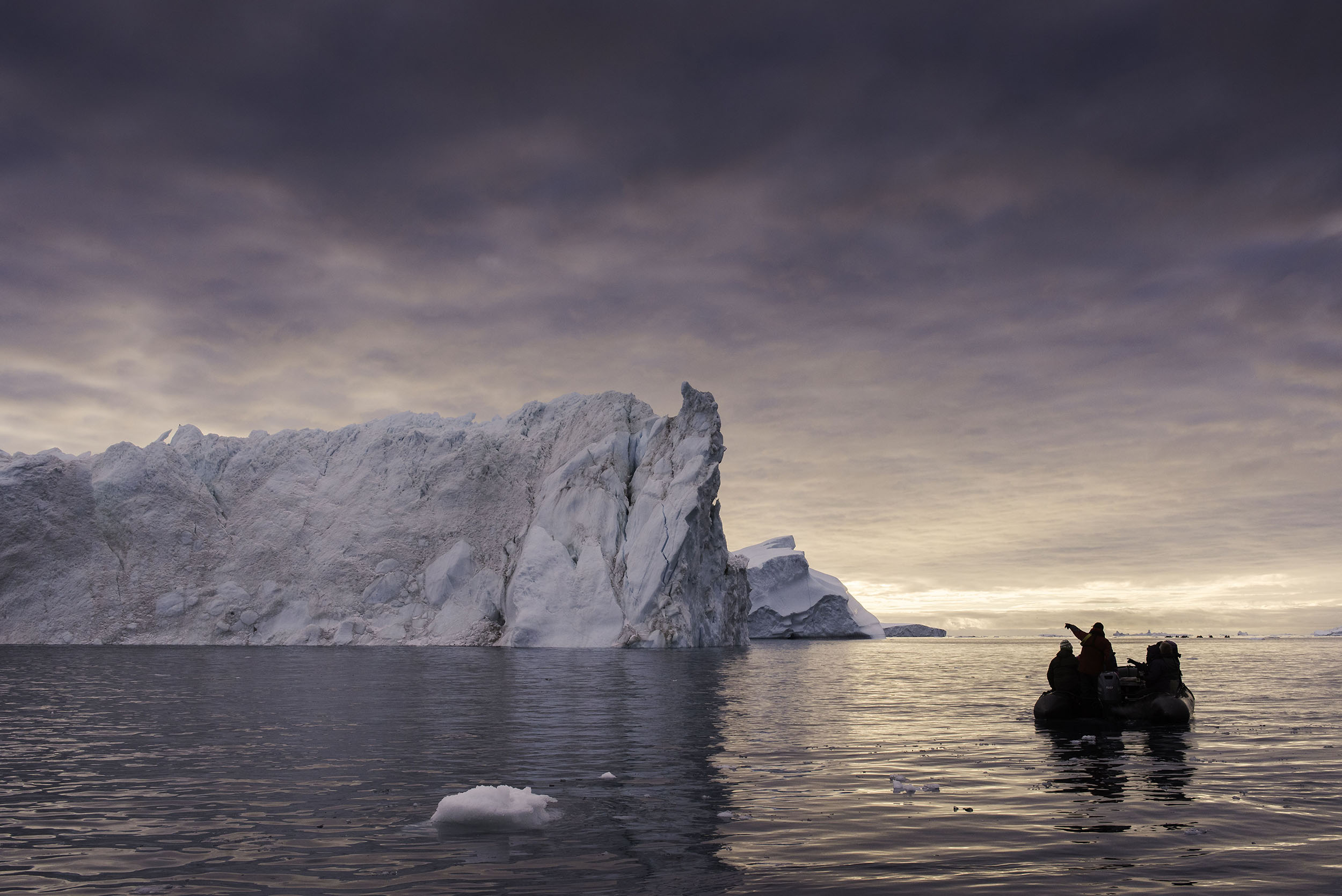 Travel By Jennifer Hartley
The trip of a lifetime
One of the hard-hit industries by the COVID-19 crisis has been the travel trade. As airlines, hotels and cruise companies struggle for survival, you can help their recovery and plan a getaway.
Now, as it turns out, is a great time to book for next year as many companies are offering discounts. One company doing that, will not only give you a financial break, but will give you one of the most extraordinary experiences of your life: Adventure Canada.
A family-run business that specializes in expedition travel, both on land and sea, Adventure Canada brings travellers to extremely remote and hard-to-reach, stunningly beautiful parts of our country, well actually, world.
Next August (2021), hop onboard Ocean Endeavour for a cruise odyssey of epic proportions that will take you from the Canadian Arctic to Greenland. (Sadly, the August 2020 cruise is cancelled because of COVID-19. Book before October for a big discount for the August 2021 sailing.) You won't regret it.
Voyage in the High Arctic
Vast ice floes, polar bears, walrus, seals, caribou, whales and huge floating icebergs the size of hotels and glaciers galore await you on this incredible journey. It is a never-ending feast for the senses from the minute you board.
While the never-ending scenic beauty will amaze you, you will also have the chance to expand your knowledge thanks to the experts onboard who provide in-depth learning programming in geology, archeology, Arctic history, culture and the environment.
Next summer, best-selling author and beloved CBC science broadcaster and commentator Bob McDonald (featured in this issue) will be on hand to share his perspective and knowledge of our planet (and worlds beyond) in his brilliantly understandable and entertaining, but extremely educational, way.
If learning how to take a great picture grabs you, (you will be inspired), Nikon has partnered with Adventure Canada to teach you how to become a photographer extraordinaire with lessons onboard and loaned equipment to boot.
The journey
The 11-day voyage, under the midnight sun, begins in Qausuittuq (Resolute Bay), Nunavut and ends in Kangerlussuaq, Greenland with stops along the way on Beechey Island, Devon Island and Pond Inlet. After a stunning passage across the Davis Strait, the west coast of Greenland greets you.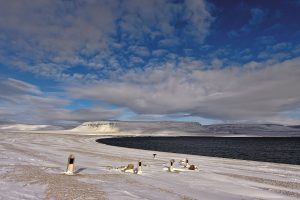 Ocean Endeavour
The mid-sized ship (198 passengers with 124 crew) is warm, comfortable and has amenities such as a small gym, a library, a hot tub on deck, a pool (subject to sea conditions—so not guaranteed to be operational), sauna and lots of space. The food is incredible, delectable, and carefully crafted to please any palate. With under 200 passengers, by the end of the trip, after all you have shared together, meals feel more like family dinners.
The usual cruise activities, such as dances, live music and theme parties will keep you entertained.
First stop: Beechey Island
Sir John Franklin set out from England in 1845 with HMS Erebus and Terror to attempt to sail through the Northwest Passage. When their ships became stuck in the ice, the explorers spent the winter on Beechey Island. Today, there are graves of three of the Franklin crew who died over that winter (as well as the grave of a later sailor who was part of an expedition looking for Franklin). They are a haunting memorial and yet a testament at the same time, to human curiosity and our bold sense of adventure.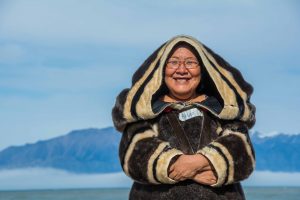 Devon Island
Continuing east, a stop on Devon Island is a hiker's heaven, a science lover's and beauty-seeker's paradise.
It is the largest uninhabited island on Earth, totally fifty thousand square kilometres. The island's geology is stunning with its glacial valleys, substantial ice cap and Arctic flora that give Devon Island its unique character. On top of that, history buffs will love visiting the archaeological sites (with expert interpretation of course).
Bob McDonald describes Devon: "This is the closest you can come to visiting another planet. It is a land of rock, ice, water. There is not a tree in sight, but it is alive as plant life hugs the ground. What an incredible gift to visit the top of our incredible planet. It is hard to believe you are still in Canada."
In fact, it is indeed like another planet. NASA and the Canadian Space Agency use Devon's Mars-like terrain and the Haughton Crater on the island as training ground. Canadian Astronaut Jeremy Hansen did a stint up there to learn what living on Mars could be like.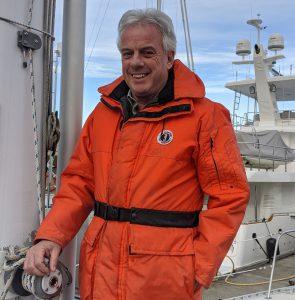 All at sea
Tallurutiup Imanga, or Lancaster Sound, is the entrance to the Northwest Passage through the Canadian Arctic Archipelago, located in the northeastern region of Nunavut. It is moving to think of those who have travelled it before and the difficult circumstances they endured. Inuit oral history describes two-way movement between Canada and Greenland for millennia. Fast forward to 2017, it became Canada's largest (and newest) National Marine Protected Area, covering about 110,000 square kilometres of ocean—an area twice the size of Nova Scotia. Not only is it one of the most significant ecological areas in the world, it is a critical habitat for many species such as the narwhal (up to 75 per cent of the global population); beluga (20 per cent of the Canadian population); polar bears (largest subpopulation in Canada); and several seabird species (some of the largest colonies in the Canadian Arctic) according to Parks Canada. As you sail, you will be awestruck by the life and again, stunning scenery around you.
Inuit culture
One last stop before Greenland provides a cultural experience like no other. Nunavut is rich with heritage, tradition and beauty. With a backdrop of the mountains of Bylot Island, is the town of Pond Inlet (Mittimatalik), population 1,300. History buffs will love the archaeological sites of ancient Dorset and Thule peoples (the ancestors of modern Inuit people) that pepper the area from over 1,000 years ago.
Today, what awaits you is an immersion in Arctic culture as 95 per cent of the population is Inuit. The Inuit are renowned for their hospitality and Pond Inlet is no exception. In part, it is because that is the way they are and in part because Adventure Canada has been building relationships with the people for over 30 years.
These cultural ambassadors will regale you with their stories, songs, throat singing and dancing. While here, though, take advantage of the opportunity to gain a deeper insight into these incredible people.
McDonald tells a story of one of his first visits to the North and how he was amazed at the navigation skills of the Inuit people on the land. He asked one of the leaders how they get around without getting lost. The response was: "I don't know. I have never been lost." That statement alone demonstrates the close relationship the Inuit people have with the land.
There is a beautiful Canadian play called Kiinalik: These Sharp Toolswhich, on the one hand feeds your deep appreciation and awe of the North, but also underlines the reality that we southerners just don't get it. The two characters talk about how white explorers (ie. Beechey Island crew) perished because they couldn't find food or survive in those circumstances. That is because, from the Inuit perspective and in truth, reality, they couldn't see the abundance of food, life and sustenance in front of them.
McDonald explains: "You have to abandon your city eyes and see things through Inuit eyes. They don't see the world like us. They thrive in the rugged, challenging weather and environmental conditions that make the rest of us crumble."
Hiking on Pond Inlet is astounding with views of Bylot Island, which is a migratory bird sanctuary with stunning white-cap mountains, several dozen glaciers, picturesque fiords and inlets, ice caves, and drifting icebergs.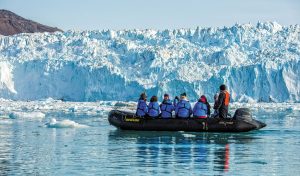 Next stop: Greenland
Greenland, the largest island in the world, is stunning with its glacier-fed waters, mountain landscapes and rugged coastlines. While officially part of the Kingdom of Denmark, the links to Canada are great, as Canadian Inuit ancestors inhabited the region for a few millennia.
Sailing down the coast is the best way to experience the splendour of Greenland. Actually, it really is the only way to visit Greenland. There are no roads between towns, so transportation is primarily by boat or by air. However, there are great hiking opportunities. Breathtaking scenery of mountains and icebergs, and again, you are guided with expert interpretation.
Eighty per cent of Greenland is covered in majestic ice. In fact, Greenland's ice sheet is second only to Antarctica and is larger in size than Alberta. There are glaciers dripping down like candle wax between steepsided fjords.
If you have seen the documentary Chasing Ice, then you will be familiar with the Ilulissat Glacier, part of the Ilulissat Icefjord, a UNESCO World Heritage Site. If seeing that for real doesn't make an environmentalist out of you, nothing will.
A Zodiac takes you close to icebergs and you can have the magical experience of watching them parade by. Some are the size of ten-storey buildings with incredible shapes. The water is clear enough you can see far down (most of an iceberg is below the water) with an
incredibly beautiful blue hue. It is the most intense experience with icebergs you can have as it is rare to get so close. Grab some 'bergie bits' floating around and take them back to your room for drinks. Glacial ice is so hard it doesn't melt for days.
Fjords anyone?
The Uummannaq Fjord in northwest Greenland is the country's second-largest system of fjords. The region has been settled for 4,500 years. The famous 'Greenland mummies' dating to the 1400s were found near the town of Uummannaq.
Sondre Stromfjord is one of the longest fjords in the world and boasts 168 kilometres of superb scenery that you experience sailing up to Kangerlussuaq, where the Arctic journey sadly ends.
Carpe every second
From beginning to end, stunning geography surrounds you on your Arctic voyage and it's all under the midnight sun as you soak in the richness of life, geography, history, and culture in this magical part of our planet. Seize every second you can during this trip that without a doubt will be the experience of a lifetime with Adventure Canada. Nobody does it better than them. adventurecanada.com