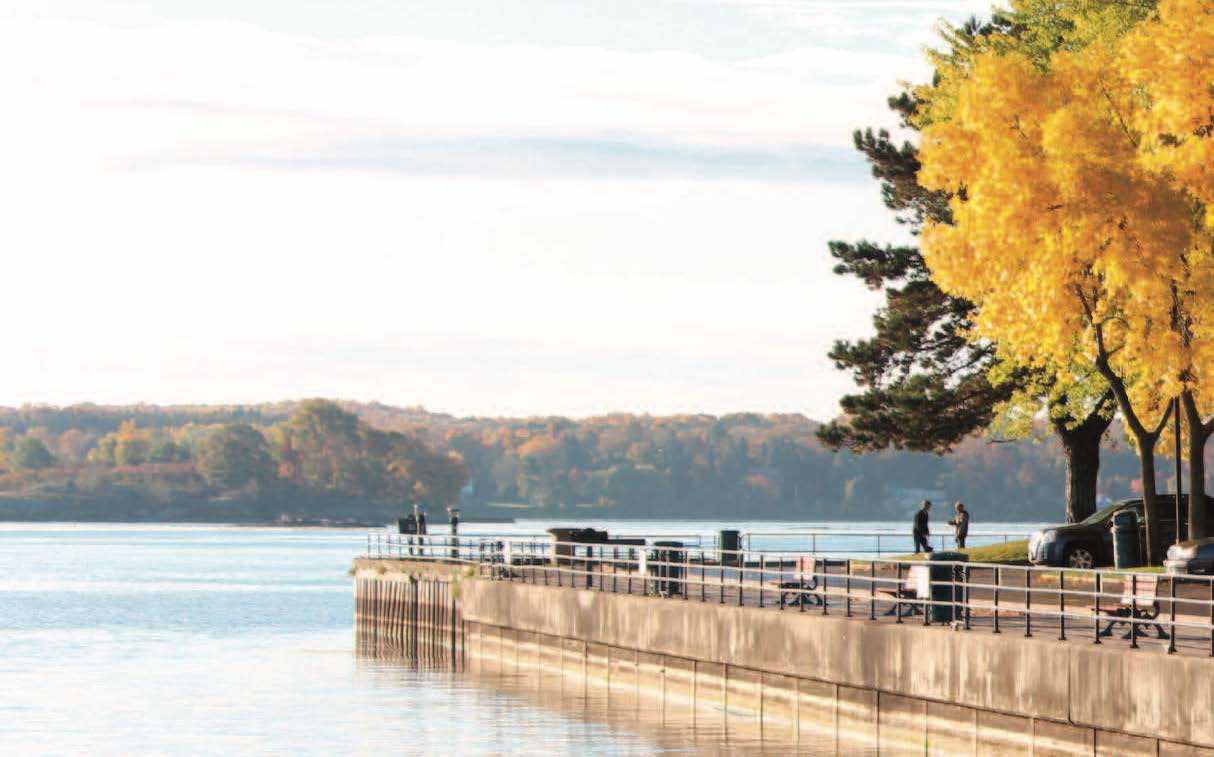 By Madeline Kallio
Brockville offers visitors some of the best views to the region's 1000 Islands
Looking back over the St. Lawrence River from the deck of Captain Andy's sightseeing cruise boats, you can see the spires of seven old churches in the wonderfully historic City of Brockville. Sightseeing cruises through the 1000 Islands and along the waterfront, and dining cruises hosted by 1000 Islands & Seaway Cruises (613 345-7333), which leave from Blockhouse Island mid-May to mid-October, continue Brockville's 100-year-old cruising tradition. On top of the Court House, you will see the statue of "Sally Grant" whose figure represents justice and whose name was jokingly concocted.
When United Empire Loyalist William Buell sold some agricultural land in 1784 to establish a town square in the community, it changed from a settlement of farms to a bustling industrial area. The confusion over naming the settlement, variously called Buell's Bay, Elizabethtown, Williamstown and Charlestown, prompted the nickname "Snarlington." It was officially named Brockville for War of 1812 hero, Major-General Sir Isaac Brock. At one time, the town was reputed to have more millionaires per capita than any other town in Canada.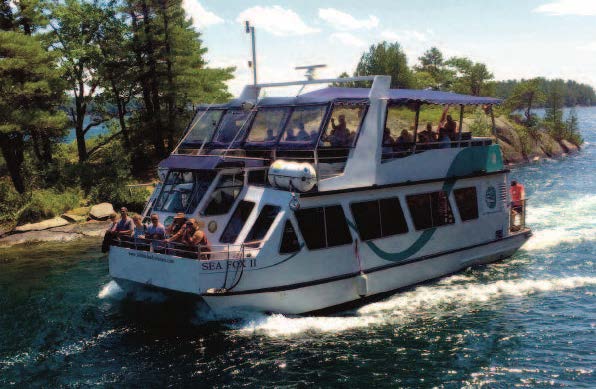 Brockville's history has been well-preserved, and tours have been organized to share this heritage. The Brockville Museum (613 342-4397), 5 Henry Street, built in 1840, was originally the home of Isaac Beecher. The Museum houses memorabilia from the past, is home to a number of vibrant historical groups and sponsors the Oakland Cemetery Walks and Talks. The Brockville Railway Tunnel on Blockhouse Island with its massive oak doors, is Canada's first railway tunnel and hosts a million-dollar sound and light show. The Historic Waterfront Walking Tour, sponsored by the Brockville Museum (613 342-4357) on Thursdays and Fridays in the summer, begins and ends at the museum. The 11-bedroom Fulford Mansion (416 314-4914), 287 King Street East, built at the turn of the 19th century by Senator George T. Fulford, whose worldwide sales of the cure-all remedy "Pink Pills for Pale People" made him a veritable fortune, is a National Historic Site, open for guided tours year round. The Brockville Ghost Walks begin at the Brockville Tourism Office and end at Courthouse Square every Monday in July and August.
Experience life in the 1000 Islands Region at the Aquatarium (613 342-6789) at Tall Ships Landing which showcases animals in the region, interactive exhibits and replicas of ships found in the St. Lawrence River.
Brockville is host to many festivals and celebrations each year. Only some of the events can be listed here. At the beginning of May, the Multicultural Festival (613 342-1469) offers a variety of foods, crafts and entertainment from countries all over the world and takes place at the Brockville Memorial Centre, Magedoma Drive. Mid-June brings the Island Breakfast at Refugee Island with a boat shuttle to the island and breakfast. At the beginning of July, Canada Day Celebrations (613 342-4357) take place. From Thursday to Sunday in mid-August, four days of fun and succulent ribs are on order at the Brockville Ribfest (613 345-0281). The first week of October is Octoberfest, including a dinner in the Railway Tunnel. The Santa Claus Parade brings out the bells and trappings of Christmas at the end of November. The seven historic churches in old Brockville are host to 150 concert performers who delight the thousands led by a piper from church to church at the Annual New Year's Eve Concerts in Historic Brockville (613 342-3074), concluding with Auld Lang Syne in the Courthouse Green.
A vibrant arts community, Brockville is home to many artists, artisans, entertainers and other groups. The Brockville Arts Centre, 235 King Street West (613 342-7122) hosts world-class headline entertainment.

Visitors will be rewarded with an incredible selection of goods in the great variety of stores. The Brockville Shopping Centre on Stewart Boulevard and the 1000 Islands Mall at 2399 Parkedale Avenue are home to a large number of stores. A number of big box stores and chain stores are located throughout the city. Many individual businesses are spread throughout the community, some of which are highlighted here: Hall Orchards (613 342-6320), 2930 2nd Concession Road, stocks apples, maple syrup, honey, and crafts and gifts. Alan Brown Clothiers (613 342-3232), 56 King Street West, sells men's and ladies' fashions and accessories. Fur garments are manufactured and sold at Edward Reilly & Co. (613 342-4603), 86 John Street. Boardwalk Landing (613 345-5741), 182 King Street West, features Tilley hats and beachwear. Bonita Bold Fashion (613 342-6565), 7 King Street West, showcases unique stylish fashions for women with many collections made in Canada. The Book Trader (613 345-0127), 152 King Street West, stocks new and used books, DVDs and VHSs. Dockside Living 1000 Islands Shop (613 865-7328), 6 Broad Street, sells nautical clothing and home decor. Ebb & Flo, the "Art of She" (613 803-0388), 87 King Street West, sells designer handbags from Italy and clothing. Echo Clothing (613 342-3443), 83 King Street West, is a women's clothing store. From Here to Infinity Art Gallery (613 296-9670), 213 King Street West, is a unique gallery that operates an archive holding thousands of historical negatives and photographic prints as well as a collection of antiquarian, fine books, and ephemera. Golden Soles Footwear (613 342-7111), 46 King Street East, specializes in fashionable, comfortable, and orthopaedic specialty shoes, and unique accessories. Grizzly's Record Emporium (613 802-1864), 5 Perth Street, sells music and vintage records. ISIS Dress (613 342-5554), 40 King Street East, sells clothing for special occasions. Limestone & Ivy (613 342-5631), 39 King Street West, markets European-inspired styles for men and women. Pauline's Lingerie (613 345-2244), 156 King Street West, has fashionable lingerie, sleep wear, bathing suits, cruise wear, and accessories. Perth Street Flea Market (613 720-9653), 27 Perth Street, showcases antiques and collectibles. Prima Donna Fashion Shop (613 246-4165), 41 Broad Street, is the source for curated women's clothing, accessories and handbags. Savvy (613 345-6850), 73 King Street West, specializes in stylish shoes without compromising on comfort. Seaway Treasures (613 342-0074), 175 King Street West, offers one-of-a-kind antique furniture, toys, jewellery, glass, and more. Sheila's Bombshell Vintage (613 340-9877), 194 King Street West, is a clothing boutique carrying original 1940's-1980's women's and men's clothing and some new retro clothing. The nosh~er~y market (613 865-9969), 211 King Street West, aims to sell fresh-made soups, spreads, dressings and bread, as well as locally made products. The River Lily Boutique (613 8657994), 53 King Street West, contains home decor and natural gifts, plus bath and body products for well-being. The O'Mally Kourt Fudgery (613 349-6302), 55 King Street West, makes an incredible selection of fudge in-store and has gifts, baked goods, ice cream and more. On the site of the original market square behind City Hall is the Brockville Farmer's Market (brockvillefarmersmarket.ca), which on Thursdays and Saturdays from 7 a.m. to 1 p.m., May to October, offers fresh produce from the extensive gardens in the area.
Restaurants with a wide variety of taste open their doors to hungry visitors. Only a few are included here. Buds on The Bay (613 345-4341), 17 Broad Street, overlooks the water with a rooftop patio in fair weather. Robert Shepherd's 1852 grist mill is The Grindstone Steakhouse Lounge (613 345-7098), 123 Water Street, which serves only high-quality cuts of beef. Tait's Fresh Starts (613 865-8800), 31 King Street West, has fresh baking and deli treats. Boboli Café (613 498-2957), 32 King Street West, offers soups, sandwiches, desserts and coffee. The Golden Gate Restaurant (613 342-0408), 172 King Street West, serves a Chinese buffet. The New York Restaurant (613 345-0015), 19 King Street West, offers Chinese food with lunch specials. Chinese and Thai cuisine are the order of the day at Island Delight (613 342-3628), 140 King Street West. Great food and ale are on the menu at the Georgian Dragon Ale House and Pub (613 865-8224), 72 King Street West. Buell Street Bistro (613 345-2623), 27 Buell Street, blends Canadian cuisine with a Mediterranean flair. Cosies (613 865-7759), 45 King Street West, serves British goodies and high tea. The Kazuko Restaurant (613 345-5164), 10 Broad Street, offers international and Japanese cuisine, including authentic Japanese specialties and dim sum. Manoll's Fish and Chips (613 342-7448), 11 Buell Street, cooks-up fresh-battered haddock and Greek specialties. Nakhon Thai (613 345-5225), 28 King Street West, is an authentic Thai restaurant. Exotic Indian cuisine is available at the Tandoori Mint (613 865-7518), 50 King Street East. The nosh-er-y (613 865-9969), 209 King Street West, serves farm to table food and unique offerings on tap. The order of the day at Winniebee's Café (613 342-6719), 23 King Street West, is great sandwiches, delicious muffins and cookies, and gourmet coffees and teas.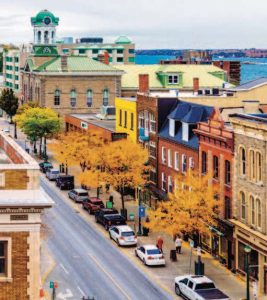 Where to stay
To enjoy Brockville, stay a few days. There are accommodation choices to suit every taste and pocketbook from brand-name hotels to motels, cabins, campgrounds and lodges, as well as heritage, rural and in-town bed-and-breakfast establishments.
Brockville's residents and merchants are more than proud of their city and its heritage, and their hospitality shows it. Information is generally available at the Brockville and District Chamber of Commerce Tourism Office (613 342-4357), 10 Market Street West; the Tourism Information Centre on Blockhouse Island (open in July and August); Downtown Brockville, (613 345-3269; downtownbrockville.com), 3 Market Street West; the Brockville Museum, 5 Henry Street (613 342-4397); and the Fulford Mansion (416 314-4914), 287 King Street East. Or, just ask the next person you meet on the street to direct you. Brockville is just that kind of place.
This article could not possibly paint a complete picture of Brockville, and there are many interesting businesses and places that are left for the visitor to discover.