Every year, more than 50,000 Canadians have a stroke. It is difficult to know how to help a parent, spouse or friend who is suddenly unable to hold their cup of coffee or get up from a chair. (SPONSORED)
"I thought I lost her and I was numb…now all I want to do is be there for her, just show Paola how much I love her because no matter what life throws at us we will always be together."
When a stroke happens, the team at the hospital works quickly to deliver treatment, knowing that every moment counts towards recovery. It is not until after the rush of emergency care is over, that a picture of the journey ahead becomes clearer. Unexpectedly, a loved one is facing new challenges that before were everyday activities. It is difficult to know how to help a parent, spouse or friend who is suddenly unable to hold their cup of coffee or get up from a chair.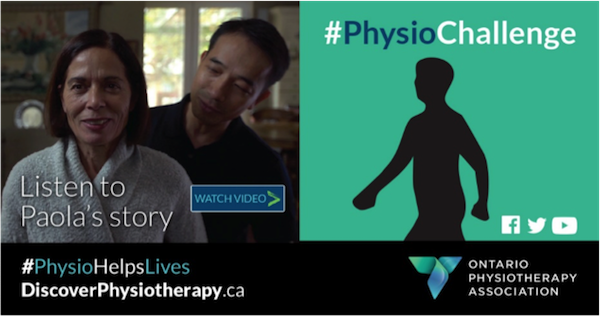 Like Paola's husband, we want to show our love and support. We want to help them overcome these new challenges and get back to the things they love to do. A physiotherapist can help in recovery, not only through treatment sessions, but also by helping you and other friends and family be confident and effective members of your loved one's rehabilitation team. The physiotherapist will help set goals that everyone can work towards, whether it's sitting up in bed, or walking around the block. They can teach you how to support your loved one safely practice activities that will help them get stronger, work towards their goals, and continue to improve long after appointments with the physiotherapist have ended.
A physiotherapist can also help find activities in the community such as safe exercise programs and falls prevention classes that can help continue recovery. A stroke can bring enormous change and many new challenges, not just for those who have had a stroke, but also for all the people that love them. Physiotherapy helps people work together to meet these challenges, push forward step by step towards the things that matter most, and live as active and independently as possible.
To watch Paola's story and learn more about how #PhysioHelpsLives after a stroke: discoverphysiotherapy.ca.
Help us raise awareness about stroke and many ways that physiotherapy can help in rehabilitation.