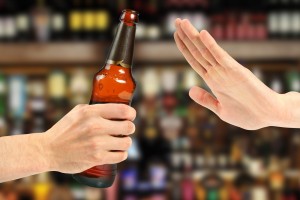 We Ontarians rank pollution, stress, microwave ovens and mobile phones way up there as cancer-causing agents. But a survey released by the Canadian Cancer Society shows less than 30 per cent of us realize consuming alcohol can increase the risk of developing cancer.
The facts?
Alcohol is one of the top three leading causes of cancer deaths worldwide.
Last year, an estimated 10,700 cancer diagnoses in Canada were related to alcohol consumption.
"The public generally understands that alcohol poses dangers such as liver damage and diabetes, but our survey highlights the need to tell people that it also poses cancer risks," says Susan Flynn, Senior Manager of Cancer Prevention for the Canadian Cancer Society, Ontario Division. "Scientific studies show, moderating alcohol consumption to recommended levels will reduce a person's cancer risk."
The survey highlights are also eye-opening:
60% of Ontario women and 41% of Ontario men exceed the alcohol consumption guidelines recommended by the Canadian Cancer Society.
Two-thirds of Ontarians say they are likely to reduce their consumption of alcohol if they learned that drinking alcohol increased their risk of cancer.
The Canadian Cancer Society recommends that if you choose to drink alcohol, women have less than one drink per day and men have less than two drinks per day.
Could you go booze-free for a month?
To help raise awareness about the importance of modifying alcohol consumption, the Canadian Cancer Society is partnering with Clear Heads International for Dry Feb™. This fundraiser challenges participants to not have a single drop of alcohol for the month of February while also collecting donations in support of vital cancer research and support services.
"Dry Feb promotes a powerful message. By going to the extreme and passing on alcohol for an entire month, you can prove to yourself and show others how easy it is to simply moderate consumption," says Brett Macdonald, CEO of Clear Heads International.
"On the fundraising side, Dry Feb works because people are eager to donate just to see if their friend can actually do it. Their donation buys them a month's worth of fun egging them on."
Participating in Dry Feb is easy! Simply register at DryFeb.ca and then collect donations from your friends using a personalized webpage.
Money raised through Dry Feb will fund Canada's most promising cancer research, prevention, vital support services for cancer patients and their families and other important work so that fewer Canadians are touched by the disease.
The Canadian Cancer Society is a national community-based organization of volunteers whose mission is the eradication of cancer and the enhancement of the quality of life of people living with cancer. To learn more about cancer, see www.cancer.ca or call 1 888 939-3333.
Read more: http://www.cancer.ca/en/about-us/for-media/media-releases/ontario/2016/january/alcohol-survey/?region=on#ixzz3zDHcdWni