VTMN Packs Make it Better and Easier than Ever to Take Your Vitamins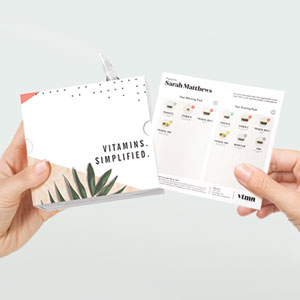 When it comes to vitamins, "knowing your ABCs" can get confusing. Are you taking the right supplements, in the right formulations, for optimal wellness? It's hard to be sure, especially since shelves at supermarkets and big box stores are full of a dizzying array of products and brands. What about the ingredients? The quality? The efficacy?
At a time when, more than ever before, we're all focused on being and staying healthy, this matters. A lot. Thankfully, there's good news. A new Canadian subscription vitamin company removes the uncertainty and makes it easy to take your vitamins. VTMN Packs provides a monthly supply of personalized daily vitamin packs. You can customize your pack; you can also have separate morning and night packs. What's more, you know exactly what's in each supplement you're getting.
George and Chelsea Coyle are big fans of VTMN Packs and how this company helps them take good care of their health. "My wife and I love the concept; we love the packages and how this all works," says George. "The packs are very convenient, individually wrapped for morning and nighttime. You can easily take them to go. They are perfect."
For this busy young couple, with two active kids and hectic schedules, having "vitamins delivered to the door" is ideal. Especially since, as George puts it, they come from a "super great Canadian company offering unique service."
The Coyles care about wellness, so they appreciate the many unique benefits of choosing VTMN Packs: the practicality and personal nature of the service, the fact that they're getting professional line supplements from premium quality brands, and the opportunity to tweak the
list of supplements in their monthly supply of packs, based on changing needs and goals.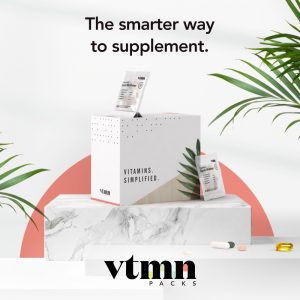 Even the website, vtmnpacks.ca, is "fantastic," Chelsea notes. "It's so easy to use and informative!" Not only does this online destination make high quality supplements more accessible to Canadians, it includes a free health assessment that will provide you with a personalized vitamin plan. It also contains clear, detailed information so there's no doubt about what you're taking or why.
Chelsea and George feel good about VTMN Packs' holistic approach to wellness, as well as the company's core values: simplicity, quality and transparency. They also like knowing who's behind the brand. Laurie Cook, founder and CEO of VTMN Packs, is an Ontario pharmacist with many years of experience in the health industry. As the the mother of two young children, Laurie is also passionate about preventative, natural healthcare, so she launched VTMN Packs in late 2019 as a way to make taking supplements easier and more convenient for herself and everybody else. Since then, she has established an advisory board comprised of Naturopathic Doctors, Holistic Nutritionists and Registered Dieticians. Their expertise and experience help ensure you get the very best supplements for your best health, backed by the most up to date scientific evidence available.