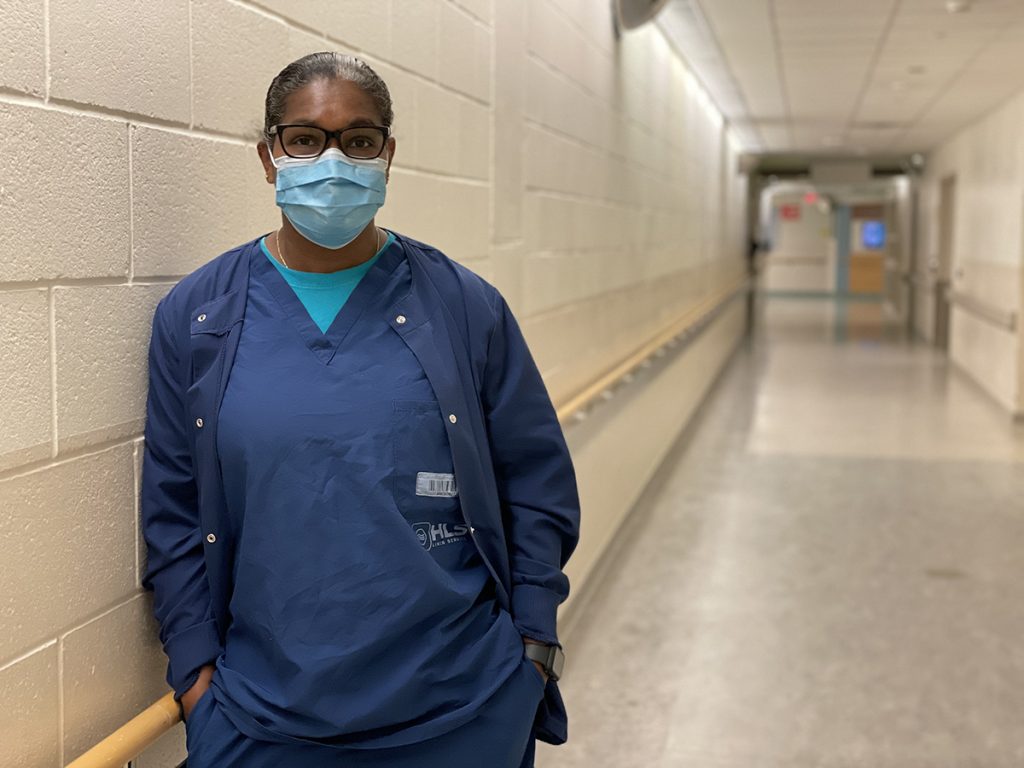 It's been more than six years since Ruth Bell passed away at age 96, yet her community spirit and passion for female empowerment continue to have a lasting impact through her legacy gift to Queensway Carleton Hospital (QCH).
The Hon. Dick and Dr. Ruth Bell Endowment Fund was established with a gift from Ruth's estate, after she passed away in December 2015. The fund also honours Ruth's late second husband, Dick Bell, a former local Conservative MP and Minister of Immigration in the Diefenbaker government. He worked alongside his fellow community leaders from the former City of Nepean to establish QCH, realizing residents of the region's quickly growing west end needed a hospital of their own.
Ruth, who never knew a glass ceiling she couldn't smash, was a strong advocate for the advancement of women. Roughly 25 percent of her endowment fund supports scholarships to help with the education and training of female staff at QCH who aspire to positions of leadership and excellence. The remaining capital helps to enhance patient care in areas identified as clinical priorities by QCH.
Endowments are a popular way for donors to give money and support to organizations that they care about. The Bells were long-time donors of QCH. "They were big believers in the importance of having a community hospital," says Andrea McCormick, who collaborated with Ruth on her self-published memoir, Be a Nice Girl. "She loved the exchange of ideas. The notion of life-long learning was something she embraced."
At QCH, the legacy giving programs remain particularly important as the needs of the hospital and the health care needs of its community constantly increase and change, explains Nadine Fowler, vice president of philanthropy for QCH Foundation. Legacy gifts provide additional revenue to fund urgent patient care priorities, expand facilities and fund staff training — all of which are essential to the high-quality care QCH is known for, she explains.  As little as one percent of your estate can have a big impact on health care while still leaving the majority for loved ones.
"We can't know in advance when any of these thoughtful legacy gifts will be received but, when they are, they're like pennies from heaven. They allow the hospital to enhance programs and services, and to respond to new, emerging and, sometimes, unexpected health care needs. You just never know the impact a future gift could have, but from the perspective of the patients who benefit, and the family who love them, these gifts are priceless."
When a donation is endowed, the principal remains untouched, with only the earnings used to support worthwhile causes. The Hon. Dick and Dr. Ruth Bell Endowment Fund results in between $6,000 to $8,000 in earnings every year for the training of women leaders at QCH, as well as other QCH priorities. Jill Ramkhalawan, one of the recipients of an Hon. Dick and Dr. Ruth Bell Scholarship, used her financial award toward the online leadership development courses that she completed at Algonquin College. She's a supervisor in the Medical Device Reprocessing (MDR) department, which is responsible for cleaning and sterilizing medical instruments throughout QCH.
Jill, who oversees a team of about 15 technicians, says the courses helped to provide her with the essentials she needs to provide better guidance and support to her team.
"I found it very rewarding," explains Jill, while adding that she was honoured to have been chosen as a recipient. "It's great to have something specifically targeted toward women in leadership. It helps us grow and develop."
Your gift today will provide world-class care for generations.
By naming QCH Foundation as a beneficiary in your Will, you will be investing in local health care and ensuring your loved ones have access to the very best care possible, right here in our community.
To get started on your planning process, visit www.qchfoundation.ca/legacy and click on the Will Power link.
Through this portal you will have access to tools and resources to answer your questions about bequests.
To discuss how your gift will make a lasting impact and help advance patient care or to get started on designating QCH Foundation as a beneficiary in your Will, please contact:
Nadine Fowler, VP Philanthropy
nfowler@qch.on.ca
613.721.4700 ext. 5609