Good for any age
From the files of Fifty-Five Plus | May 2019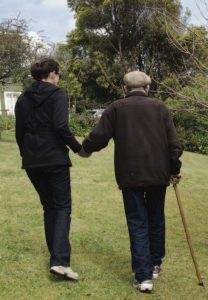 Walking is the most basic form of transportation. It's also an enjoyable exercise. Walking keeps you fit, is good for your heart and has many other health benefits. Best of all, just about anyone can do it.
But you have to be wary when you walk. Transport Canada statistics show that seniors continue to account for over one-third of all pedestrian fatalities. Out of 335 pedestrians killed in 2001, for example, 110 victims were age 65 or over.
Older pedestrians are at higher risk of falling or being hit by a vehicle, because mobility and perception deteriorate as part of the aging process. An injury can be more serious and recovery takes longer, but staying cooped up at home is no solution. In most cases, the benefits of the exercise, independence and social activities associated with walking, outweigh the risks.
Most pedestrian injuries are preventable. But pedestrian safety must be addressed as a shared responsibility:
Personal safety precautions
Defensive drivers
A pedestrian-friendly environment.
As Canada's population ages, this issue is becoming more and more important.
How to prevent a mishap
Most injuries to older pedestrians occur in broad daylight, in familiar surroundings. The Canada Safety Council recommends the following simple, common sense precautions:
First and foremost, look after yourself — exercise at least 30 minutes a day most days of the week, eat right, have routine eye and ear examinations, and take medications exactly as prescribed.
Always wear comfortable, well-fitting walking shoes or boots, with low heels and firm soles.
Use a cane for extra balance. Make sure it is adjusted for your height.
In winter conditions, wear ice grips and use a cane with a pick.
Carry as little as possible. Take advantage of home deliveries, use a bundle cart or get help.
Give yourself plenty of time. Plan your trip so you don't have to hurry. Never try to beat the traffic — or the light.
Look out for all vehicles, including cars, bicycles and motorcycles.
Watch out for hazards. For example, be on the alert for cracks and curbs.
Avoid walking at rush hour, after dark, or before ice and snow have been cleared.
Cross the street only at a crosswalk or intersection.