By Julia F. Christensen and Dong-Seon Chang
Greystone Books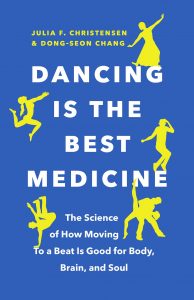 Dancing is one of the best things we can do for our health. In this ground-breaking and fun-to-read book, two neuroscientists (who are also dancers) draw on their cutting-edge research to reveal why humans are hardwired for dance and show how to achieve optimal health through dancing. Taking readers on an in-depth exploration of movement and music, from early humans up until today, the authors show the proven benefits of dance for our heart, lungs, bones, nervous system, and brain. Readers will come away with a wide range of dances to try and a scientific understanding of how dance benefits almost every aspect of our lives. Dance prevents and manages illness and pain: such as Diabetes, arthritis, back pain, and Parkinson's. Dance can be as effective as high intensity interval training: but without the strain on your joints and heart. Dance boosts immunity and lowers stress: it also helps reduce inflammation. Dance positively impacts the microbiome: and aids in digestion, weight loss, and digestive issues such as IBS. Dance bolsters the mind-body connection: helping us get in tune with our bodies for better overall health. We're lucky that one of the best things we can do for our health is also one of the most fun. And the best part: dance is something anyone can do. Old or young, injured or experiencing chronic
pain, dance is for everyone, everywhere.