For the Love of Books
By Mary Alice Downie
It's time to hit the bookstores once again for gifts for the grandchildren. Despite persistent pleas for screen time, the right books can also bring great pleasure. In our annual review of the best gifts for grandkids, Fifty-Five Plus puts a focus on fun, grandparent-grandchild time and the wonderful memories that can be created with books.
There's a wide range of settings in this year's gift list of books for the grandchildren: from a quiet windowsill to an empty pharaoh's tomb, the wild jungles of India to the genteel world of early twentieth-century Baltimore. I would advise shopping early. You want to leave plenty of time to read them yourself, because they are so enjoyable.
Picture Books

Waiting
Kevin Henkes
Greenwillow Books, $21.99
There were five of them.And they were waiting…an owl with spots waiting for the moon, a pig with an umbrella waiting for rain. Five toys on a windowsill watch the seasons pass with events both beautiful and frightening.This gentle tale will soothe the most wrangly of children — and lower blood pressure for a grandparent.With a satisfying surprise at the end, it may give Goodnight Moon a run for its money.

Mummy Cat
Marcus Ewert, illustrated by Lisa Brown Clarion Books, $16.99
The golden-eyed feline hero,a miniature mummy,has been waiting alone for centuries in the silence, dust and cold gray stone of a pyramid. Every hundred years he wakes, hoping that "his beloved friend" Hat-shup-set, girl- queen of Egypt, will rise from her coffin.There may be a few sobs along the way, but glowing wall-paintings portray the sunlit joys of life on the Nile — until the scorpion came along.There are interesting notes about mummies, cats, and queens. Budding Egyptologists will have fun trying to identify the hieroglyphs in the illustrations. (There's a key at the end.)
The Night Gardener
Terry and Eric Fan
Simon and Schuster $21.99
Young William experiences a different sort of loneliness in the gloomy orphanage on Grimloch Lane.Then one night a mysterious gardener comes along with clippers and an umbrella.The grey and green atmosphere turns to colour, like Kansas to Oz, as an ever-increasing topiary of owl, rabbit, parakeet, and a playful elephant enliven the dreary atmosphere. Even when the leaves fall and the magical menagerie disappears, the town comes to life and William is lonely no more.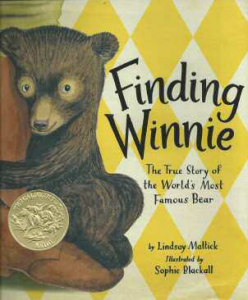 Finding Winnie: The True Story of the World's Most Famous Bear
Lindsay Mattick, illustrated by Sophie Blackall HarperCollins, $19.99
Some family diaries are more exciting than others. On August 24, 1914, a young vet from Winnipeg en-route to the war with his regiment, wrote "Bought bear $20." Who knew that this orphan cub purchased from a trapper at White River, would eventually become the most famous bear in the world? After adventures with the regiment, Winnie was left in the London Zoo when her owner went to France. Later a small boy named Christopher visited, and the rest is history. Lindsay Mattick, Harry Colebourne's great-granddaughter, wrote a radio documentary, spearheaded an exhibition, and then this enchanting book, with Sophie Blackall's sympathetic illustrations. It deservedly won a Caldecott Medal.
Middle Readers

My Book of Birds
Geraldo Valerio Groundwood, $24.95
If only I had been given such a book as a child, I might have recognized more than robins, cardinals and runaway canaries.Valerio grew up beside a river in Brazil, a paradise of white egrets and parakeets. Moving to Canada, he encountered a different set of avians. In this "album of artistic impressions" the brilliantly-coloured collages made of old magazine paper, fly off the page. Considerable information is lightly offered, along with English and Latin names.Although the book is too large to take along in a backpack, it will be a treasure trove for junior ornithologists (and their elders) at home.And it is all worthwhile for the magic word 'puffling' (baby puffin).

The Jungle Book
Rudyard Kipling, illustrated by Nicola Bayley Candlewick, $24.00
This unexpurgated version of three of Kipling's tales with framing poems, shines like a maharajah's gem. Bayley who loves cats, confessed that drawing the evil Shere Khan was the most fun. She also used hundreds of photos of her son to capture Mowgli's movements. Kipling's prose remains as hypnotic as the "Dance of the Hunger of Kaa, that entraps the hapless Bandar-Log," the illustrations have the quality of a medieval Book of Hours, or rather Mughal miniatures. Now if she could just be persuaded to illustrate Kim.

Sophie Quire and the Last Storyguard: A Peter Nimble Adventure
Jonathan Auxier Penguin, $22.99
Auxier's first two novels won high praise and prizes — a tough act to follow — but he has succeeded in this rivetting tale as his young bookmender heroine undergoes wild adventures and terrors in search of four magic books. She is accompanied by Peter Nimble,"the world's greatest thief," and a lively cast of allies and villains: the silver tiger Acrazia, the Inquisitor Prigg (a book-burner straight from the Inquisition), Madame Eldritch and her adoring mandrake henchman, Mr. Toro, the splendidly- named thug, Torvald Knucklenose. Humour, fright and wisdom are intertwined with occasional nuggets."Adventures can be funny things — one moment you might be fending off monsters and the next fending off mosquitoes."As a writer, I particularly liked "Should you ever be so lucky as to encounter an author in your life, you should shower her or him with gifts and praise."
Older Readers
The Hired Girl
Laura Amy Schlitz Candlewick, $23.99
Another intrepid heroine finds meaning in books, this time in the more sedate world of Baltimore in 1911. Fourteen-year-old Joan Skraggs works her heart out on the Pennsylvania farm, tormented by her monstrous father and brothers. She finds comfort and meaning in three books given to her by her teacher: Jane Eyre, Dombey and Son and Ivanhoe. Heartbroken when her father burns the books, she escapes to a new life as a maid in the wealthy Rosenbach family,who treat her (mostly) kindly.An innocent abroad,she learns much about anti-Semitism and the ways of the world.The story is convincingly told in diary form. Joan is a charming and very funny, companion.

The Wildings
Nilanjana Roy Random House, $22.95
Journalist and literary critic, Roy took long walks around the area while creating this love-song to Old Delhi. She has created a compelling world in the city jungle of the Nizamuddin, where clans of feral cats roam the alleyways and mansion rooftops.A secret society rubs along comfortably enough, divided into predators, prey and Bigfeet.That's us, unfortunates with no tails or whiskers or understanding of what is going on in the trees, burrows and ruins around us. In times of trouble, a Sender with telepathic powers comes to aid the tribe;in this case,Mara,a small orange kitten found in a drainpipe.There are stupendous battles, moments of tenderness and humour.The author has fun in the midst of drama.There's a tribe of deeply deranged Goats called the Viceroys with names such as Wavell, Curzon and Mountbatten. Market cats, pompous court cats and military cats imitate their human castes. A sequel The Hundred Names of Darkness continues the saga. ■
Mary Alice Downie's most recent book is Our Rascal John: The Childhood Adventures of Sir John A. Macdonald, Canada's First Prime Minister. (Quarry Press)