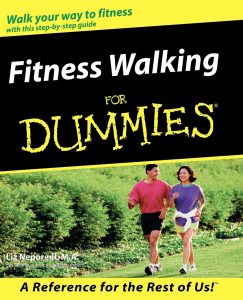 Liz Neporent, M.A.
IDG Books Worldwide, Inc.
Walking is one of the healthiest and most rewarding forms of exercise available to all people, young and old. It is the most adaptable workout activity around. You can walk for an hour straight
to make your walking program effective and achieve your goals, or you can accumulate this hour over the course of a day. Whether your goal is to improve your health or appearance, get stronger, feel good about yourself, or all of the above, walking can help you get to where you want to go. Fitness Walking for Dummies is not just for dummies, but its easy-to-use style makes it perfect for fitness walkers of all levels, from those who want to stroll around the block to those who want to do high intensity walk training. This easy-to-understand guide is also for those on track to lose weight, decrease blood pressure, control cholesterol, relieve stress, prevent heart disease or deal with depression, but may not have the knowledge or motivation to do it. Fitness Walking for Dummies can help you achieve your goal by showing you everything you need to know about starting and maintaining a personalized walking program. It covers topics such as warm-up and cool-down routines; the four levels of walking (Lifestyle, Fitness, High-Energy, Walk-Run); weight-training routines and stretches that add variety; buying and using a treadmill; and dealing with pain and injuries. This book is one of the best all-around fitness walking books on the market and an essential reference for the library of any fitness walker.