By Jason Fung, Alison Maclean
Greystone Books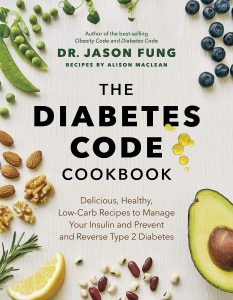 This is a companion cookbook to The Diabetes Code from the same author, Dr. Jason Fung, who has helped people prevent and reverse type 2 diabetes. This cookbook follows the advice for preventing and reversing type 2 diabetes through intermittent fasting and a low carbohydrate/high-fat diet. It features:
• 100 simple and delicious recipes to help manage insulin and aid in weight loss.
• Intermittent fasting schedules and plans (16, 24, 30, and 26-hour fasts).
• Grocery shopping lists.
A new introduction from Dr. Fung, with up-to-date information on insulin resistance and its connection to weight gain and type 2 diabetes is also included. Readers will come away with knowledge of their health and an arsenal of mouth-watering meals—because eating for type 2 diabetes doesn't have to be bland.