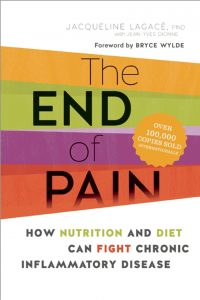 The End of Pain: How Nutrition and Diet can Fight Chronic Inflammatory Disease
By Jacqueline Lagacé
Greystone Books
After years of debilitating chronic pain from arthritis, Jacqueline Lagacé began following Dr.Jean Seignalet's hypotoxic diet — which calls for the elimination of wheat, animal-source dairy products, and animal proteins cooked at high temperatures — and almost immediately experienced decreased pain. The End of Pain — translated from French and now available in English for the first time — tells Jacqueline's compelling story and explores how our bodies and our modern western diet are at war with each other. Jacqueline also investigates the science behind Dr.Seignalet's methods and shows how and why some of the foods we eat may lead to inflammatory diseases such as arthritis, fibromyalgia, and MS, among many others.