By Zazie Todd
Greystone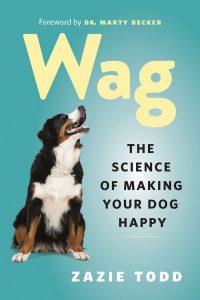 Whether you are training a new puppy, considering adopting a dog, researching dog breeds, or simply curious about your own dog's happiness and behavior, WAG has all the answers—and then some. Respected dog trainer and social psychologist, Zazie Todd, demystifies the inner life of canines and shares recommendations from leading veterinarians, researchers, and trainers to help you cultivate a rewarding and respectful relationship with your dog which offers many benefits for you, your family, and your four-legged friend. This book is not preachy, but engaging, practical, and will readers through a checklist for a happy dog:
• Enrichment exercises
• How to socialize and train a new puppy
• How to reduce fear and anxiety in dogs
• Tips for visiting the vet
• Information on aging dogs
• Expert interviews with vets and psychologists
• And so much more!