Your Finance
By Bryan Thaw, LL.B, LL.M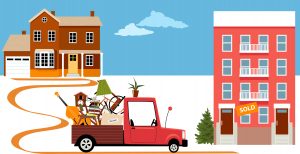 Tips for a smooth transition from a lawyer's perspective
So, your family's relentless pursuit of having you move closer to them has hit its breaking point. I, for one, have been a victim of this crime. After making the decision to move, you also decide that it is time to downsize your existing home. Though there are some obvious benefits of downsizing (i.e., paying down (or off) your mortgage, moving to a better location, less work to do around the house, etc.), there are also some legal aspects of downsizing that should be taken into consideration.
Legal tips for buying your next home
Get an inspection: Especially when you are purchasing a previously owned home, it is a good idea to get a qualified home inspector to inspect the property. The last thing you want to find out after moving into your new home is that there is a major structural issue, especially when an inspection could have revealed this defect before you signed the Agreement of Purchase and Sale ("Agreement"). Some buyers will have their realtor (or lawyer) insert a condition into the Agreement that provides a buyer time to formally inspect the property. That way, if there are any issues, the buyer can address these issues before the Agreement is firmed up. Maybe you reduce the purchase price, or maybe you decide to walk away from the deal. Whichever option you choose, a home inspection will help provide the information you need to make an informed decision
Figure out your finances ahead of time: It is standard practice for agreements in Ottawa to contain a condition that gives time to buyers to confirm they can get a mortgage. However, with Ottawa's hot market, putting these conditions into agreements is becoming more and more difficult. My advice to clients is to include a condition on financing in their Agreement. At the very least, speak with your banker ahead of time to ensure you can get approved before making an offer. If you are buying the property without a mortgage, then no action is required.
Speak to your lawyer: It may be worth speaking with your lawyer ahead of signing the Agreement. Alternatively, you can have a condition inserted into the Agreement that provides you time to speak with your lawyer before the Agreement is firmed up but after the Agreement is signed. Your lawyer may be able to assist you with reviewing the Agreement or look at the title to the property to make sure there are no glaring issues. If you wanted to build a pool, it would be very disappointing to find out that there is a covenant on the title that restricts you from building one. As an aside, if you are looking to purchase a condominium, you should always make sure that your lawyer reviews the status certificate. The status certificate will reveal if there are any issues with the condominium unit and/or building. Most condominium Agreements are conditional on a lawyer's review of the status certificate.
Legal tips for selling your home
Review the Agreement carefully: what is standard for most sales may not apply to your sale. For instance, let's say you want to take your antique chandelier with you when you move. If your Agreement does not contemplate that you will be removing the chandelier, then the buyer can take the position that the chandelier must stay. It is always helpful to have your lawyer review your Agreement before it becomes firm.
Be careful what you say (or don't say): You constantly hear people say, Caveat Emptor (or buyer beware). This may be true in many cases; however, including information or clauses that are untrue or inaccurate may lead to legal problems down the road. The same goes if you conceal or omit certain information. For example, if you know of defects in the property and you choose not to disclose them to the buyer, the buyer may have legal remedies that they can exercise down the road.
With Ottawa's booming real estate market, it is getting more and more difficult to purchase a home, but that does not mean you should cut corners. The same goes for when you are selling your home. It is always a great idea to speak with your lawyer to help make your downsize smoother.
Bryan Thaw is an associate lawyer at Nelligan Law (nellinganlaw.ca) and a member of the firm's Real Estate and Development Practice Group. He has extensive experience in both residential and commercial real estate.
NOTE TO READERS: THE VIEWS OF THE AUTHOR DO NOT NECESSARILY REFLECT THOSE OF COYLE MEDIA GROUP. THIS ARTICLE IS PROVIDED AS A GENERAL SOURCE OF INFORMATION ONLY AND SHOULD NOT BE CONSIDERED TO BE PERSONAL INVESTMENT OR LEGAL ADVICE, OR A SOLICITATION TO BUY SERVICES. READERS SHOULD CONSULT WITH THEIR FINANCIAL OR LEGAL ADVISOR TO ENSURE IT IS SUITABLE FOR THEIR CIRCUMSTANCES.